PETER HAMMILL Over Charisma/EMI (2006)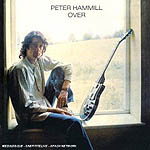 The perennially-thin Hammill may look wasted on the cover of this 1976 solo effort charting the background to marital break-up, but there's plenty of meat on the bone with some great tunes, erudite and clever lyrics and strong performances from the man, violinist Graham Smith (in melodramatic form) with the next 'generation' Van Der Graaf, and an orchestra (a Hammill first) to lush up the melancholia.
One of his best rock songs, the sinewy 'Crying Wolf' manages the anger before bouts of more reflective material include the wistful 'Autumn', a now fantasy (alas) where Hammill and his ex- struggle in middle age to accept the loss to the family home of their now adult offspring, and the soaringly dramatic 'This Side of the Looking Glass', replete with Michael Brand's achingly lovely arrangement.
The self-pity is sufficiently in check for objective analysis to help enable a satisfying if occasionally uncomfortable hour or so with one of modern music's smarter buttons. 'Lost And Found' winds up with a grudging tolerance of matters; "I'm free at last, I'm in love at last, I'm lost and found ... put on your red dress baby" is his parting shot.
Remastered, notes by Hammill, extra tracks in BBC Peel sessions and an alternate take of 'Looking Glass': buy now, safe in the knowledge that you will be needing it again.
****
Review by Peter Muir
Related>> Album review
Related>> Album review (Van Der Graaf Generator)
---
| | |
| --- | --- |
| | Print this page in printer-friendly format |
| | Tell a friend about this page |