PETER HAMMILL Nadir's Big Chance Charisma/EMI (2006)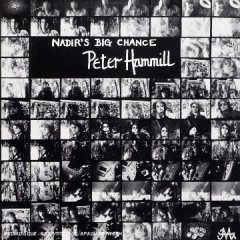 In the guise of his alter ego, Rikki Nadir, Peter Hammill crafted back in 1974 what he defines now as his second album of 'pop songs', the other being solo debut, 'Fools Mate', both including material dating back to the 1960s and both featuring members of his former band, Van Der Graaf Generator, poised to reform with tighter, tauter material befitting the times, but - as always - ahead of them.
A raw vitality pervades this as it does the band's incoming 'Godbuff' and the gentler progressive elements found in songs like 'People You Were going To' (a re-working of a very early VdGG song) are counterpointed by three-chord banshee blasts such as the eponmyous opener.
Hammill is name-checked today as an influence by the incoming punk movement. This is the bridge not only between his 'old and new' but is analogous with the quantum shift that rock music of the late 1970s was to face.
I did not much care for this when I heard it on first release. I circled it suspiciously, dipped in and out, and then ran off - greatcoat flapping - back to early Van Der Graaf Generator. Why? Out my comfort zone. Pathetic really, because Hammill was clearly not. This album asserts the need to 'move on', to keep swimming, or die. Life-affirming stuff, it's matured beautifully.
****
Review by Peter Muir
Related>> Album review
Related>> Album review (Van Der Graaf Generator)
---
| | |
| --- | --- |
| | Print this page in printer-friendly format |
| | Tell a friend about this page |