PETER HAMMILL In Camera Charisma/EMI (2006)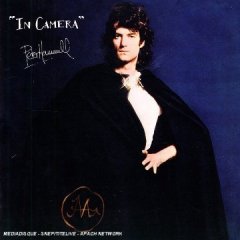 A couple of albums into solo self-sufficiency, 1974's "In Camera" showcases the former Van Der Graaf Generator frontman at full stretch, writing, producing and playing everything but percussion.
This level of content control lends added cohesion to what would - by many a yardstick - be so eclectic a musical brew of ballad, prog and experimental/industrial to prove too much mutually-contrary to develop into a structural whole, even when by one artist.
Yet whether crooning sentiment or railing against storms, the strength and originality of Hammill's writing and its highly individualistic expression provide the thread that pulls together the disparate strands linking the gentle 'Again' to the terrifying 'Magog (In Bromine Chambers)' - muzak for Daleks.
This re-mastered reissue with booklet notes by Hammill includes bonus tracks in BBC Radio performances of the composer, solo at the piano, taking the listener to the heart of the album's epic '(No More)The Sub-Mariner' and 'Faint Heart and The Sermon' as well as the Generator's 'Emperor in His War Room'.
A demanding listen rewards the demanding listener.
***
Review by Peter Muir
Related>> Album review
Related>> Album review (Van Der Graaf Generator)
---
| | |
| --- | --- |
| | Print this page in printer-friendly format |
| | Tell a friend about this page |