MERMAID KISS Salt On Skin MERMO2CD (2006)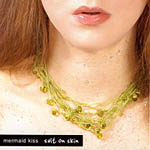 Let's get one thing straight. There's a veritable musical harem somewhere deep in Herefordshire - I can't tell you where exactly until after I've found it.
There have been more females in Mermaid Kiss than a Benny Hill comedy. This time around, newcomer Kate Emerson shares the stage with transitory singer Kate Belcher and original vocalist Evelyn Downing.
All bring something special to the mix. This new EP is not so much work in progress as progress in work - it shows how far the band have come since their debut CD.
Jamie Field and Andrew Garman (co-writers and producers) are the mainstays and are joined by guitarist Nigel Hooton and, on the first track 'The Blushing Bride', ex-Karnataka Paul Davies.
In terms of references, the now defunct Karnataka come to mind, as do several other prog rockers including All About Eve. Garman's ambient textures evoke latter-day Marillion amongst others.
The vocals throughout are consistently good. Of the three girls, Eve Downing has the purest approach whilst all gain co-writing credits. There must be something in the Herefordshire water.
'Walk Away' is a gem of a track and shows the band can alter their stylings when necessary, this time with jazzy overtones. 'Hollow' and 'Volcano' showcases Evelyn Downing whilst 'Human Zoo' is more ambient (surely a dance remix beckons!).
'A Hard Row' is another standout and deals with third-world poverty. This time it's Kate Emerson on vocals, Eve on flute, and it has that shiver-down-spine quality that grabs the attention from the start and doesn't let go.
A full album might allow the band to stretch out a bit instrumentally, what we have here are seven songs that never outstay their welcome and as a succinct introduction to their music it's pretty damn perfect.
Now, let's get that map out.
****½
Review by David Randall


Walk Away
© 2006 Mermaid Kiss. All rights reserved.