25 YARD SCREAMER Blacklight Promo (2006)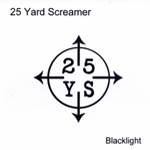 One of the real pleasures of reviewing for GRTR! is encouraging new talent. My review for 25YS's second album was, however, less than complimentary: the whole thing was let down by poor production qualities.
Thankfully, guitarist/vocalist Nick James and co. (Matt Clarke, bass, and Donal Owen, drums) are (a) thick-skinned (b) receptive to criticism.
They have taken on board those comments (I am sure I was not alone) and fashioned something quite different and exciting.
Sound quality is vastly improved, there is a chance for James' guitar to shine through but, most of all, these lads from South Wales have dared to produce a mini-prog epic as a taster for the next album.
Replete with added effects, such as the playground activity at the start and end of the piece, 'Blacklight' takes the listener on a 'life-journey' and I can believe Nick when he says that it has taken the band 18 months to develop.
At times recalling prog-metal heroes Rush and Hawkwind, and the vocal styling of Steve Hogarth (with the ambience of Marillion's 'Brave'), I am sure 25YS's music will appeal to fans of all those bands. There's a wonderful riffy opening, too.
It may be a labour of love, but those 18 months have seen 25YS develop into a band of real depth and, handling production duties themselves, it can now only be onward and upward.
****½
Review by David Randall

Blacklight
© 2006 25 Yard Screamer. All rights reserved.