MERMAID KISS
Mermaid Kiss released their debut album in 2003 and released a mini album 'Salt On Skin' in March 2006.
Guitarist and songwriter Jamie Field gives an update about the band's progress, the musical harem in Herefordshire, and future plans.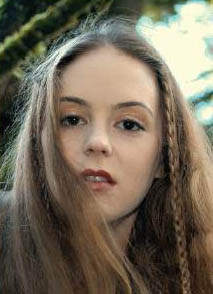 Kate Emerson, photo © Chris Walkden Website
1. What are you currently up to? (e.g. touring/studio,etc.)
Andy and I spend, a lot of time in the studio, writing and recording and thinking about arrangements and trying out ideas. Obviously we've been working on the tracks for 'Salt On Skin' and as Andy does the mixing and mastering as well, it all takes time.
Since the mini-album was completed, we've been working on new tracks for the next full album. It's going to be something a little different and we're pretty excited about it right now.
We've also completed three further tracks for the American Images project.
Gigging's a little difficult at the moment with both Kate B and Evelyn at crucial points in their education.
2. The new mini-album features three vocalists. Tell us a bit about how this happened. When we last spoke to you Kate Belcher had just joined and then soon-after there was another Kate Emerson …? And how does Evelyn Downing fit in to all this?!
Life is never simple! Evelyn's currently in her final year at Uni in Manchester writing her dissertation, and Kate B. has her A-levels in a few weeks, so the time they can spare, in Evelyn's case together with the distances involved, is limited - hence Kate Emerson joining.
But the way it's worked out is that all three are keen to contribute as and when they can.
For example, when Evelyn was home at Christmas, she recorded her harmony vocals to 'The Blushing Bride' the flute line and harmony vocals to 'A Hard Row' and we also wrote a new song for the next album. It may not be a very conventional set up, but it seems to work for us.
3. Was there a conscious choice to make a mini-album, did this reflect how much material you had which you felt you could release, or do you see it more as a promotional tool at this stage in the band's development?
The idea of a mini-album is partly promotional - we want to encourage people who haven't heard us before to give our music a chance - so we've priced it as low as we dare.
I've been listening to a large number of independent artists from the States, The Wednesdays, Elk City, Sarah White for example - and they seem to release CDs of around the half-hour mark regularly - though they tend to call them 'albums' and often charge full album prices.
I actually think half an hour of music is a nice comfortable session, especially if the band is new to the listener.
The mini-album doesn't reflect the totality of material we have - there are other completed songs, 'Cinnamon,' 'She Fades Away' and my particular favourite at the moment 'Ocean Lullaby' so it's not impossible that we'll release a second mini-album in the not too distant future. I guess that may depend on how well 'Salt On Skin' does.
Economically it's the not the most sensible way for a band to proceed as the margins are a lot less.
4. What are your immediate plans with the new album?
I think basically it's to encourage or persuade, by whatever means necessary, as many people as possible to give it a listen and hope that a good proportion of those like what they hear.
It's weird, but having spent so long working on those particular songs, the mood right now is to move on to something new - which is why Andy and I have begun work immediately on the tracks for the nextfull album. I know the promo is just getting under way, but musically, it's good to take a break from the 'Salt On Skin' songs. We'll come back to them fresh when we start rehearsing for playing live.
I'd also like to do a video for one of the tracks - we did one for the song 'Mermaid Kiss' from The Mermaid Kiss Album. There's nothing solid planned on that at the moment though.
5. Our review notes how far you have progressed since the debut album. How do you see this progression? How do you think the band has matured musically?
I think we gained a lot of knowledge doing the first album - the whole process was new to us - and we did the whole thing ourselves, played everything, wrote everything, engineered it, mixed and mastered - even did the artwork. It was a terrific experience and a steep learning curve. This time I think we've been more careful about the songs we've included; the arrangements are better, the playing is better, the recording is better, the sound is better. And though all this maybe took longer than we'd hoped or anticipated, I feel it's a definite step forward.
Andy will probably say that he's more in control of the technology now, perhaps more attuned to it would be a better way of expressing it - his work on 'Salt On Skin' both on the musical and technical side is just brilliant. We keep pushing as well, setting ourselves new challenges in all areas. Hopefully this will keep the music fresh, original and moving forward.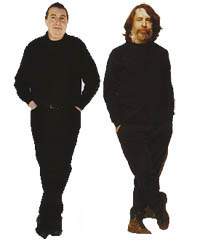 Jamie Field and Andy Garman(right) Website
6. Can you talk us through the inspiration for some of the tracks?
'The Blushing Bride' began with a backing track by Andy which I wrote the vocal melody and lyrics for. It's a song that considers that maybe we don't always know the people close to us as well as we think we do.
The lyrics of 'Walk Away' are Katie's - she bought that great chorus to a songwriting session she and I had, and between us we teased out the melody for the verse.
'Hollow' is Evelyn's song. It's an extremely personal piece she wrote in a rather low moment. The interesting cross rhythmic feel was introduced by Andy who decided that the music should be in a different time signature to the vocal - 3:4 against 4:4 - it's very unusual and is what gives the song such an unsettling feel. For Eve, the song was about capturing an emotion, not merely singing about being down, but actually trying to emulate the feeling of depression. We used the very first vocal take, the one we actually recorded for the demo, as subsequent efforts just didn't capture the emotion as well.
'Human Zoo' was written as the result of a request from Bill Reagan at Olympian Shadow Farm in the U.S. for a track to include on one of their compilations - rather than send an already completed song, we took the opportunity to write something new. As with 'The Blushing Bride,' the impetus came from Andy who constructed the basic backing track and also suggested the idea of humans as animals. I wrote the lyrics and vocal melody. Katie's vocals are great - she has a voice that seems perfect for both intimate songs like 'Walk Away,' or something that rocks like 'Human Zoo.' Great guitar solo from Nigel too.
'A Hard Row' is a song that's been around for a while - it's a reflection on third world poverty and the way we in the UK seem to have one day a year on which it's highlighted (Children In Need). I'm not saying that the money we give isn't useful, just that I sometimes wonder if it's more to salve our own consciences than anything else. People starve the other 364 days of the year as well. Is it a case of out of sight out of mind?
'Volcano' is unusual for us in that the lyrics were written before anything else. There's a song called 'Eve's Volcano' on Julian Cope's 'Saint Julian' album and I've long wanted to write a song called 'Volcano' for Eve to sing. Strange the things that can spark a song! Once you know there's a Julian Cope connection, you'll probably spot some other lyrical nods in his direction.
I wrote the words over Christmas at my parent's house in Kent, then Evelyn and I worked on the music as soon as I got back to Kington. The original musical concept was just to have percussion and vocals - that wasn't the way it ended up of course, but the percussion and vocals are both immensely powerful elements within the piece.
'I Go To Sleep' is a song I wrote for my wife Frances a few years back - it's not the Pretenders song of the same name. The version on the CD is actually from Kate Emerson's audition. As part of the audition I give the singer a song they've not heard before, I'll sing it through to them and then they sing it back - it's just to see how quickly they can pick up melodies. It was just a one-off - fortunately we had the tape running!
7. It is difficult to 'pigeon-hole' Mermaid Kiss, there are obviously similarities to other girl-fronted prog bands but the new tracks show diversity in approach not least in the vocals.
Have you any particular favourites in the latest batch of songs, and can you see a 'Mermaid Kiss' vibe emerging, or is there a particular style you'd like to develop?
I have to say we like not being able to be pigeon-holed. The diversity in the songs is I think, down to a number of factors: the different way they're written and the different writers, the fact we don't stick rigidly to any set instrumentation. If we feel an oboe would be appropriate, we'll go and find a woodwind player. Mostly though, I think it's because we try and let the song dictate the mood and style to us rather than trying to wedge it into any particular genre.
I think this is the way we'd like to continue rather than let any one style dominate too much. Expect the unexpected.
As to favourite tracks from the current EP - well I know Evelyn likes 'Human Zoo' and 'Volcano,' and that Andy's favourite is also 'Human Zoo.' Nigel's votes goes to 'Walk Away' and 'Human Zoo' - I'm not entirely sure what the two Kate's favour - from memory, I think Kate E likes 'Hollow' 'A Hard Row' and 'I Go To Sleep' - I do know that 'Human Zoo' is her least favourite! As for me, well, it depends on my mood really. Chris Walkden, who does our photography and CD artwork is a 'Blushing Bride' and 'I GoTo Sleep' man.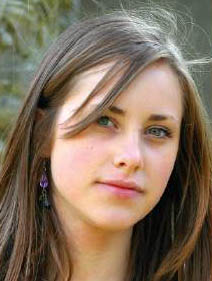 Kate Belcher, photo © Chris Walkden Website
8. Herefordshire is a veritable 'harem' for female singing talent. Discuss!
Well, Kate E. is actually from Cheltenham, Gloucestershire, but Evelyn and Katie B. are both Kington born and bred.
Whilst there are a lot of fine vocalists out there, very few of them sing naturally - both Eve and Katie started working with us in their teens and their singing voices are very natural and unaffected, perhaps we caught them before they started trying to emulate other artists?
It's really quite horrifying sometimes at auditions, so many vocalist sing in this weird accent that seems to come from somewhere between Galway Bay and New York City. It's so false! A lot of vocalists these days seem to have done karaoke at some point - so maybe it's no wonder they're under the misapprehension that sounding like Celine Dion is a good thing. The recent popularity of music reality shows on TV hasn't helped either.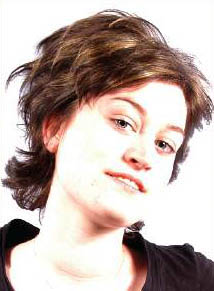 Evelyn Downing
9. How is your 'other' project going - 'American Images'??
Kristen Kissinger came over from the USA to record two tracks - songs we'd co-written called 'Seattle' and 'Nomad'. Kris is a great talent, she has an extraordinary voice, writes terrific prose and plays guitar. She's currently at college in Boston and her ambition is to be a radio presenter - she's well on her way as she's alReady doing stuff on WBOS and also has her own weekly show on another Boston station.
In the autumn another visitor from the States came to record. Penny Hawkins is a classically trained singer based in San Diego who coaches all styles of vocalists from classical to heavy metal. She came over to do the vocals for a piece called 'The Secret Knowledge of Water' - Andy and I constructed a backing track - really an 'atmosphere' and Penny wrote and sang a vocalise for it. It's a very strange and very beautiful piece.
Ex-Fula vocalist Zoe Stafford'll be coming in soon to record a song called 'L.A. Aria' - we just need to find a date for that happen.
10. Where to next for Mermaid Kiss? (Longer-term plans for 2006 and beyond)
Continuing to write and record is certainly top of the agenda. As I say, we have a number of further tracks finished, so a second mini-album is a likelihood as the next release, but we're also working hard on the next full-length album.
There's at least one other project in the pipeline - a collaboration with members of another band, but again that's likely to be a more long term thing - it can only really happen when we're all available - and music is very time consuming!
On a similar theme, we'll be continuing to record the tracks for American Images as and when the vocalists we'd like to contribute have time.
The 'co-operative' of vocalists that we seem to be operating is likely to continue - it wasn't planned, but it does seem to work very well right now.
The long term plan remains much as it's always been - to grow slowly, to learn along the way, and to keep making better and better music.
---
Interview © 2006 David Randall
Format and edit: The Music Index.