Meat DVD makes it Bat Out Of Hell III ...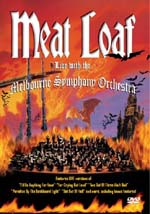 I found myself approaching this DVD wondering how you could make a 30 year career out of a single album. Bat Out Of Hell is, beyond question, a classic album - letís face it, we could all probably sing it note for note. But itís never been equalled despite attempts in the guise of Dead Ringer and Bat II to mention just two of Meatís subsequent releases that have failed to quite cut the mustard. So, I wondered, was this outing with an orchestra to be just another moneyspinner towards the Meat pension plan?
Well first, this is a double DVD release (thereís a parallel CD release). On the first we get the full length concert - all 2 hours and 27 minutes, including an optional commentary by Meat. You woundnít think the latter would work, but Meatís such a fruitcake that its enjoyable entertainment in its own right.
The second disc is relatively short - no more than 30 minutes of behind scene featurettes and a photogallery - and could probably have been dispensed with for all the times youíll watch it.
Anyway, what of the main course? The show opens with Meat hamming it up in front of the stage curtain - a drum beat and the crowd egging him on. Thereís a palpable expectation in the air as more drums add to the beat and a guitar riff rings around the auditorium. The curtain drops revealing the band and orchestra - two female backing vocalists either side of the drum riser - a blonde and brunette - all boots, legs, leather, flesh and hair. And weíre into a furious version of Life Is A Lemon (And I Want My Money Back). This is rock Ďní roll vaudeville, and it donít come any better.
This isnít a concert, itís a rock and roll show. And itís immediately apparent why Meat Loaf is still so popular - he puts on one hell of a show. OK, itís completely over the top for most of the 2 hours 27 minutes, but then so was Bat Out Of Hell. The feel good factor is quite remarkable.
The band - The Neverland Express - are rock solid throughout, with backing vocalists Patti Russo and CC making you wonder why more rock acts donít add vocalists of this calibre. As for the orchestra, yes they add nice touches here and there, but they complement more then dominate.
And of course, we get all the favourites - Dead Ringer, All Revved Up, You Took The Words Right Out Of My Mouth, Two Out Of Three, Paradise, Bat etc. etc. It comes at you like a freight train and doesnít let up from the opening drum beat to the tickertape finale. On a scale of one to five, this scores a 10. Add it to your Christmas list.
*****
Review by Pete Whalley
Related>> Album Review (Bat Out Of Hell Live)