MEAT LOAF 'Couldn't Have Said It Better'
Mercury 076 119-2 (2003)

If there is one artist who does the epic rock track to perfection, all drama and pathos, it has to be Meat Loaf. The latest CD follows in the grand tradition of 'Bat Out Of Hell' which means this is rock on a widescreen scale. If this is your taste, you will find plenty here to impress - big choruses, big production, big singer. There are several anthems co-penned by Motley Crue's Nikki Sixx but the 'tender' passages soon give away to the trademark tinkling pianos, crashing guitars and female harmony. 'Did I Say That' can be placed in the Meat classics canon that started with 'You Took The Words Right Out Of My Mouth' whilst the title track fits that bill too. 'You're Right, I Was Wrong' is an obvious single (penned by Diane Warren), but there are several other likely contenders. 'Do It' although somewhat throw-away is actually quite nifty with Meat rapping over a grungey backbeat.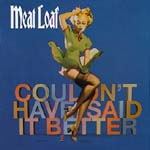 Meat doesn't appear to be missing former collaborator Jim Steinman but in this latest CD he has rigidly stuck to plot and the results will impress both his fans and a wider public. The limited special edition features video footage which make a worthwhile addition. 'Couldn't Have Said It Better' may not be 'Bat Out Of Hell 3' but it's as near-as-dammit, and fans certainly won't be complaining.
****
Review by David Randall
Related>> DVD Review
Related>> Album Review