MEAT LOAF 'Bat Out Of Hell Live with the Melbourne Symphony Orchestra (Special Bonus Edition)' (2004)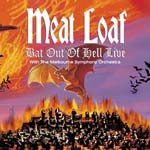 This is the companion CD to the five star rated DVD.
The CD has reordered tracks from the concert to recreate the Bat Out Of Hell album in sequence. While that might have seemed a neat idea, Iím not sure it was too clever. What it does is force a direct comparison with the studio album. And frankly, thereís no comparison. The original Bat wins by a knockout before the end of the opening track.
The DVD scores so highly because it brings the full impact of Meat Loaf live into your living room. Itís a rock and roll show. And highly visual and entertaining at that. So much so, you could probably enjoy it with the sound turned off.
But stripped of the visual theatrics, dancing girls, and histrionics, the frailties in the performance begin to peak through.
Sure, itís a neat idea to supplement the Meat Loaf sound with an orchestra and that works well (even itís the band that dominates the sound) but just concentrating on the soundtrack you realise Meatís vocals arenít as strong as they once were and the full impact of the live performance is dissipated badly.
Donít get me wrong, this is still a decent purchase. And itíll having you singing in the shower. But take my advice, buy the DVD instead.
***
Review by Pete Whalley
Related>> DVD Review
Related>> Album Review