JIMI HENDRIX 'Are You Experienced And More'
(Purple Haze Records HAZE005) (2004)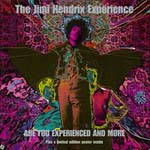 The number of Hendrix bootlegs and post-1970 album variants has been both a blessing and a curse.
For the collector, the sheer range of available recordings means that duplicates are inevitable. Once Hendrix's father wrestled back the rights to the back catalogue, a selection of well documented and remastered recordings emerged, some quite rare and probably the best compilation (which features a fair cross-section of what was previously only available in brown paper bags)is the four-CD "purple" box set released in 2000.
The Hendrix Estate proceeded to expunge the Alan Douglas tampered-with recordings that some believe tainted the great guitarist's name, and started repacking former glories. Somehow it didn't seem right to add modern backing tracks to a master's work (a bit like adding more detail to a Grand Master painting). But it did mean buying more product for which there seemed unsatiated demand.
This makes the release of this double-CD all the more intriguing, as most fans will possess the original (which is included in its entirety and sounding identical). The "outtakes" have already appeared on bootleg. By a legal quirk, it seems that Hendrix actually licensed his early material to one John Hillman and this is where this album comes from along with several others on the Purple Haze label.
It's the second-CD of dry-run, rehearsal takes that will interest most fans. They're complete with production room chatter, crackly amps, stop-starts, and give a sense of work in progress. Unfortunately the sleeve notes are a little light on detail. The uninitiated should beware that there are five takes of 'Can You See Me' and five takes of 'Fire' whilst 'Remember' is recycled six times. Nearly all are instrumental, with the honourable exception of 'Red House', and sound like the backing tracks which is perhaps how they have survived. Really, two 'alternative' takes is probably two too many unless you're doing Hendrix Karaoke at the local 'Dog and Whistle'.
For those who come to Hendrix fresh, this wouldn't be a bad start as the debut album was characterised by pithy, memorable songs and the first real blast of that great guitar. On the second album 'Axis: Bold As Love' Hendrix was confident enough to expand on the three-minute pop-rock format that made his name. And then, of course, album no.3 was his 'Sergeant Pepper' where he gave full vent to his musical leanings from jazz, through blues, rock and funk and with no sense of looking at the clock.
This double-CD, with ace photography from Bruce Fleming who adds a sleeve note, is a good looking package, but whether it adds any real substance to the Hendrix canon is open to debate. Docked one star for a sense of deja-vu.
***
Review by David Randall
Related>>Monterey/Stockholm (review)
Related>>Axis Outtakes (review)
Related>>Blue Wild Angel - Live At The Isle Of Wight (review)
Related>>Rainbow Bridge (review)