JIMI HENDRIX 'Axis Outtakes' (Purple Haze Records HAZE002) (2003)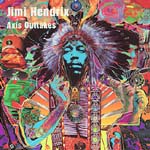 Having to write a review for a Jimi Hendrix album is like trying to fit the history of Rock Music in three-hundred word text, and believe me - you don't know where to start. Jimi was a pioneer in every possible way: He was a master in amplification experiments, he could play behind his back and with his teeth - he could even set his guitar on fire while playing. He managed to successfully combine his RnB and Jazz influences and created a new music proposition which was widely accepted and appreciated for the last thirty three years. He was the only person in the history of music who managed to contribute so much in such a small period of time.
Jimi formed "The Experience" after Chas Chandler's (The Animals - bass) encouragement, and wrote three albums: "Are You Experienced?", "Axis:Bold As Love" and "Electric Ladyland". His partners in crime were Mitch Mitchell on drums and Noel Redding on bass."The Experience" were disbanded in 1969 and the rest is history.
Hendrix recorded a massive amount of unreleased studio material during his lifetime and that's mainly why Purple Haze records decided to release a double CD from his "Axis:Bold As love" era called "Axis Outtakes". The song selection will make happy all the Hendrix fanatics. Not only does it contain alternative versions of classics such as "Spanish Castle Magic", "Little Wing"(probably my favourite Hendrix song), "Bold as Love" and "Little Miss Lover" but many extras such as "South Saturn Delta"(an impressive instrumental song), "Cat Talking To Me"(where you can hear Mitch Mitchell on lead vocals), "Driving South"(great guitar performance) and "Jazz Jimi Jazz" with an unbelievable jazzy/funky rhythm.
For all the Hendrix fans out there: The last thing you need is someone like me to tell you that you need to own this CD. To all the rest I will say this: In order to have a correct understanding of what happens at present, you need to look deep into the past, and there's none more "Experienced" than Jimi Hendrix!
***
Review by John Stefanis
Related>>No More A Rolling Stone (review)
Related>>Blue Wild Angel - Live At The Isle Of Wight (review)
Related>>Rainbow Bridge (review)