JIMI HENDRIX 'No More A Rolling Stone'
(Purple Haze Records HAZE004) (2004)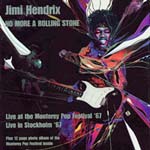 Yet another Hendrix release which reprises the great master's performance at Monterery Pop festival in June 1967 and, on a second CD, an appearance in Stockholm in the same year.
Both these sets were recorded at the zenith of the Experience, the band that formed around Hendrix when he first came to attention in England in late 1966. They are both supreme examples of power rock trio, with an energy that made all others pedestrian at the time, and many more since.
There is some duplication, perhaps understandably given that there are only a few months between these gigs. Many collectors will already own these tracks. Originally the Monterey set was available in 1986 whilst the Stockholm set has appeared on the multi-CD 'Stages' set in 1991.
This double-CD puts it all in one place, and the sound quality is clear as a bell. The sheer exhuberance evidenced here contrasts with the sombre and somewhat frustrating 'Isle Of Wight' gig just three years later. At Monterey, Hendrix was on a mission and it shows. It was here that he conquered his homeland, wiped the floor with more established acts like The Who, and set fire to his guitar.
The Sweden gig, on the other hand, was taped for radio and includes a rousing version of 'Sgt Pepper' and a sublime 'Burning Of The Midnight Lamp'. Compared to the Monterey fireworks this is a more disciplined performance and sits well with BBC radio material of the period, but no less interesting for that.
This release makes sense if you missed these definitive live shows first time round and captures Hendrix on top form doing what he did best.
****
Review by David Randall
Related>>Axis Outtakes (review)
Related>>Blue Wild Angel - Live At The Isle Of Wight (review)
Related>>Rainbow Bridge (review)