FAMILY 'BBC Radio 1968-69' (HUX057)(2004)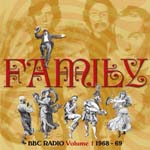 It's a good time for Family fans at the moment. With a Roger Chapman solo album reissue campaign, the odd DVD or two, and this - the first of two volumes featuring the band at the BBC.
This is an interesting volume because it predates Family's major chart success in 1970. In their early years they were a more experimental and eclectic bunch (with wind instruments, sitars and violins thrown into the mix), and a tad whimsical. They were, though, always characterised by Chappo's distinctive warble and a rhythm section to die for.
On the first sessions from 1968's 'Saturday Club' and 1969's 'Top Gear' a mellotron is included for good measure giving them a sound half way between Moody Blues and Quintessence. A beat combo legacy is also present on tracks like 'Second Generation Woman' and 'Love Is A Sleeper' and it is no surprise that the band - once called The Farinas - cut their teeth in the Beat boom of the early sixties.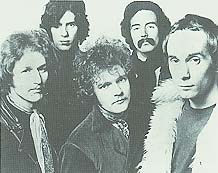 'The Weaver's Answer' and the breakthrough single 'No Mule's Fool' are both included here, and still sound relevant, with their jazzy prog folk textures and - for those of a certain hue - will bring back memories of "Fluff" Freeman's chart countdown on a Sunday afternoon.
You have to psyche yourself back to the late sixties to fully appreciate that Family were quite unique, and progressive in the widest sense. Whilst other contemporaries would meander for the mandatory lengthy "concept" track and the extended solo, Chappo and his mates usually said everything succinctly in four minutes and then moved on.
The band, though, could rock out when they wanted to and as the later albums would show they could pass instrumental muster with the best of them.
The later material, like 1969's 'A Song For Me' from the eponymous third album shows Family finding their true voice. And just round the corner further chart success beckoned with the brilliant singles 'In My Own Time' and 'Burlesque'. By early 1970, also, reedsman Jim King had left and with his exit came a less jazzy style for the band that will no doubt feature on Volume 2 of this excellent retrospective.
***
Review by David Randall

Related>> BBC Radio 1971-3
Related>> Boxed CD set
Related>> Riff Burglars
Related>> Techno-Prisoners
Related>> Family & Friends DVD
Related>> Archive DVD
Related>> Family Reissues
Related>> More about Family