FAMILY 'Reissues'(Mystic)(2003)

We've been rightly spoilt this year with the release of the excellent Roger Chapman retrospective boxed set and several solo albums. Now come five Family reissues from the seventies plus a previously unavailable live album from 1971, the last will certainly get Family fans salivating in anticipation.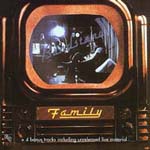 Family were one of the most innovative and productive prog rock bands of the early seventies and one of the few to enjoy true crossover success with several Top 20 albums, and singles all of which are included in these reissues in some shape or form. With Roger Chapman's engaging stage presence and idiosyncratic warble pitched somewhere between Joe Cocker and Paul Rodgers, they were also a great live band and trialled much of their studio material on the road prior to recording. In his own way, Chappo ranks with Paul Rodgers of Free as one our most distinctive and charismatic rock vocalists and, like Rodgers, a talented songwriter.
The five reissues trawl a period from 1970 to 1973. Family had already tasted chart success with their first two albums 'Music In A Doll's House' and 'Entertainment'. It looks like Mystic were unable to secure the licensing for the first two but their story starts with 1970's self-produced 'A Song For Me' (*** MYSCD170) followed by the semi-live album 'Anyway' (*** MYSCD171) first released in November of that year. This was something of a stop-gap to appease demand for a live album before 1971's 'Fearless' (*** MYSCD172) which, together with 'Bandstand' (**** MYSCD173) gets pride of place in many a Family fan's collection (the latter includes the fantastic single, 'Burlesque' - with Argent's 'Tragedy' definitely the best of 1972's funk rock workouts). Their last album 'It's Only A Movie' (*** MYSCD175) got a critical drubbing at the time, probably because it marked a departure from their usual tight, funky and original style.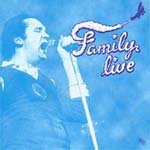 Fans, though, will find the live bonus tracks of more interest, because in a live situation the band were allowed to stretch out. They were all incredibly funky musicians and there's some great blowing here. Have a listen, for example, to the bonus version of 'Part Of The Load' on 'Anyway'. John Wetton replaced John Wieder for 1971's 'Fearless' whilst Poli Palmer added distinctive vibes and flute from 1971 when he replaced Jim King.
In addition to the bonus tracks including restored singles, these reissues all come with repro artwork, additional photos and, moreover, Pete Feenstra's excellent sleeve notes and critique. The one minor niggle is that the source or year for the bonus tracks is sometimes absent and, strangely, the audience has been mixed out on nearly all live pieces. The 'Live' set (*** MYSCD176) is a real find though, and comes from their 1971 winter tour. This project is a labour of love for Don and Martin at Mystic Records and a great service for those who wish to rediscover one of the seminal UK prog acts in their glory years. Very seventies, very English and very good.
****
Review by David Randall

Burlesque
© 2003 Mystic Records. All rights reserved.
Related>> More about Family
Related>> Family box set
Related>> Roger Chapman box set
Related>> Riff Burglars
Related>> Techno-Prisoners
Related>> Family & Friends DVD
Related>> Archive DVD