FAMILY 'Old Songs New Songs' Mystic MYSCD191 (2005)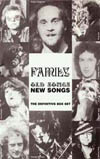 Don McKay and Martin Darvill at Mystic have done a great service to the name and legacy of Family and Roger Chapman. 'Old Songs New Songs - The Definitive Box' is their latest offering and, as the title suggests, includes Family's album of 'A' and 'B' sides released in 1971.
Spread across the three other discs are a shed-load of unreleased demos and live tracks. Add in the usual excellent liner notes from GRTR! contributor Pete Feenstra, and this may well live up to its 'definitive' title.
Family were a band very much of their time, a quintessentially seventies English rock band, and they pulled off several hit singles, all of which are included here in some shape or form.
The 'hit singles' only hinted at the true breadth of the musicianship and band influences, the early Family albums demonstrate in finer detail the eclectic mix of rock, R&B and more exotic flavours.
That ecelectism means Family seldom sounded like anyone else but, if pressed, you might detect early Genesis or prime-time Wings, occasionally Gentle Giant. There was always an undercurrent of pop sensibility in the band's music which explains their talent for classic three-minute singles.
The band seemed to regularly turn over bassists, including those of the calibre of Rick Grech and John Wetton. But with mainstays drummer Rob Townsend and guitarist Charlie Whitney, their musical credentials were never in doubt. And in Chappo they had a very individual vocalist and talented lyricist.
The strongest set in this collection is Disc 3 which includes the brilliant singles 'Burlesque' and 'In My Own Time', and tracks from arguably the band's strongest efforts - 1971's 'Fearless' album and 'Bandstand' (1972). (Beware that some of the live tracks across the box have appeared on the Mystic studio album reissues).
If there is one criticism of this collection it is the lack of recording detail; anoraks like this sort of information and sadly it's not even buried in the expansive sleeve notes. Fans will at least be familiar with the album geography, but the newcomer may flounder a bit.
Disc 1 appears to be taken from vinyl rather than original masters. And it begs the question whether Mystic will see fit to release 'Old Songs' as a standalone CD.
Track detail aside, there's the addition of a bonus CD of demos and live recordings for the first 1000 copies, and a rather nice facsimile of the Isle of Wight programme from 1970. The IOW souvenir does, though, raise another question: what has happened to the band's performance at the festival when they appeared with such luminaries as Chicago, Taste and Procol Harum on the first day of the event? And, more to the point, why isn't it here?
As a companion to Mystic's earlier 'Family and Friends' (which showcased Chappo's solo work) this box set is comprehensive, and pretty much indispensible.
****½
Review by David Randall

The Weavers Answer
© 2005 Mystic Records. All rights reserved.
Related>> More about Family
Related>> Reissues
Related>> Boxed CD set
Related>> Riff Burglars
Related>> Techno-Prisoners
Related>> Family & Friends DVD
Related>> Archive DVD