Exotic birds and doom laden riffs give period atmosphere to this TV vault plundering...
Classic Rock Productions have to be applauded for this DVD-EP series which trawls some of the celluloid archives from the early 1970's and dusts them off for 5.1 surround sound. They've also unearthed some genuine obscurities and if you are a fan of the respective bands, the DVDs will be pretty much essential. A nice touch, too, is that there is also a CD release to accompany each title.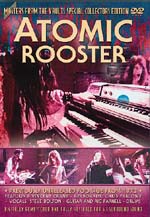 Starting with a fantastic Focus set, the early releases display some ancient prog rock from its glory days. Atomic Rooster (CRP1071 ***) married a pop awareness with no-nonsense heavy riffing, although the band featured here is middle-period with Chris Farlowe on vocals. Still, Vincent Crane is as manic and marvellous as ever on Hammond and the riffs doom-laden. The only thing missing here are the "hit" singles, but never mind...
Sonja Kristina is enjoying something of a revival at the moment, having recently released a new solo album. However it's a million miles from the prog-rock she traded with Curved Air. A staple in the bedroom poster department, Sonja brought genuine glamour to the genre as well as an individual vocal style and together with Judie Tzuke she ranks as one of our female rock icons of the seventies. Unfortunately, the director of this Belgian(?) movie had a bird fixation - and we're not talking about Sonja. On one piece there are exotic feathered bird shots interspersed with the music but it only goes to add to the weird seventies ambience and makes you ask: What the hell were they on?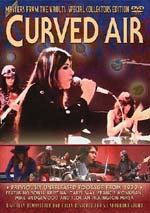 The best-remembered track 'Back Street Luv' is absent, what you get are several tracks off then current album 'Phantasmagoria'. Curved Air were an interesting band and keyboard/ guitarist/ arranger Francis Monkman later found fame in Sky. It's wonderful to see Monkman manipulating the Mini-Moog synthesiser (even if a tad over-indulgent) whilst Daryl Way presages the histrionics of Nigel Kennedy two decades later with his frenetic interpretation of 'Vivaldi' which Monkman also revived in Sky. Way is also featured in a recent 10 minute interview explaining the origins of the band. (CRP1011 ***)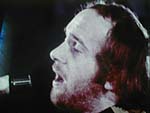 Family (CRP1022 ***) are currently enjoying something of a revival and much-needed retrospective in the shape of singer Roger Chapman and his magnificent boxed set and an intended reissue of his back catalogue. Here we are on more 'familiar' territory: video and live footage from their classic period including the tremendous 'Part Of The Load' and the live favourites 'No Mule's Fool' and 'The Weaver's Answer'. This DVD is a great companion to the boxed set but also the 'Family & Friends' package on Angel Air Waves which brings Chappo's story up to date.
Chapman has a very distinctive delivery and stage presence and Family were a great rock band that deserve re-investigation and, maybe, even greater respect.

Review by David Randall
© 2003 All rights reserved.