ALEXIS KORNER'S BLUES INCORPORATED
At The Cavern Castle CMRCD 1372 (2006)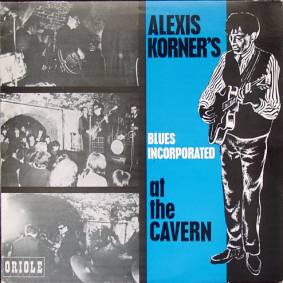 'At The Cavern' is essentially the album that its predecessor 'R&B From The Marquee' pretended to be, being recorded live in front of real r&b fans. The other main difference of course was the passing of harp maestro Cyril Davies and the fact that for better or worse Alexis Korner had started to share vocal duties in the band. And while the Alexis Korner growled rasp was at times nothing short of unpalatable, his sheer enthusiasm and vast knowledge of the blues/r&b and the fact he constantly had a great band overcame any obvious musical short comings.
Being a smart band leader of course, Alexis also took the precaution of including London based American vocalist Herbie Goins in the band, and the results are everything you would wish from a live album. It is also worth noting that in a band that was to include such heavyweights as Jack Bruce, Ginger Baker, Dick Heckstall Smith, Graham Bond and Phil Seamen to mention a few, this Cavern line-up featuring Dave Castle on alto, Malcolm Saul on organ, Vernon Bown on string bass and Mike Scott on drums is everything Alexis would have wanted from a Blues Inc. line-up.
Being the early pre Beatlemania era, the audience is attentive but enthusiastic enough to push the band to play to their potential. Alexis himself leads from the front on guitar and gritty vocals on 'Whoa Baby' - a tough unrelenting blues - but it is with the jazzy intro to 'Everyday I Have the Blues' that things ignite. Vocalist Herbie Goins sounds like a young Lou Rawls and adds style and panache to the sweaty effort of the band. Curiously the classy intro is almost overridden by the top heavy mix of sax and bass, and it is only with the superb alto break that the band relaxes back into the groove.
It can be argued that half way through this number Blues Inc. achieve the kind of r&b outing that Alexis constantly strove for. On yet another version of 'Hoochie Coochie Man' everyone stretches out, and on the following Ellington influenced instrumental show stopper 'Herbie's Tune', Blues Incorporated play at their collective best, pursuing a very proggy/jazzy direction, otherwi se known as sixties cool. By the time of a swinging 'Kansas City' the band are blowing up a proverbial storm, and delivering good time r&b at its best.
This re-mastered album also offers eight bonus tracks including two excellent covers of 'Roberta', and 'Turn On Your Lovelight' by Herbie Goins. Several brief but enlightening Brian Matthews interviews also help to make this the best of the initial three Blues Incorporated re-issues.
****
Review by Pete Feenstra
Related>> R&B From The Marquee (review)
Related>> Blues Incorporated (review)
Related>> Anthology (review)