ALEXIS KORNER The Anthology 1954-1983 Castle/Sanctuary CMEDD1026 (2006)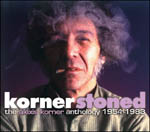 The Godfather of British Blues, Alexis Korner had a lasting legacy and major impact on the music scene, and this collection round up his history rather well.
Disc one (54-69) covers the early material, where the blues mixes skiffle and touches of jazz, with 54's 'Midnight Special' nodding at jug band style, and 'Roundhouse Stomp' real acoustic blues of the finest quality.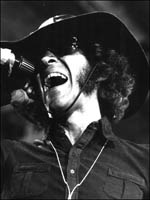 The sound matures in the 60s with the birth Korner's Blues Incorporated. Rock'n'roll and r'n'b all come in - for pure listening pleasure.
Disc 2 - enter the 70s, kicks off with the old TOTP theme in CCS's 'Whole Lotta Love' on which Korner guested, with more solo and session work following.
Some of the music here will surprise, and there's some real gems and rarities too. Right up to the end Korner recorded and every angle is covered here, well annotated too.
The legacy is huge, and the man's music should never be over looked. This is a fine introduction, a money saver and with some previously unreleased work, there's something for everyone. Whether an insight, an introduction, or just some fine blues, this is an excellent collection.
****
Review by Joe Geesin
Related>> Reissues