ALEXIS KORNER'S BLUES INCORPORATED
R & B From The Marquee Castle CMRCD 1371 (2006)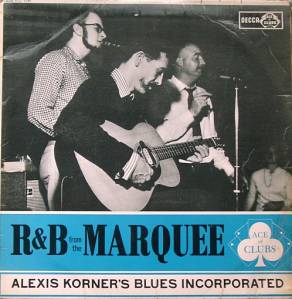 'R&B From The Marquee' will bring many a smile to jazz, blues and live music fans of a certain age. For jazz fans, the album was regarded as the dabblings by some accomplished players in a musically eclectic area known as the blues. For the nascent blues and r&b fans the album's raison d'etre lay simply in harp player Cyril Davies's obsessive quest to play authentic Chicago blues. For music fans in general, Blues Incorporated came to represent a significant force in breaking down the musical hierarchy of the time, and at the core of both the band and changing music scene was Alexis Korner.
Back in the early 60's there was either Folk or Jazz, or at best skiffle and Blues Inc. set about destroying those musical strongholds. But with every radical act there are consequences, and before Davies's tragic death barely 6 months after this debut album, he was at loggerheads with his musical accomplice, as Alexis worked towards an altogether broader vision of the blues. And with the release of 'R&B from The Marquee', 'At The Cavern' and 'Blues Incorporated', you get the feel of three very distinct albums that possibly reflect the tensions and personnel in the band as much as the overriding personality of its leader Alexis Korner.
Taken as a whole all three cd's represent an enthusiastic stab at the blues, a live R&B album and a jazz album respectively, played by a mix of contemporary jazzers and experimental bluesers. Blues Incorporated is an apt name for a project that never compromised itself musically but in doing Alexis Korner took the long way home while his R&B contemporaries reaped more immediate commercial success
But back to 'R&B from the Marquee' which wasn't anything of the sort of course, as the album was actually recorded in a West Hampstead studio. But the title was as much a moniker of the music and a core venue at the time, reflecting the feel and vigour of Britain's first professional (just) blues band.
Sadly this re-issue has also taken on more poignancy with the recent passing of both sax player Dick Heckstall Smith and Long John Baldry, both of whom contribute significantly to the ground breaking project. Both Dick and Cyril on sax and harp respectively, somehow manage to accommodate each other while blowing double lines on the spirited 'Spooky But Nice' with Alexis even adding a brief guitar line.
The following circumspect blues outing 'Finkel's Café' is notable for what sounds like carefully arranged horn lines, the very antithesis of what Cyril had in mind. On 'Hoochie Coochie Man' Cyril delivers a confident if unspectacular vocal, and wails away sublimely on 'I Thought I Heard That Train Whistle Blow' on which Baldry shows himself to be a vocalist of real stature.
Both Dick and Baldry provide the highlight of the bonus tracks, on 'Night Time is The Right Time', while Cyril's wailing harp and Baldry's caustic vocals lie at the core of some rasping r&b on 'Everything Sh e Needs'. Passionate throughout, the band plays with a real sense of purpose exemplified by the consistent contributions from Keith Scott on piano and Spike Heatley on string bass. In short this album is a mix of some gritty r&b, passionate performances and some near misses but is suffused with the kind of real feel for the blues that made Alexis Korner the major British blues catalyst for over four decades.
***
Review by Pete Feenstra
Related>> At The Cavern (review)
Related>> Blues Incorporated
Related>> Anthology