It's day three and four of the Swedish fest, the Scandinavian sun is taking its toll on our intrepid reviewer. But he manages to take in the last Talisman gig and REO Speedwagon after a 25 minute wait. Ultimately it is a triumph of man over canvas.
Day 3
The long, hot, previous day has taken it's toll, so some of Day 3's acts will have to be satisfied that I can only enjoy their performances from a seated area near (or in) a beer tent. A suitable perch is found for one of Denmark's main contributions to the scene, Pretty Maids.
Not being familiar with the band, and expecting something closely aligned to 80's glam (from the name), it was a bit of surprise to be confronted with a classic-style melodic hard rock band. A very enjoyable set, with some modern, harder elements to the newer songs. Latest album "Wake Up To The Real World" is well worth investigating further.

New blood next, with The Answer appropriately taking the stage that is flanked by images of Jimmy Page. With widespread critical and popular acclaim attributed to their debut album "Rise", this band are not afraid to wear their influences on their sleeves.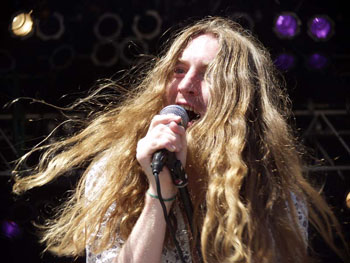 Cormac Neeson (The Answer), photo Ian Pollard
Cormac Neeson could easily have just walked off the set of the remake of "The Song Remains The Same", and guitarist Paul Mahon is already more than capable of standing shoulder to shoulder with any number of more experienced players than himself.
The music is pretty good too, with obvious hints of Zeppelin and Free, yet retaining a personality of its own. These guys could be heading for the big time, and I'm sure their next appearance here will be much higher up the bill.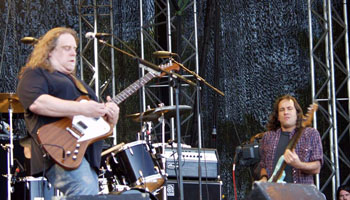 Gov't Mule, photo Ian Pollard
A casual 3 hours follows, taking in performances from Mike Tramp's White Lion (re-living the 80's hair metal days), a ZZTop-esque show from the David Harleyson Power Trio (complete with Clint Eastwood style ponchos), and some more Southern style blues from Gov't Mule. The latter set features some of the band's well known improvisations, where they all manage to follow whatever is going through Warren Haynes' head at the time. Telepathic rock?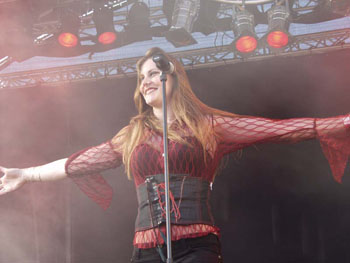 After Forever, photo Ian Pollard
Female fronted Dutch outfit After Forever are up next, a band I've heard of, but not had the chance to check out before today. Featuring Floor Jansen on vocals, whose work with Ayreon I had heard previously, this is another band in the symphonic / melodic / gothic metal genre with similarities to Nightwish and their countrymen Within Temptation.
They obviously made a good impression, as I wasted no time in obtaining their latest self-titled album (actually their 5th full album release). The music is powerful, the vocals exceptional, and they have a good live presence too.
Jeff Scott Soto (Talisman), photo Ian Pollard
The small Zeppelin stage is the strange decision for the next band. Billed as their last ever gig (which may or may not be true now, following recent developments), Talisman attracted an audience more suited to one of the larger stages. Still, this heavily emotionally charged set was one of the most memorable I have seen by any band.
Jeff Scott Soto was in fine form and walks away with the best front man of the festival award (although Danny Bowes ran him close). Even more amazing about this tour is the fact that Talisman's normal guitarist dropped out at the eleventh hour and was replaced by Brian Young (from DLR's band), and he never missed a note as far as I could tell.
Ironically, at one point JSS played the opening bars from "Don't Stop Believin" on the piano before saying "Sorry, wrong band". It was later that night that he learned from a third party about his dismissal from Journey!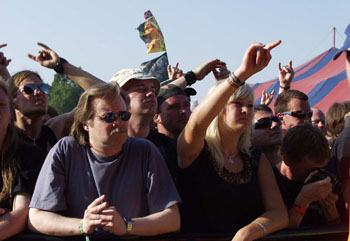 photo Ian Pollard
Headliner time, and the huge runway extending out from the Festival stage finally gets some use as Aerosmith get the party going. The first hour of the set is non-stop hit after hit, with barely a pause for breath in-between the songs, let alone any interaction with the crowd (which is a bit of a disappointment, but it is still a good show).
Steven Tyler is still the great showman, and shows no signs of slowing down. Highlights of the set are "Dream On" and "Living on the Edge", along with an extended blues guitar break that showcases the talents of Joe Perry and Brad Whitford to the maximum (I didn't appreciate just how good a guitarist Joe Perry is until now). There is plenty of life in these old rockers yet, and they entertain for a full 2 hours.
Day 4

An early start on the final day is in order, to catch first band Falconer on the Zeppelin stage. Another of the current large crop of Scandinavian power metal offerings, they do have something that sets them apart from the rest. That is Mathias Blad, original vocalist with the band, who has recently re-joined them, and a regular on the Swedish stage musical scene. To say he is quite a good tenor, would be the same as saying Pavarotti isn't too bad.
Check out latest album "Northwind", and you can be certain that there is no studio enhancement used on the vocals, as the live performance was as good, if not better. The rest of the band are good too, but it is Mathias' vocals that win the day for them, and claims the best singer of the festival award (and for me to say that when Ronnie James Dio has appeared at the same festival is nothing short of amazing).

Just had time to catch Thijs van Leer yodelling away at the end of the Focus set, which as always appeared to have been very entertaining and much appreciated by the audience. Then it was time for a bit of CD shopping, and a general browse around the myriad of vendor stalls available at the festival, before returning to some more Southern-fried rock and roll.

Black Oak Arkansas once featured the aforementioned Tommy Aldridge on drums (known back then as Dork Johnson though - I wonder why he changed his name). Now they have Johnnie Bolin on drums, who is the brother of the late Tommy Bolin. Jim Dandy still leads the band and they provide an entertaining set in true Southern state style.

My expected highlight of the day follows, with Hansi Kursch leading German prog-metal supremos Blind Guardian through a tour of their musical history. Featuring new songs from the excellent "A Twist In The Myth" album, the awesome Wagnerian anthem "Valhalla", and my personal favourite, the epic 14 minute "And Then There Was Silence", this set is possibly the best of the week (so far). A band still going from strength to strength, whilst approaching the 20th anniversary of their debut album next year.

The packed schedule means I can only catch a short part of Suzi Quatro's set, missing out on the songs that made her famous. Still a crowd pleaser, even if her voice doesn't have the strength that it used to have. What I did see included a good version of Neil Young's "Rocking In The Free World" - which must be the most covered live song ever.
The delights of Suzi Q had to be abandoned though, to enjoy the eccentric wonders of Finnish folk-metallers Korpiklaani in a very, very busy Gibson tent. Definitely the only band at the festival to feature accordion, fiddle, and bodhran alongside twin lead guitar and a set list of songs about beer, hunting, beer, and more beer. Talented musicians, all, and a hugely enjoyable experience that prompted yet another CD purchase.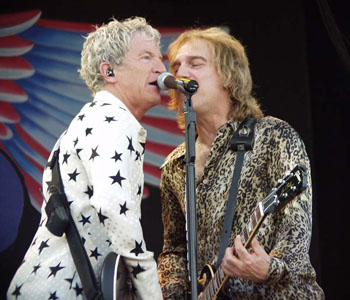 REO Speedwagon, photo Ian Pollard
Another 25 year wait was about to come to an end, as REO Speedwagon storm on to the Festival stage. 35 years of experience are put to good use as they show exactly how a stadium rock band should perform. There is not a moment of wasted time in the set, plenty of interaction, and Kevin Cronin works the crowd brilliantly.
All the chart hits get an airing as expected, but songs from the new album "Find Your Own Way Home" fit in just perfectly, proving these guys have still got what it takes. A blistering version of "Riding The Storm Out" ends a set that only seemed to last half an hour, but was three times that and just edges it for performance of the week.

Hinder are the final band of the festival to take to the Sweden stage, and the American newcomers play almost their entire debut album, "Extreme Behaviour", as well as one new song.
A high energy show from a talented bunch who are already making a name for themselves (especially with their female fans, judging by the number of bras adorning their mic stands). Definitely a hint of Aerosmith about them and with good backing and management they could be heading for big things.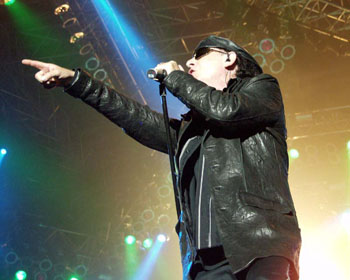 Scorpions, photo Ian Pollard
Finally, the festival is closed by the Scorpions featuring Uli Jon Roth and his custom 7-string axe for about 45 minutes of the set. New songs from "Humanity - Hour 1" are received very well amongst the old favourites, and suggest that the band is back to their best in the studio. Live, they have a tried and tested formula that works, with a huge back catalogue to draw from.
The guest appearance by Uli is just icing on the cake, and a chance to add a few more less regularly played songs to the set. The whole set last about 2.5 hours, unusually long for a festival, and ensures no-one could possibly leave feeling short changed.


Sleep rules for a few hours, before round 2 of the tent wrestling contest sees a narrow points victory for man over canvas. Another small rural detour has no real effect on the day's travelling, and we eventually arrive back in the UK tired, but happy, with that same old "is it over already" feeling whilst already discussing potential headliners for SRF 2008 (which will be back to a 3 day event on 5th-7th June 2008).

See http://www.swedenrock.com for more details.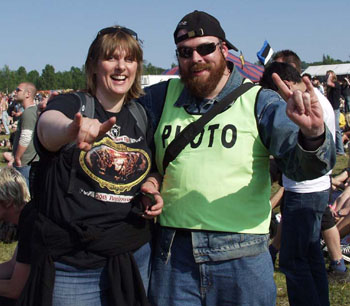 Our Man with tent (and Clare): Ian Pollard
Text and all photographs
© 2007 Ian Pollard. All rights reserved.
Day 1