The second day of the Sweden Rock Festival and a great set from UK melodic rockers Thunder, a disappointing Meat Loaf, and the debut of Heaven & Hell, otherwise known as Dio and Iommi...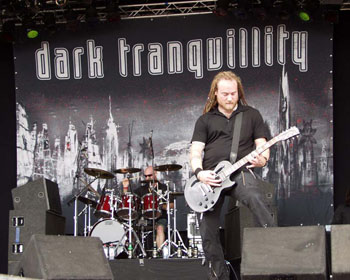 Dark Tranquility, photo Ian Pollard
Thursday promises to be a real non-stop stamina test, so the hot sun and cloudless sky are not as welcome as they might have been. A seat in close proximity to a liquid refreshment tent is found that affords a good view of the first act of the festival on the Rock stage, Dark Tranquillity. Melodic death metal, or "The Gothenburg Sound" are how they are billed, and they bear more than a passing resemblance to "In Flames" in reality. Lots of electronic effects used in their music, and new album "Fiction" is worth checking out based on what I heard here.

As it turns out, resting legs for the first performance was a good idea as it is over 12 hours later before I get the chance again. This marathon starts with the opening act on the largest Festival stage, and Sweden gets Thunder-struck.
Danny Bowes (Thunder), photo Ian Pollard
A healthy, but not huge, crowd is initially in attendance but this is soon increased as the opening bars of "Loser" turn a significant number of unenlightened heads. I don't believe it is possible to not enjoy a Thunder performance, or even to keep your feet on the ground for the duration, and Danny Bowes works the crowd brilliantly as usual to ensure everyone has a big party! New songs, old songs, every one is top drawer (and they've got plenty more they could have used in the closet too).

Just about enough time to recover from Danny's aerobic class before German axe master Axel Rudi Pell arrives on stage, with Hardline's Johnny Gioeli on vocals.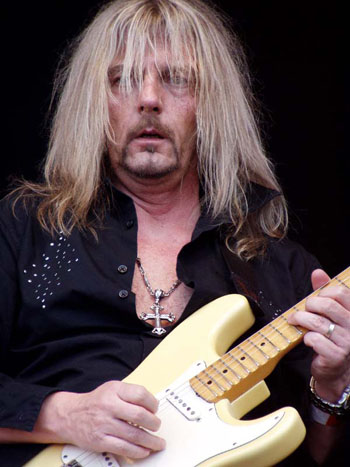 Axi Rudi Pell, photo Ian Pollard
Another of the heavily-influenced-by-Ritchie school of guitarists, ARP is as skilful and artful as any of his contemporaries but without the excessive ego some display. With the somewhat eccentric Ferdy Doernberg on keyboards, and the totally manic Mike Terrana (also currently of Masterplan) on drums, this band are hugely entertaining, and exceptionally talented. Highlight is undoubtedly a cover version of Rainbow's "Temple of the King".


Oxymoron time, in the form of Quiet Riot! First chance I've had to see Kevin Dubrow and friends, including long time member Frankie Banali on drums, as I somehow managed to completely avoid them in the 80's (not at all deliberately). They do not disappoint, and deliver a solid set of good-time hard rock'n'roll. Kevin still has the distinctive raspy voice, and works the crowd well. As expected, both Slade covers get a much appreciated airing along with the excellent "Metal Health". Tracks from the new album "Rehab" fit in well too, and show the band are still rocking.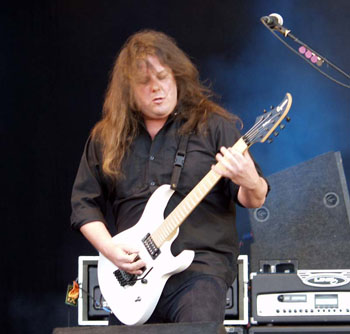 Michael Romeo (Symphony X), photo Ian Pollard
The somewhat imposing frame, accompanied by the very imposing voice, of Russell Allen appears on stage next with his band Symphony X, to give us their brand of symphonic / progressive metal. Very much in the Dream Theater mould, for some reason this band has never held the same appeal for me.
It is clear though, that apart from Mr. Allen's fantastic vocal ability, he is also an excellent front man and is backed by some very talented musicians. With their first studio release for 5 years, "Paradise Lost", they look to be back on track as a band full time following a period of side project work.

Just time to check out recently reformed Point Blank for some bluesy Southern rock. With Buddy Whittington (John Mayall's Bluesbreakers) joining them on guitar, this band were one of the unexpected highlights of the festival, treating a very appreciative audience to some masterful blues guitar work.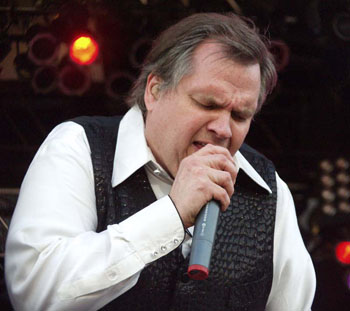 Meat Loaf, photo Ian Pollard
And then to Meat Loaf. Well…the big stage production and overtly theatrical performance was there; the great Steinman-penned songs were there; the all powerful, perfect-pitch voice however, was missing in action, presumed dead. As the man himself might try to tell us (although mercifully he didn't include it in the set list), two out of three ain't bad - but in this instance, unfortunately, it was bad… very bad, and very disappointing.
Credit has to go to the band and especially the backing singers, who did their level best to carry the set - but there was no disguising the dreadfully poor state of the Loaf's vocal capacity. I just hope that Jim Steinman never gets to hear a recording of this set - it would destroy him to hear his songs butchered in this way.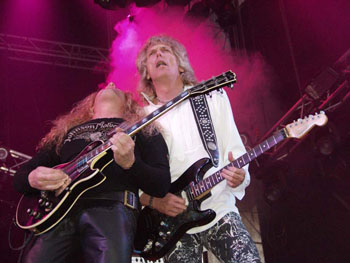 Thin Lizzy photo Ian Pollard
After that huge disappointment, normal service is resumed in the form of John Sykes & Scott Gorham's Thin Lizzy. No surprises here, just great tunes played by great musicians, with Sykes doing a very good job on vocals.
For some reason, they were confined to the 10,000 capacity Sweden stage, which was far too small - a slight scheduling error on the organisers' behalf there, but it made for a great atmosphere throughout the set, especially during the "Cowboy Song".
One complaint… Tommy Aldridge insists on doing the same drum solo at every gig, no matter which band he is playing with, and it is getting a little stale!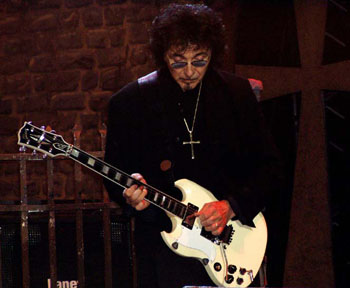 Tony Iommi, photo Ian Pollard
The day is completed by another live show that has been 25+ years in the making (and waiting) for me. The anticipation is huge, the stage setup and backdrop is dark and gloomy (as it should be), and the atmosphere is positively electric as 25,000 people anxiously await the arrival of Ronnie, Tony, Geezer and Vinnie.
Appearing under the name of their first classic album release, Heaven and Hell do not disappoint on any front. From the opening chords of "Mob Rules", they are on top of their game, rolling through the songs and owning the crowd throughout. The set reaches its peak with an epic 13 minute version of the song they are named for, and we can all retire to the tents happy to have witnessed true masters of their craft at work!



See http://www.swedenrock.com for more details.
Our Man with tent: Ian Pollard
Text and all photographs
© 2007 Ian Pollard. All rights reserved.
Day 1
Swedish Rock Festival 2005