GRTR's Ian Pollard first went to the Swedish Rock Festival when it was a fledgling event back in 2002. He's never looked back, and there's now even running water on the campsite. Onward and upward...

The 6th consecutive year of our Scandinavian adventure sees this excellent festival expanded to 4 days, courtesy of the Wednesday being a national holiday in Sweden - to celebrate the 1523 dissolution of the union with Denmark & Norway (thus making Sweden an independent country again with their own Monarchy).

New travel arrangements due to changes in available flights mean we fly out to Copenhagen this year, hire a car, and get to experience crossing the Oresund bridge between Denmark & Sweden.
This is a truly amazing engineering feat, involving a 4km tunnel (that was built on top of the sea bed, not drilled through it), a 4km long artificial island, and an 8km long bridge. At 600 Swedish Krona (about £47) for the return toll fare, it is not a cheap option though, and only recommended if travelling in a group.

After a slight detour around some of the more rural areas of Sweden (a.k.a. getting lost), we arrived in good time on the Tuesday and were able to choose what would (hopefully) be a decent pitch on the campsite.
Further evidence of the growing stature of this festival, and the dedication of the organisers, is immediately visible this year in the form of permanent toilet facilities on the camp sites. Yes, proper loos with wash basins and running water - and very regularly cleaned too. This is almost becoming civilised...


Food, beer, and sleep follow the first round of international tent-wrestling, and the campsite is relatively quiet - an ambience unlikely to be repeated on subsequent nights as the place fills up.

The first day of the festival is not a full day, with only 10,000 tickets available and the 2 main stages (Festival & Rock) not in use at all. The 3rd stage (Sweden) is reserved for the day's headliners only, so action is confined to the Zeppelin stage, the Gibson tent stage, and the Swedish radio mobile stage.
Kicking off proceedings on the Zepp stage at 3:30pm is Randy Piper's Animal. The ex-WASP axeman delivers exactly what you would expect from an ex-WASP axeman - gritty, punchy riffs as part of solid rock songs that will appeal in some way to 99.9% of any festival audience. In that respect, an ideal opening act.

Once the Animal had been suitably fed, there was a departure from the standard festival fare as the crowd were encouraged to join in a celebration of their national holiday - with guitar assisted renditions of the Swedish national anthem and other (I assume) patriotic songs.
When this was initially announced, the Swedish contingent of the audience (i.e. most of them) rose as one to their feet and removed caps etc - something that I doubt would happen at a similar festival in England, as patriotism is all but banned here because some idiots think it is likely to offend someone. As a visitor to Sweden, I can say I was in no way offended by this obvious display of national pride and found the whole thing very admirable.

Which is more than can be said for the next act - the aptly named (IMHO) Vomitory. I will never understand the appeal of unintelligible grunting amidst the high speed hammering of guitar strings, and I couldn't even tell if they were using English or their native Swedish language after an hour. Suffice to say, the title of their latest album, "Terrorize, Brutalize, Sodomize", sums up their music fairly well.

As the Zepp stage was being refitted for the next act, Sweden's answer to the 80's Sunset Strip glam scene hit the SR stage. Crazy Lixx, complete with names like "Dirtchild Danny" are about 20 years and 6,500 miles out of place - but entertaining none-the-less with their high-energy performance and somewhat dubious fashion sense.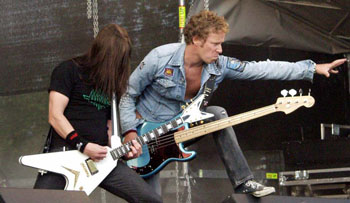 Wolf, photo Ian Pollard
Retro seems to be the main theme of the day as Wolf take to the Zepp stage. This time though, the genre is very much NWOBHM and you would be hard pressed to identify this band as a 21st century product. They're good, very good, at what they do and if you're looking for a band to carry the torch for twin-lead, single bass drum, in your face British metal… Wolf are that band (except for the fact that they're Swedish).

Sounds coming from the Gibson stage in the tent (well actually a very big, solid marquee structure) suggest that a hardcore, well travelled, blues / 70's hard rock combo are in full swing, so investigation is in order. OK, that can't be right, because on the stage are a bunch of teenagers. Double take - yes, Mozkovitch do indeed appear to all be under the legal drinking age, but singer Arvid sounds like he's been guzzling the JD for 30 years or more as he growls out some superb bluesy vocals. Their self-titled debut album is just released, and well worth investigating further I feel.

After some entertainment from daring members of the crowd, involving jumping on a stage and showing off their abilities with a guitar - to the (hopefully) enthusiastic audience, the strangely attired Black Debbath arrive on stage. No prizes for guessing what their musical influences are, but their arrival in dinner suits and top hats doesn't quite fit somehow. Most of their songs are written in their native Norwegian, so it's hard to tell if they are a band wanting to be taken seriously or not.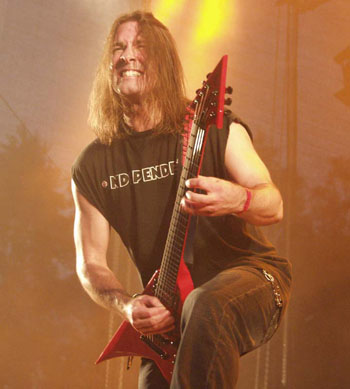 Jeff Waters (Annihilator), photo Ian Pollard
Canadian thrashers Annihilator finish things off on the Zeppelin stage for the day. My first encounter with these guys and despite not being the worlds biggest thrash metal fan there is something extra here, with a power-metal-esque feel to some of the songs. An enjoyable set from an obviously talented band, and good enough to make me investigate the band further (check out the new album "Metal").

Finally, at 11:30pm, it is just about dark enough to unleash the huge lighting rig and circular display screen that have been installed on the Sweden stage for the day's headliners. The Australian Pink Floyd Show launch into a 2-hour plus set of classic Floyd songs, with a stage show that is every bit as big as the real thing used to be, complete with a large inflatable pink kangaroo (no flying pigs this time, though they have had in the past).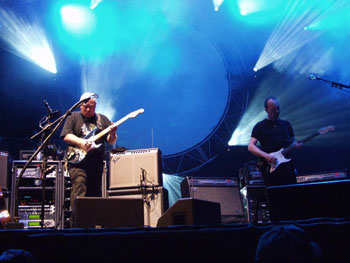 Australian Pink Floyd Show, photo Ian Pollard
Highlight of the set has to be a stunning rendition of "The Great Gig in the Sky" by one of the backing singers, but the whole show is exceptional in both its accuracy and atmospherics. I don't envy the people that have to return the stage to some sort of normality in time for the next band to use it in a little over 10 hours time.

On our return to the tent, we find that the camp sites have filled up considerably during the day and are now in full party mode. With dawn only a couple of hours away, and a tent masquerading as a sauna only a couple more beyond that, attempting to get some sleep is the priority now.
Our Man with tent: Ian Pollard
Text and all photographs
© 2007 Ian Pollard. All rights reserved.