It's day three of the Swedish fest, the moose kebab is wearing a bit thin, as is the tent canvas, but there's the salvation of Ronnie,James,Dio...
Saturday morning arrives far too early for my aching bones (am I getting too old for this? No way). A quick liquid breakfast helps enormously and it's off to hunt down some wild moose for a more solid form of sustenance. OK, so the moose that they use is all actually road kill (now I know why they build Volvos the way they do), but who cares?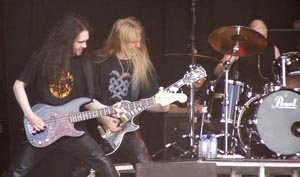 First up today are Therion, formerly known as Blitzkrieg, and their sound today is far removed from their death metal roots. They now present a big symphonic sound and record each album with full orchestra and choir. Today, there is just a 5-piece choir and no orchestra, so the full sound is lacking but still very good indeed. The powerful vocal elements from the singers gives a unique feel to the songs and sets them apart from the many female fronted, keyboard driven, symphonic bands that they claim to have been the main influence for. They're coming to the UK for ProgPower in March 2006, so get along and check them out is my advice. (8/10)
With one of my festival highlights due in 90 minutes time on the stage that Therion have just vacated, it's time to stake a place at the front and listen to Canada's Kim Mitchell from afar. The former Max Webster guitarist pounds out some very entertaining blues-rock, including the track he was asked to write (somewhat surprisingly as he doesn't have a history of success in Sweden) to fit the slogan of the Sweden Rock Festival, "Fill Your Head With Rock". (7/10)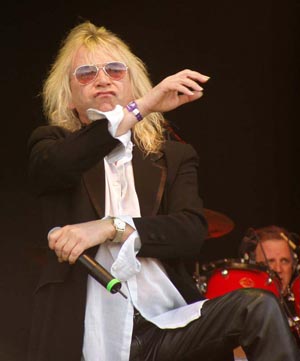 The only downside to Magnum being about to arrive on stage is that I am going to miss the entire Seb Bach show, as the timings are identical.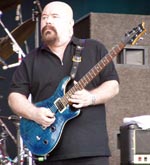 The thought of not watching the whole Magnum set never even crossed my mind, but those that opted for the former Skid Row front man's performance were suitably impressed by all accounts.

Tony Clarkin opens up proceedings with the immensely catchy and heavy (by his standards) riff of the title track of their latest album "Brand New Morning". Bob Catley weaves his own little spells, as only he can, and leads the band through 75 minutes of their most popular songs.
Surprisingly, not a single cut from the best selling "Wings of Heaven" makes the set list, but that doesn't seem to bother the crowd who are very vocal with their support.
This is the second time Magnum have played at SRF, and they have been very well supported on both occasions. The rest of the band are as proficient as ever, with new drummer Jimmy Copley fitting in nicely and creating a solid rhythm section with 'Just Like' Al Barrow.
The set finishes with the ever-present "Kingdom of Madness" and lots of arm waving, before Mark Stanway enthrals everyone with his keyboard intro to "Sacred Hour". Then it's over all to soon. (10/10)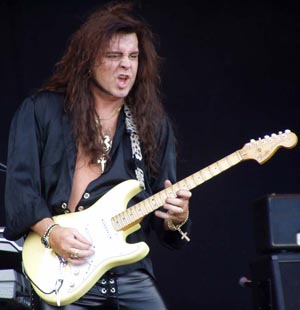 Back to the main stage to witness the landing of the biggest ego in Sweden. Yes, it's Yngwie time! Amidst a flurry of whirling Stratocasters and flying hair can be seen this virtuoso guitarist picking away with lightning fast fingers. He does have a band on stage with him, at least some of the time, which includes former Rainbow and current Cornerstone vocalist Doogie White.
There can be no doubting the fact that he is an extremely brilliant guitarist, but I think I counted 7 actual different pieces of music in a 90 minute set, so that tells you how much time was Yngwie on his own at the front of the stage. I can certainly be entertained by an 8-minute guitar solo at a gig, but half a dozen times at the same gig? One of the solos sounded very reminiscent not of "Sweden Rock", but more of "Brighton Rock" at times. Doogie performed admirably when he was permitted on stage, but seemed under instruction to leave each time uttering something along the lines of "…the amazing Yngwie Malmsteen". (6/10)
I had a couple of press conferences to go to, so I missed both Sonata Arctica and Blackfoot unfortunately. I heard mixed reviews of both sets, so cannot form any judgement on their relative merits.
Next up (from a safe distance it has to be said) was Candlemass, the Swedish doom metal masters, on the main stage. Not as devastatingly heavy as I had imagined they would be, I actually found myself enjoying some of the heavy riffs. Whether that would have been the case if I was close to front with that huge PA going full blast is a different matter altogether. They did have the most impressive stack of Marshall's on stage though and looked like a heavy metal band should do. (6/10)
Just time for a quick look at ex-MSG front man Gary Barden's Statetrooper, who are suffering badly by playing just before one of the biggest draws at the festival. This is a real shame as their music is great and delivered extremely well.
Gary does a fine job and clearly appreciates those who have come to show support for the UK's melodic rock scene. New album "The Calling" is definitely one to check out if you can.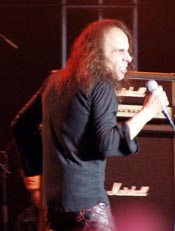 The huge crowd assembling for the next act leaves no doubt in my mind as to who should have been headlining the final day. Ronnie James Dio saunters on to the stage and launches into a set filled with classic songs – who else can boast a set list that contains the quality of "Man on the Silver Mountain", "Heaven and Hell", "Holy Diver", "Long Live Rock 'n' Roll", "Stargazer", & "Rainbow in the Dark" (to name but a few)?
The single track "Shivers" from his latest offering "Master of the Moon" sits at ease within the set, showing that he has lost nothing in the many years he has been at the forefront of heavy rock. Vocally as strong as ever, his band is equally up to the task of performing these songs.
Craig Goldy handles the various guitar styles with ease, Rudy Sarzo (recruited after Ronnie's long term partnership with Jimmy Bain ended) delivers authoritative bass, Scott Warren on keyboards gets a chance to show off with the intro to "Gates of Babylon", and Simon Wright keeps them all in time perfectly, this time dropping the 1812 Overture from his drum solo and giving us an entertaining rendition of the William Tell Overture instead.
Top-drawer stuff from the best rock singer in history! (10/10)
Tired and on a total high after Dio, I don't want to spoil the occasion. So it's one last visit to the moose kebab stand and back to the tent. Apparently Motley Crue had a decent stage show with lots of pyrotechnics, and naked women, but I could hear enough from the campsite to know I'd made the right decision.
A few more beers and a bit of sleep later, its pack the tent up (always a fun job) and head off home. Just as we got all the gear in the car and started driving back towards Malmo the heavens opened and dumped all the rain that had been threatening to fall for the past 2 days. Well done SRF, timed to perfection and another superb festival successfully staged. See you in 2006!
Our Man in tent: Ian Pollard
Text and all photographs
© 2005 Ian Pollard. All rights reserved.