The second day of the Sweden Rock Festival saw performances from prog-rockers Kansas and Dream Theater, topped off with (almost) Tequila Sunrise...
Friday arrives overcast with the threat of rain, so it's pack the waterproof and off into the festival area for a date with New York's The Lizards.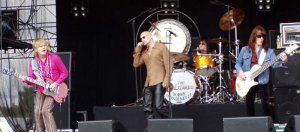 This 4-piece outfit is the reason Bobby Rondinelli left Blue Oyster Cult – so they must have something to offer, right? Right indeed, if you like Seventies style blues tinged rock (and I do) you're not going to be disappointed. The obvious Zeppelin influences are there, and former Riot front man Mike Dimeo makes the transition in styles convincingly. Guitarist Patrick Klein and 6-string bass wielder Randy Pratt complete the lineup to provide a most enjoyable 75 minutes of music. (9/10)
Moving on to the festival stage as Zakk Wylde's much hyped Black Label Society begin their set, or at least the unfeasibly long intro starts followed by what sounds like one big power chord with maximum sustain. Obviously popular in this part of the world, the best part for me is when they open a song with the riff and first verse of "Iron Man". The rest I'm afraid, is tedious. (2/10)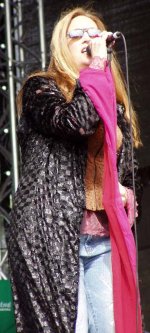 Time to see the lady often referred to as 'The Queen of Symphonic Rock', Lana Lane. Not familiar with her own releases, but having heard her regularly performing on the Ayreon releases, I was hoping for something special.
They didn't quite live up to my expectations, but there were some high points. The cuts from the latest album "Lady Macbeth" sounded very good indeed and this album certainly warrants further investigation. (6/10)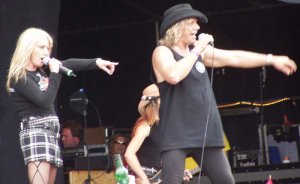 Continuing the trans-Atlantic feel to the day Canadian band Helix take to the rock stage. Fronted by a very enthusiastic Brian Vollmer (the only original member left), and ably assisted by Cindy Weichmann who shares the vocal duties for much of the show, they did exactly what they promised… "Gimme an R, gimme an O…" etc for "Rock You". Other highlights included "Dirty Dog" and "Don't Get Mad Get Even". Good show and worth checking out if they're in your neighbourhood. (7/10)
Just got time to catch 10 minutes of Symphorce. These Germans punch out a good sound, very heavy but not thrash with powerful vocals from Andy Franck. Their latest album "Twice Second" should be worth a look. (6/10)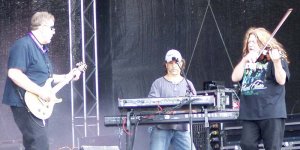 The reason for the very brief visit? One of the bands I have been waiting for years to see is about to start, Kansas! We now get a 90 minute prog master class, culminating in one of those "Yes! I've finally seen it live" moments with "Carry on Wayward Son", which was simply fantastic.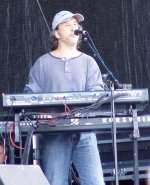 Throughout the set Steve Walsh and Robby Steinhardt shared vocal duties, with Robby contributing violin when he wasn't required to sing. Billy Greer, Phil Ehart and Richard Williams all play their supporting roles eloquently. Prog is never really ideal for festival crowds, but Kansas seemed able to make it work and keep their audience enthralled throughout. (9/10)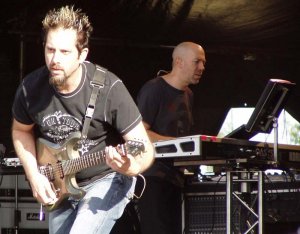 More prog, but this time of the heavier variety as Dream Theater (and Mike Portnoy's drum kit) take over this corner of Sweden. An hour and a half is not really long enough for DT to show off to their fullest extent but they perform with the expert professionalism and precision they are renowned for. (7/10)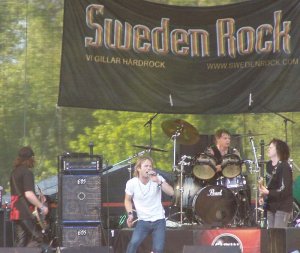 Just managed to catch the last couple of songs of Diamond Head's set with new vocalist Nick Tart. "Am I Evil" sounded as good as ever. (6/10)
It's been a very busy day so far, and as no-one playing really grabs my attention I decide to take a seat in the beer tent and listen to Hammerfall (the leather, spandex and studs thing isn't exactly revolutionary).
Well, Sweden's biggest metal band, as they're billed, are actually quite good and not at all the Manowar clone I'd expected. Cuts from the new album "Unbent, Unbowed, Unbroken" sounded good – something like Priest with power metal tendencies (if you can imagine that). (6/10)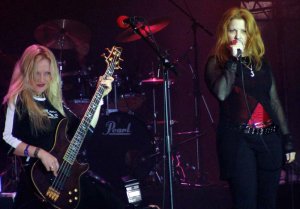 Foregoing the delights of Quo in order to sample the new look Vixen, I am pleasantly surprised again. The new members that Jan Kuehnemund has recruited for the band are both attractive and talented.
The new songs sound as good as, if not better than much of their older material and vocalist Jenna Sanz-Agero is far superior, bringing a new feel to the older more familiar songs. The rhythm section of Kat Kraft (drums) and Lynn Louise Lowery (bass) add plenty of drive and photo opportunities. (7/10)
Leaving Vixen a little early, I manage to secure a front rail place for today's headliner, the Red Rocker, Sammy Hagar and the Wabos. Bringing the full Cabo Wabo party to Europe for the first time is something of a gamble considering that most people this side of the pond only know Sammy for his antics with Montrose and Van Halen.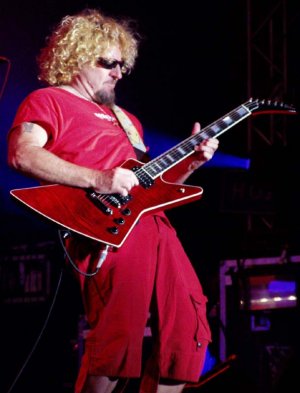 The opening riffs sound, and the curtain drops to reveal a stage converted to a tequila bar, complete with around 80 guests (from the Sweden Hagar fan club apparently), and the 4 most stunning Sweden blonde waitresses you could ever imagine whose job it is to ensure Sammy has a constant supply of tequila throughout the set (most of which gets deposited on the first few rows of the crowd).
Musically, there is a bit of a strange makeup (for a rock band) on stage with both a drummer and a percussionist in attendance. The effect is very good though, and combined with the exceptional guitar playing of Vic Johnson (and Sammy himself on occasion) it makes for a great sound.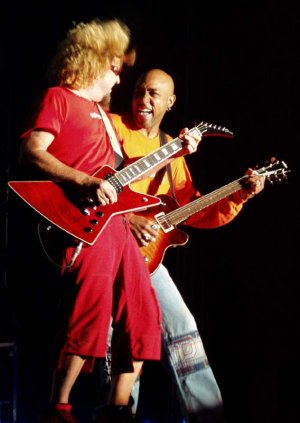 While the VH, Montrose and better-known songs such as "I Can't Drive 55" get a very good reception from the crowd, much of the set list appears to fly right over their heads, and I don't think they really got the whole Cabo Wabo tequila party idea. This is a shame as it is a brilliant show with great songs and really talented musicians – Vic Johnson really is amazing, did I mention that already? (9/10)
The whole thing finishes around 1:30am with Sammy thanking the audience for staying with him (I hope this doesn't put him off coming back) and it's time to head back to the tent, via the moose kebab stall of course.
Our Man in tent: Ian Pollard
Text and all photographs
© 2005 Ian Pollard. All rights reserved.