WIN TURBOWOLF & JAGERMEISTER STUFF!

Metal meets mysticism in the second episode of the Artrocker Magazine & Jägermeister Icebreaker series, in which rising UK rockers Turbowolf get to break the ice with a hero from outside of their normal world, renowned conspiracy theorist David Icke.

This feature sees Turbowolf, who are on the Jägermeister music roster, heading to David Icke's home on the Isle of Wight to discuss everything from government conspiracies and media cover-ups to secret alien societies with the controversial public speaker.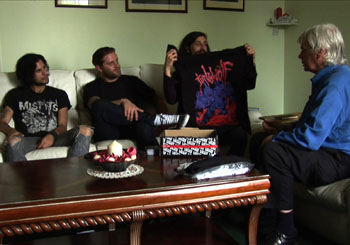 David Icke also gives an insight into the social importance of music and divulges some of his own musical influences.
The full video film of the interview is a 15 minute feature and premieres on October 6th on Artrocker.tv
We have the following prizes to give away:
The winner will receive a Turbowolf T-shirt and CD, a Jagermeister hoodie and cap.
The runner-up will receive a Jagermeister hoodie and cap.
Please note! This competition is being run in conjunction with our Facebook page - to enter, please first visit, and "like", our page and leave a comment next to the appropriate competition item. Then return here to answer this question.
Please ensure that you select "Facebook" where we ask "where do you hear about us"!
To win, just answer the following question. Closing date 09.10.11
Which UK TV show featured David Icke?

a) Ask The Family
b) Grandstand
c) Mr & Mrs

Now complete the form below: