The Darkness are getting a lot of exposure here in the UK, having just completed their own headlining tour of the UK. Prior to that they supported Def Leppard on their recent UK dates and are set to appear with Deep Purple/Lynyrd Skynyrd in June. They recently had a top 40 hit single in the UK, have another single out in June, all this and they are still unsigned! Well worth catching live to see frontman Justin Hawkins in action, speaking of whom...


1. What are you currently up to?
Preparing to record b-sides for the summer single and shaping up for some thought-provoking acting performances in our forthcoming featurette to accompany the release of the single 'Growing on Me'
2. Who were/are your influences?
Aerosmith, and in particular Steven Tyler changed my life back in '89, whilst AC/DC have provided years of inspiration.
3. Brief history of the band plus the style of music you play.
We play classic rock. We've done tons of gigs, and have released two singles to date. WE ARE UNSIGNED!
4. What has been the highlight(s) and lowpoint(s) of your career to date?
Highlight has to be selling out London's Astoria as the climactic finale to our first proper headline tour. Too many lowpoints to list!
5. How did you feel getting a UK top 40 hit? Did you manage to get any radio airplay at all?
We got bits and pieces of airplay from a handful of DJs who love the band - it was terribly exciting.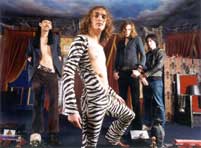 6. You must be one the best showmen seen since Freddie Mercury. How do you come up with your stage ideas/costumes?
Why, thank you! I am constantly looking to improve the spectacle of our shows, and mostly my moves are the result of on-stage improvisation - I have a tailor, Christian Hutter, who creates my on-stage look(s) using his skill and imagination.
7. How did the Def Leppard tour go? Do you think you picked-up any new fans?
We had a great time on that tour - it was a real honour to have been invited and I hope we made a few friends along the way!
8. How have the Darkness gone about promoting themselves and getting exposure for their music?
Originally, we just played as much as possible and earnt a following via word-of-mouth. Along the way we've assembled a kick-ass team who do all of our promotional stuff.
9. If you could create a fantasy band - what would be the line-up and why?
I would have two - dead and alive... Dead band would be fronted by Bon Scott, John Bonham on drums, Hendrix and Kossov (lead & rhythmn) and Phyl Lynott on bass.
A live band would be fronted by Steve Tyler, Tommy Lee on drums, Angus and Malcom Young on the guitars . I think I'd play bass, just so I could say I'd performed with those guys!
10. What state do you think rock music is in at the moment?
Rock music is kicking arse again - it's a sign of the times that the forthcoming Bon Jovi, AC/DC, Aerosmith and Kiss tours are among the most anticipated music events for ages. People are begginning to cherish the old values, and thanks to 'BUSTED', Nu-metal is croaking it's last death rattle, even as we speak. With a bit of luck, The Darkness will be driving the next bandwagon that everybody jumps on - but don't forget, we were around before classic rock was fashionable, and we'll still be around when it goes out again.
11. What CD's do you currently have available and where can they be purchased from?
The first EP (I believe in a thing called love) is totally sold out - not even worth trying to find that one! Get Your Hands off My Woman is still around - the one to go for is our next single, "Growing on Me" which is out on the 9th June 2003. I want that motherfucker in the charts.
12. Message for your fans?
Our fans are the best in the world - they don't need to be told that we're cool to be able to have a great time. When we started this band we had nothing - the music industry just didn't want to know, and because of our fans, the industry NOW recognises that we have the potential to succeed. We are nothing without you, sweet people of rock. Let's take over the fucking world together!