KRISTEN CAPOLINO
KRISTEN CAPOLINO is rapidly becoming a respected musician on the New York music scene. In September 2004 she was invited onstage to jam with Michael Schenker during Rock Bottom, at The Downtown in Long Island New York. The crowd were amazed by Kristen's confident and inspired performance, during which she shared the solo with Michael, playing note for note even though she'd never met Michael until that moment, let alone rehearsed with him!
Not only an amazingly gifted guitarist with a very assured stage-presence, Kristen also writes and sings her own songs, and has her own band. Impressive by any standards but Kristen is still only fifteen years old, and at the time of her jam with Michael she was only fourteen! Since then, Kristen has recorded an album of her own songs.
1. What are you currently up to? (e.g. touring/studio,etc.)
I just finished my first CD, and I am starting to work on my second one. I am also going to play at the WPDH Roof-A-Thon in August, and at the Monster Jam in Newburgh which is also during August. Also, I've been invited to play at the Woodstock Guitar Festival.
2. When did you start playing guitar and writing songs, and how old were you when people started to pick up on your talent?
I began to play the guitar when I was about five years old; however, I began to play seriously when I was eleven. My Dad introduced me to the guitar. I remember when I was really young, and he would play videos of Gary Moore when I was having breakfast.
I thank my Dad the most for being so supportive, and for making my dreams come true. Not many parents these days are so proud and supportive of their children as my parents are. After that, I began to love music more and more. I began to play at the open-mic nights when I was thirteen years old. From then on, my name began to spread throughout the area, and the other musicians invited me to other jams, which were great experiences for me.
3. Who was/is/are the biggest influences on you, musically, and where do you get your inspiration from?
There are many excellent musicians that inspire me.
Michael Schenker is my greatest influence, especially in the rock genre. Gary Moore was my first inspiration in my playing. I wouldn't mind playing with him next! Lol! I feel grateful that I was introduced to his music at such a young age. I get a lot of my emotion from his playing.
Jimi Hendrix is another great influence. Many people who have heard my playing often tell me that I sound very much like him. I do feel that there is a deep connection between him and me. For one thing, our birthdays are a day apart, which I find rather interesting! Mine is November 26th, and Jimi's birthday was November 27th. I love a lot of his songs, such as All Along the Watch Tower.
Some of my shredding style comes from Steve Vai and Joe Satriani. Carlos Santana is a musician who greatly influences my playing. I am often told that I sound like him as well! As a matter of fact, I am working on a new song that sounds very much like a song that Santana would write. I certainly love his emotion, and his positive attitude towards life. Currently, I am really getting into John Scofield. He greatly influences my touch style of guitar playing.
4. Who have you jammed with, and what has the reaction been from the audience?
When I was thirteen, I played with the Joe Payne Band. They mostly played cover songs that were in the blues genre. I feel very fortunate that I had the opportunity to play with this band. They were very kind, and they really helped me get the experience of playing out in a live situation. During that time I learned how to handle situations in a professional manner. I thank these guys for supporting me and giving me the opportunity to do what I love to do, which is play the guitar. After I played with this band, I moved onto playing out at the open-mic nights.
I first started playing at the Hyde Park Brewery, which was my favorite place to go and jam. I often played with the Upstart Blues Band, which was the house band of the brewery. During this time, I began to develop a following. I especially loved playing with the band's lead guitarist, Pete Hop. He is an excellent musician, and he is a good friend. I also thank these guys for supporting me and making it possible for me to get experience playing out. After that, I played with another band called the Copycats. These guys were also very nice and supportive of my playing. I started learning cover songs, and I also started going to band rehearsals for the first time.
After the Copycats, I played with a band called Split Image. I really loved these guys. Out of all of the bands that I played with during that time, I really loved being with these guys. They made playing out more enjoyable, and less stressful.
I met a very nice man named Chip Copeland who is the piano player of Split Image. He invited me to play with Split Image again at a big jam called the Monster Jam. I have played at the Monster Jam for three years. Last year I played at the largest Monster Jam held in Newburgh. I had a great time being with many nice people. I really enjoyed the opportunity of playing with Ron Pucino who is also known as Madd Dog. He is very kind, and he is a very good musician. Monster Jam was a good place to meet people such as the Madd Dog Band. These guys are also very kind and are good musicians. After I played with bar bands, I really wanted to play my own songs. I also really wanted to leave the bar scene. So I formed my own band.
During this time I really started to play seriously. I especially loved playing with my producer, Janko, who also plays rhythm guitar in my band. I cannot tell you how much of an incredible musician he is! I feel most fortunate that I get to play with a man who is so kind and talented. After I rehearsed with my band a few times, we were ready to work in the studio. I enjoyed this time of my life so much! Being a musician, and playing with my own band is certainly the life that I am meant to live.
5. What would you like to achieve ideally by the end of 2005? And long-term?
I hope that I will have played at a professional venue with my own band by the end of 2005. As for the future, I hope that I will become the best I can be as a musician. Also, I hope that I will become a producer so I can help other young musicians express themselves through their music as I have. Furthermore, I hope that I will be able to help the world through my playing. Perhaps one day I will play at the MTV Live 8 show, which sends food and supplies to the needy around the world. Lastly, I hope that I will own a Midas XL4 and an SSL console in my home studio!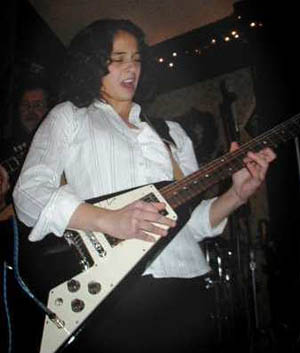 Photo © SITN
6. How much time do you spend playing/singing/writing, and how does it fit in with your schoolwork?
I must confess, I don't practice as much as I should. Lately, I have been trying to practice my songs every day. I admit sometimes I don't want to work, but being a professional musician means that one needs to work and make the playing flawless. I want to always be a perfectionist.
Whenever I am given something musical that I have to work on, I want it to sound the best and I want it to be perfect. I get frustrated with many of the musicians these days who don't want want to work hard to make their playing flawless. This is one of the reasons why those players will never go far with their music.
During school, it was rather difficult to practice. By the time I was done with school, I would be too tired to play seriously. I always look forward to the summer so I can work and improve my playing. I hope to always work hard and become a better player.
7. What guitars/amps/effects do you have, and what do you use most, and are there any guitars you'd like to own, and if so, why?
I have a Gibson Flying V that is an '89, which is my favorite guitar. It was built the same year I was born! Also it was signed by Michael Schenker on the night I played with him at the Downtown. The date was September 18, 2004.
I have another Gibson Flying V that is a '99. I have a Gibson Les Paul Studio. That was my first Gibson guitar. I really love the feel of that guitar. It is almost too easy to play! My most recent guitar is a Greco Flying V. It is rather interesting because it does not have a serial number, and no one knows the date of manufacture. It is a mystery guitar! This guitar is incredibly light! It has a nice sound too.
I have another Flying V that was custom built for me from a man named Cue. I thank him very much for taking the time to build that guitar for me. It is certainly a beautiful work of art.
My second favorite guitar is a custom Brian Moore. My producer, Janko, gave it to me when I was thirteen. I love this guitar. It is also very light, and it has a good feel. I like to use this guitar in cooled-out songs such as my song called The Love I Never Had. It makes me feel very inspired - I write a song almost every time I play the Brian Moore. I especially love to play it when I am in the car.
I enjoy playing my Roland 840GX in the car, and recording and jamming with songs. The Brian Moore is very light and easy to play, which is excellent for sitting in tight places such as a car.I also have an acoustic guitar that is an Ovation which I really love. It feels like an electric guitar. The neck is thin for an acoustic, and it has a nice sound. These are the guitars that I play most often.
I also have a Jackson, an Ibanez, and a '63 Fender Telecaster.
Unfortunately, I don't play these very often but I will always treasure these guitars, since the Jackson and the Ibanez were some of the first guitars I owned. I certainly feel fortunate for having so many guitars.
As for guitars I would like to own, I wouldn't mind getting a Gibson SG. I am told that they are very nice guitars. I really love Gibson. I would love to have a Tokai Les Paul. Takai is a company in Japan that copies guitars exactly. This is illegal in America, but their guitars are even better than the original guitars that they copy. I have eight Sovtek amps! We are certainly Sovtek people. They were built in Russia, and I've found that they can sound even better than Marshall amps.
My Dad loves to go online and buy these things constantly! I use the Mig 100 H heads. I am currently using a Midget 50H head with a Sovtek 2 x 12 cabinet. This thing sounds hot! My Dad and I are thinking about micing it, and using it in the larger venues when the time comes. When I go to the larger gigs, I have used Marshall 4 x 12 cabinets. We also have a Traynor Celestian 4 x 12 cabinet that we don't use very often. I mostly use Boss effects. My main pedal is the Metal Zone MT-2. I also use a DS-1. In addition, I use a Delay DM-3. I also use a Maxon Overdrive OD808.
Also, I use a Super Phaser PH-1. I use a Super Chorus Ch-1. My newest piece is a Dimebag Wah Pedal. I don't usually use a wah pedal, so this is rather new to me. I think I'm going to use it when no one expects it. I'm not into the crazy effects that most people use. I don't like those Digitechs. I had one sitting on my pedal board for a long time, and I didn't use it. It just took up space! Perhaps one day I'll get a gadget just to have it, but I don't feel that I need it. Many of the musicians with those crazy effects use them to cover up their bad playing. It's amusing because some people get intimidated by my pedal board. I don't even use the Phaser and the Chorus very often. Open-mic blues jams outlaw pedal boards! It was funny how they would try to talk me out of playing with the pedal board.
I remember at one gig where I had to play clean with a Fender Strat. It was not fun, but it was really amusing.When I am at home, and I play with my Roland 840GX, I use a Zoom PS-02 for effects. I usually use PS Drive. It has great sound to it, but it's not good for live. I remember when I used it with the Joe Payne Band, it sounded great, but was difficult to manage onstage. During that time I used a Peavey amp which made me sound even worse! It took my Dad and me a long time to find the right sound for playing live. We finally found the Metal Zone, and we knew that it was my sound. It was rather ironic because I once had one when I was much younger, but I gave it to a friend.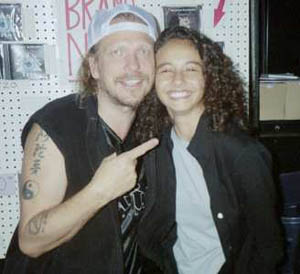 Photo © SITN
8. What have been the highlight(s) and lowpoint(s) for you so far?
The highlights for me so far are playing with Michael Schenker, and playing with my own band. I especially loved working in the studio. I could live there! I also have met very nice people so far. I thank them for their advice and their support.
My low points are playing in those bar gigs. Playing in that kind of environment tended to put me into a rut. I realized that I am growing out of that style and environment. I feel that I need something more. Apart from that, I loved being with many of the people who played in those bar gigs.
At one time, playing in that environment was good for me. One of the things that was not good for me was seeing some of the musicians trying to bring each other down. I feel that everyone should be kind to each other, and that they should help each other play better. We all have the same dream, and we all speak the same language. Everyone should support each other.
9. Apart from music, what are your other hobbies and interests?
There are many things that I am interested in. I love sound production. It is my second favorite to music. I hope to do sound every now and then. I wish I could do almost everything in music!

Whenever I am at a concert, I need to go and check out their sound system. I love to go and check out mixing consoles before I play out. I feel that they inspire and comfort me. I also love going to Lake George to swim and go tubing. I also hope that I will get into acting in movies. I am also interested in biology. I love kids, so I have considered teaching.
10. Early days yet, but already you're making quite a name for yourself from your stage appearances with guitarists such as Michael Schenker, so... give us a message to your fans.
I thank everyone who has supported and inspired me. I especially thank my family for making what I do possible. I thank my fans for enjoying my music, and for pushing me to play better. Also, I want to thank my fans for making my dreams come true. If it weren't for them, I wouldn't be going to all of these gigs, and I wouldn't be doing what I feel makes my life worth while. I would also like to thank Michael Schenker for giving very good advice, and I hope that he keeps killin' it in the music, and that he will always be well! I can't wait to see my fans soon! God Bless!
---
SITN
Interview © 2005 Kate (Strangers-In-The-Night.com)
Format and edit: The Music Index.
All rights reserved.