Just witnessed your best live gig?.. send us a review!
WALTER TROUT, The Assembly, Leamington
14 October 2012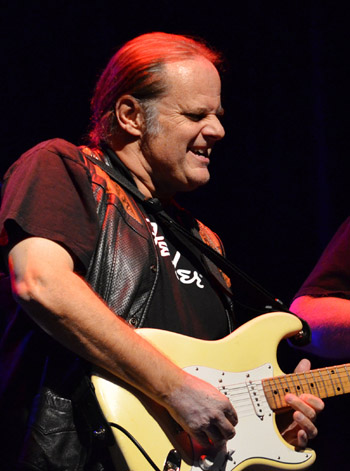 You would not have thought this was a Sunday night as the room filled for an evening of hard rocking blues and, after a well chosen pre-gig playlist of 1950's rock and roll, on walked the support for the evening 21 year old blues guitarist/vocalist Mitch Laddie and his band.
Playing as a three piece Mitch and the boys soon had the hall rocking (even had a few dancing away), furious blues lead guitar, solid backing and plenty of Zeppelin style blues riffs on display.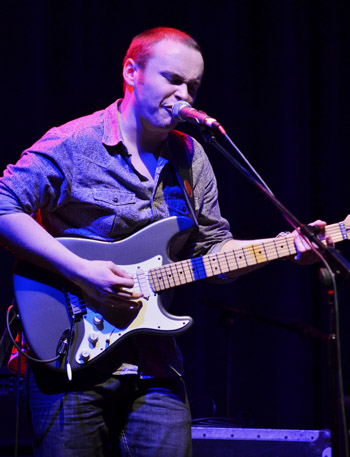 The audience responded in enthusiastic style to the set which included 'What Are You Living For?' with it's heavy funk overtones and my highlight of the set Mitch's epic tribute to his idol guitarist/songwriter Eric Johnson titled 'Mr. Johnson Revisited' which began with chilled out guitar, gradually stepping up a gear with some explosive lead.
A cracking set from a young guitar slinger with surely a bright future.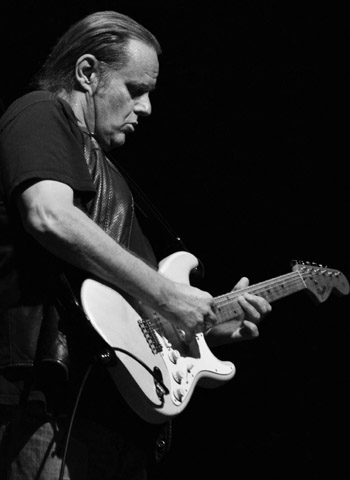 Walter Trout has played this venue at least once before but being a Trout virgin this was my first look at one of the legends of the blues (you will read Mr Trout's comments on being called a legend later in the review!).
With no fuss Walter and band casually walked onto the stage (in laid back Hayseed Dixie style) and proceeded to rock the joint, from the off you could feel the power and energy driving from the stage as they blasted their way through opener 'I Can Tell' from his 'Tellin' Stories' album.
His guitar work is nothing short of electrifying, he has a true blues style voice with a gravelly touch and his rapport with his audience is spot on.
His well received new album 'Blues For the Modern Daze' was well represented including the almost heavy rock of 'The Sky is Fallin' Down' a number with real swagger, his powerful, soulful blues dedication to his mother 'Saw My Mama Crying'', and with top quality crying out lead guitar and heartfelt vocals 'Brother's Keeper'.
A real highlight of the set and introduced as "another happy ditty" the slower paced 'Recovery' had Walter with complete honesty telling the story of his darker days.
The audience were in the palm of his hand as we had plenty of anecdotes including, as I mentioned earlier, his reaction to someone shouting out "you're a legend' his lightning fast response was a diamond "that's what they all say, it's just because I'm still alive".
Other stories told included how Carlos Santana saved his life during his dark drug days and about playing with John Lee Hooker.
Backing the big guy is a top quality outfit, on drums and an effervescent ball of energy, drummer Michael Leasure, a real character in Sammy Avila on the Hammond Organ and Rick Knapp on thunderous bass duty.
Walter always supportive of new young musical talented introduced cracking blues guitarist Sam Coulson onto stage for a fabulous guitar duel while another special guest was his tour manager and guitar tech Andy Elt, a superb rock vocalist/guitarist in his own right he added his rocking edge to a couple of numbers, both vocally and in looks he has a touch of a young Robert Plant about him.
The set also paid homage to a couple of blues masters firstly with a version of 'She's Nineteen Years Old' by Muddy Waters and then for the encore we had a rocking cover of the Freddie King classic 'Going Down' giving Walter plenty of time to pull all of his fabulous faces and throw that guitar around.
A fabulous evening of blues rock with a packed enthusiastic audience, a quality support and whether he likes it or not a headline set by a legend of the blues and after saying a quick hello after the gig I must say a real gentleman.


Review and photos by Andrew Lock
You can use the direction keys on your keyboard to navigate easily through the photo gallery. In Windows, use your mouse wheel to flick between photos.
---