Just witnessed your best live gig?.. send us a review!
VOODOO VEGAS
Assembly, Leamington Spa 17 February 2012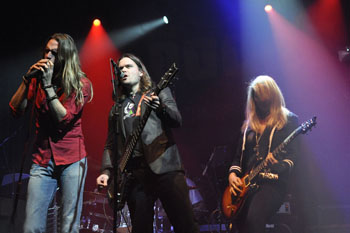 Zoom (Click large image to cancel)
Rock band Voodoo Vegas, the pride of Bournemouth made a welcome return to Leamington Spa with this support slot for The Doors tribute band The Doors Alive. Surely the Voodoo guys/gals are one of the hardest working young rock bands in the business and can often be found performing headline and support sets around the country.
Given the quality of their (all original) material, the top musicianship on display and the audience response surely it is only a matter of time before they headline venues like The Assembly.
For me this was the band's finest performance in my home town to date (I make this the bands fifth show in their second home!) the playing was really tight, the set pulsed with energy and the sound was full of the bands usual power only more so.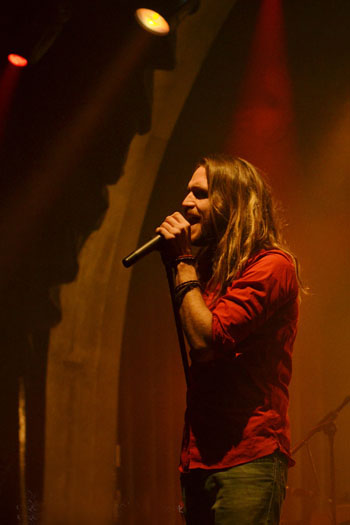 Rock and Roll really works when you have someone with the stage craft and showmanship of vocalist Lawrence Case up front, the band's very own Mick Fleetwood (but without the drums !) towered over the front rows, geeing the audience up all set, vocally on top form and looking every inch the rock star.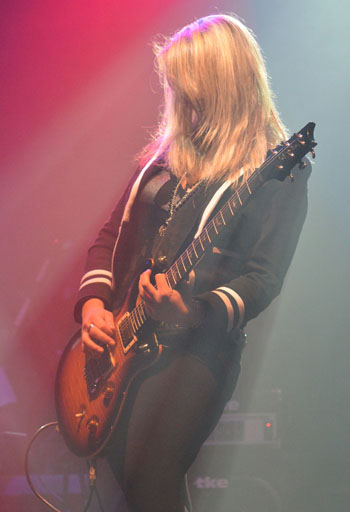 The twin lead guitar attack of Nick and (I hope she does not mind me saying) the beautiful Meryl, both top draw axe wielders add plenty of dynamics to the sound, (I have always been a fan of the duel lead guitar format ever since discovering Thin Lizzy in my late teens)
The band is chock full of characters and headbanging bass player Ash only adds to the visual impact of the band on stage, interacting really well with Meryl many times during the set, this just leaves the new boy Matt on drums, and a powerhouse he is as well.
The beauty of the bands regular gigging is that they have finely tuned the numbers in the set, several of which are already regarded as live classics by their ever growing fan base.
The set opened with the catchy 'No More', followed by the monster riffs of 'Out There', this belting number coming over like vintage Areosmith, rockers 'King Without a Crown' and 'Cheeky Riff '(pounding bass work) kept the pace going.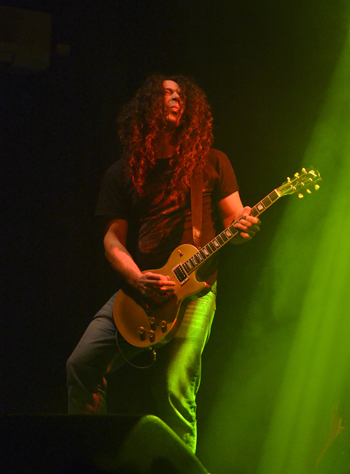 Unfortunately this was far to short a set but it ended with two of the bands classic rockers the 'full of balls' 'Mary Jane' a stunning number that would not have been out of place on 'Appetite for Destruction' and they closed the set with another Voodoo classic 'So Unkind' a number full of bite and passion, during these last two numbers Lawrence had the audience in the palm of his hand, had them singing along a treat.
Another stunning set by Voodoo Vegas who are hoping to get their first studio material released later this year, not that long ago I tipped this band to be the next big thing and witnessing this performance I think I was so right.


Review and photos by Andrew Lock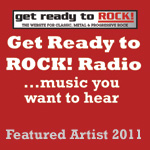 ---