Just witnessed your best live gig?.. send us a review!
SOIL, FOZZY, BREED 77, VILLAINS
The Underground, Stoke, 27 November 2012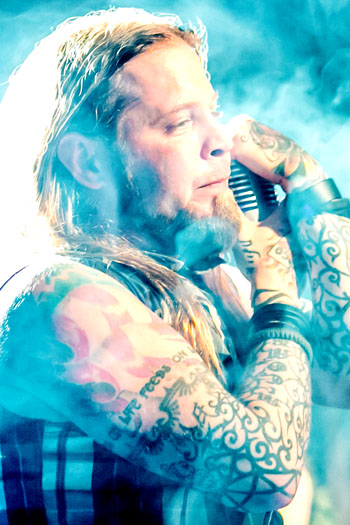 Tonight is a rather special night as I get to see one of my favourite bands, Soil.
We first saw them back in 2002 when with the original line up they were finally having success and getting recognition after releasing "Halo" from the awesome "Scars" album.
Over the year we have seen them in their various guises but in my opinion Ryan McCombs is back where he belongs - fronting Soil.
This is the UK leg of their current tour and is all part of Re-Liv-Ing the Scars Album and also a build-up to the new album next year.


The night started off with Essex based band Villains who in their own right were very good but their music was in a different vein that the rest of the bands. They did a good set to a crowd that were obviously waiting for the main bands to come on but were still appreciative to them.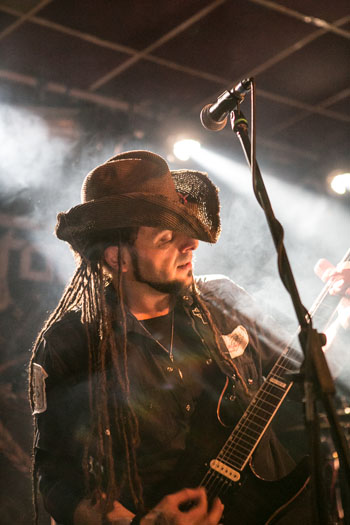 Formed in 1996 by Paul Isola, Danny Felice, and Stuart Cavilla Breed 77 have a distiinctive sound that blends metal with flamenco. You know they're going to be special when you see a flamenco guitar set up on stage for a metal band.
I have heard various tracks from these guys over the years but have never seen them live. We got a great set full of energy and the strobe lighting really suited the music and added to the whole set.
They were definitely not letting their billing position detract from their performance and they gave it their all.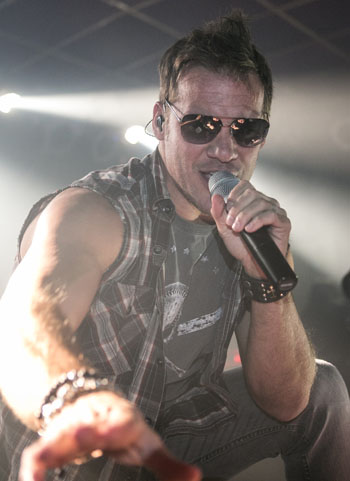 I didn't know what to expect from Fozzy; when someone says that a WWE wrestler, Chris Jericho, is in the band you instantly have second thoughts. But completely unfounded.
They stormed on stage and and straight in to "Spider In My Mouth". From the first song it was clear to see that the crowd were into this band.
As they rolled throught the set which also had a cover of "Eat The Rich", the crowd were really getting into them and the band were interacting and at one stage guitarist Rich Ward was lying on the first few rows of the crowd. I will be seeing these guys again and investigating their discography.
Setlist (Album)

Spider In My mouth (Sin And Bones)/ Sandpaper (Sin And Bones)/ Eat the Rich(Krokus original)/ She's my Addiction (Sin And Bones)/ God Pounds His Nails (Chasing The Grail)/ Whitechapel/To Kill (Happenstance)/ Martyr No More (Chasing The Grail)/ Sin And Bones (Sin And Bones)/ Enemy (All That Remains)/ Blood Happens (Sin And Bones)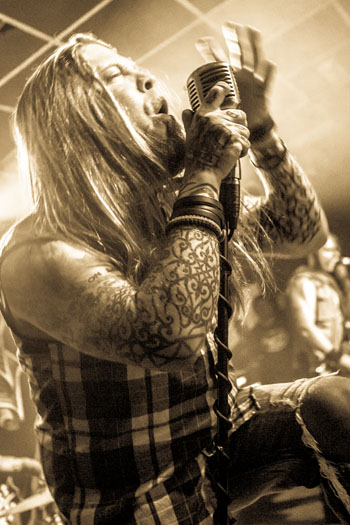 Following Fozzy wasn't going to be an easy task as they raised the roof and got the crowd up into the zone but as Soil came out a huge cheer erupted as they launched into "Breaking Me Down" and it was clear we were in for a night of their finest music.
Ryan was on form and was up face to face with the crowd giving it his all. His vocals were as good as ever, clear and raspy at the same time.
As the set continued we were treated to songs off Scars and Redefine and even a track from Ryan's time with Drowning Pool "37 Stitches".
"My Time", one of the new songs and was - to my ears - Soil back to their very best and it bodes well for the next album.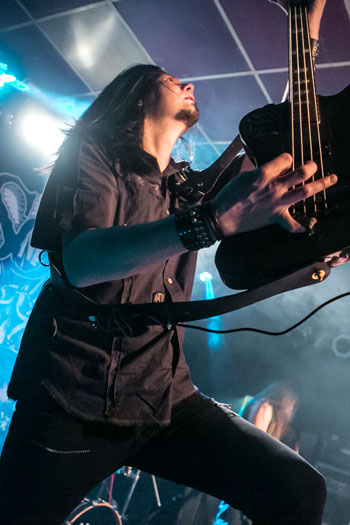 The main set concluded with "Halo", the pit was going and we all sang what would be their anthem song. I still remember the first time I saw and heard the video to this way back in 2001 and it still sounded as fresh and mental as it did then. Ryan did his usual jaunt into the moshpit and all you could see was his mike stand occasionally apearing above the heads from the pit.
We were due an encore of "Black Betty" but as I found out afterwards the bands on the night were all a bit disappointed with the venue facilities so maybe this put a bit of a downer on the evening, who knows, but the actual performances were all top notch.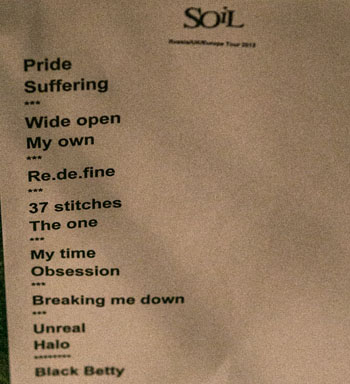 As a footnote Soil are running a Kickstarter campaign to raise production funds for their new album, if you like their music and want to be part of what sounds like being
an awesome album then go to their webpage www.soiltheband.com and follow the Kickstarted link.
Note to the band: please play some stuff off the album "Thottle Junkies"; "F-Hole" or "Hello Again" would do very nicely.

The Underground as a venue is very good and gives a personal and up-close show. The sound on the night was pretty damm good and was clear and punchy.
The lighting suits the band but the stage was so dark and backlit except for a huge, blinding strobe. As a photograper it's possibly the worst lighting you can get to work with. Overall though a worthwhile venue for a gig.
Review and photos by Simon Dunkerley

Photo Gallery
You can use the direction keys on your keyboard to navigate easily through the photo gallery. In Windows you can use the mouse wheel to flick from one photo to another.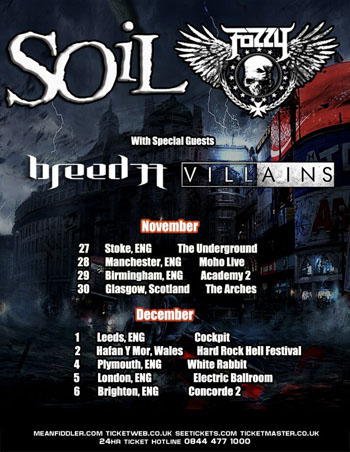 ---