SANTANA Shape Shifter Sony (2012)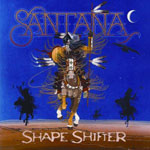 In some 40 years-plus Santana's output has wavered between the exciting and the exasperating, never one to shy away from crossing genres with greater or lesser success.
Understandably recent output has been peppered with live or greatest hits collections and 2010's 'Guitar Heaven' was seemingly a mark time venture and a fairly unstartling set of covers. 'Shape Shifter' marks a return to the Carlos we know and love. And, perhaps thankfully, there are no collaborations or celebrity names nor indeed vocals (with the exception of the slightly incongruous 'Eres La Luz').
Although these tracks have apparently germinated for the past couple of decades, it's almost as if the brief here was to revisit the fantastic vibe of Santana III and never more so than on 'Nomad' which revives the guitar/organ jam vibe of 'Batuka'. Simply wonderful organic music.
The title track sets the scene and again features that glorious melodic guitar and organ interplay whilst 'Dom' is slower burn with attractive orchestration. 'Angelica Faith' develops into one of his better lyrical adventures in the tradition of 'Samba Pa Ti' (which the opening motif echoes) and ditto 'In The Light Of A New Day'. The core of Santana's band remains the excellent keys of Chester Thompson, Benny Rietveld (bass) with Raul Rekow and Karl Perazzo (percussion). Santana's son Salvador joins him on piano for album closer 'Ah, Sweet Dancer'.
Jan Akkerman, one of Santana's contemporaries, once described him as 'looking like a dentist, and sounding like one' ( a reference to his Devadip days) but I have to say this album will appeal to the Dutch guitarist's fanbase. In fact anyone who loves melodic rock guitar.
If we are not now going to get a really startling, ground-heaving Santana album you really can't beat this return to what he does best. Glorious melodic, story-telling guitar weaving in and out of rich orchestration. A rare and very welcome treat especially to those who grew up with those classic early albums in the seventies.
****½
Review by David Randall
David Randall presents 'Assume The Position' on Get Ready to ROCK! Radio every Sunday at 22:00 GMT
---
| | |
| --- | --- |
| | Print this page in printer-friendly format |
| | |