RORY GALLAGHER Reissues Sony Legacy (2012)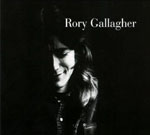 Just when you thought it was safe to file your Rory Gallagher albums under "Essential", here come some 40th anniversary reissues. The first six Polydor albums remastered and with new liner notes by brother - and custodian of the flame - Donal. Sadly there is an element of recycling here and I recall those attractive looking Japanese imports in facsimile sleeves that were available here some years ago. How many times do we have to re-buy our heritage?
The Polydor albums are arguably the most consistent releases. Sadly the post-Polydor albums tended to be patchy as Gallagher tried out different styles and musicians, and wrestled with a less welcoming musical climate. And let us not forget that two years prior to his 'solo' debut he had been acclaimed for his two albums with Taste and playing the 1970 Isle of Wight Festival.
The self-titled debut was similarly well-received and now includes two bonus tracks from the original sessions 'Gypsy Woman' and 'It Takes Time' although these have been available before (as have all the others on these reissues).
Check out 'I Fall Apart' for Rory at his gentle, fragile best. The album freely mixes more frenetic fluid playing ('Hands Up') with several acoustic blues ('Wave Myself Goodbye', ' For The Last Time') whilst 'Can't Believe It's True' features his sax playing. ****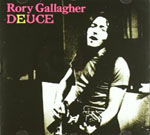 Deuce also came out in 1971, the year that he was voted top international musician in a Melody Maker poll ahead of Eric Clapton. This didn't deviate too much from the debut template but 'There's A Light' shows a jazzier, even funkier side whilst 'Crest Of A Knave' is another standout with his slide playing a feature. ****½
Gallagher was always true to his art-form and it seems doubtful that he ever composed tunes to order, hence a lack of commercialism but a definitive gritty blues realism.
This may help explain why - although popular in the seventies - this lumberjack-shirted blues guitar slinger failed to make sustained in-roads in the States although in Europe he achieved wider acclaim especially in Germany.
His influence, though, was more widely felt and his torch is still carried by any number of blues/rock bands operating today.
Live! In Europe recorded in February and March 1972 marks an early pinnacle, as Rory operated most successfully in live mode and this album features highlights from the first two solo albums and now expanded with two bonus tracks. ****½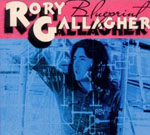 1973's Blueprint includes standouts 'Walk On Hot Coals' and 'Seventh Son Of A Seventh Son' and the two bonuses 'Stompin' Ground' and 'Treat Her Right'. There was more emphasis on songs and Lou Martin's keys add more colour. This was Rod de 'Ath's first album on drums and, together with the redoubtable Gerry McAvoy on bass, this new line-up persisted until 1976. *****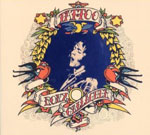 Just nine months later, Tattoo offered the stage-staples 'Tattoo'd Lady' and 'Cradle Rock' but also the jazzy 'They Don't Make Them Like You Anymore' and the funky 'Livin' Like A Trucker'. ****½
The second live album Irish Tour '74 was immortalised on film by Tony Palmer. Arguably more influential than its live predecessor, this album consolidated Gallagher's early seventies setlist. ****
Do we need these reissues? For fans, probably not. However they are a convenient and attractive way of purchasing Gallagher's Polydor legacy (and they can be picked up for a fiver each). During the seventies he was at his creative peak, witness the alarming frequency of album releases (two in one year seemed to be the norm). By the late seventies, when Gallagher signed to Chrysalis, he had failed to realise the impact of these earlier albums which now stand as a definitive body of his work, well worth revisiting.
Review and interview by David Randall
David presents 'Assume The Position' on Get Ready to ROCK! Radio every Sunday at 22:00 GMT
The full length interview is now available as a podcast
---