We've listed albums in order of star rating. Best first.
Reviews by Pete Feenstra, Pete Whalley
DAVID HIDALGO/MATO NANJII/LUTHER DICKENSON
3 Skulls And the Truth Provogue PRD73922

The David Hidalgo (Los Lobos)/Mato Nanji (Indigenous) and Luther Dickinson (Black Crowes) collaboration '3 Skulls And The Truth' doesn't quite deliver the considerable potential of its component parts.
The band does conjure up some magical moments, but this is a deep rooted, moody album that demands patience, stamina and a good number of repeat plays.

With a combination of three heavy duty guitarists, the Indigenous rhythm section of drummer Jeff Martin and bassist Steve Evans, and seasoned producer Mike Varney, the focus is inevitably on guitars.
But with Mato Nanji contributing the majority of the lead vocals, the album sometimes sounds like an Indigenous outtake. The music is anchored by deep grooves and slow burning solos, but is ultimately weighed down by occasional languor and workmanlike vocals.

The vacuously titled 'Have My Way With You' sets the tone for a grungy, ponderous album that has to work hard for its spark and energy.
Mato's droning vocals on 'I'm A Fool' adds to the pedestrian feel on a track rescued by some esoteric, eastern sounding guitar tones. And while the band self evidently lives for grooves and slow building dynamics, there's not quite the variety of material to bring the best moments to their climatic resolution.

'Make It Right' benefits from a stronger tempo and features noticeably better vocals and Luther Dickinson brings some welcome vocal variety on 'Known 'Round Here', on a vaguely funky piece with plenty of slide and caustic riffing to offset a plodding hook.
Far better, is the nailed down boogie of 'Coming Home' featuring Mato's best vocal on a guitar tour de force that is worthy of the band's potential, while 'All I Know' is a fine song, topped by some deft slide playing.

The album gets a noticeable lift from Luther's Leon Russell style vocal on the low down, sleazy southern rock influenced 'The Worldly & Divine', as David's trademark solo nicely rounds things off.
Hidalgo/Nanji/Dickinson is a band that refuses to be hurried in anything they do as it's just not in their DNA. 'Still Looking' for example, is a slow meandering, definitive groove that gradually builds on the back of Mato's emotive vocal.
As with most of the album you just know they will make to a succinctly delivered resolution, but the question is whether you have the patience to see it through or not.

'Cold As Hell' provides them with a Robin Trower influenced highlight, full of restraint, portentous tones, real poise and presence. Everything is in place, from the crashing chords, and cymbal splashes to the soaring guitar lines with well crafted wah wah shapes and whammy bar inflections. It's everything that fans might have hoped for, from 3 guitarists who met up on the Experience Hendrix tour. It should also garner them some deserved radio plays.

Things also pick up on the after hours shuffle of 'Woke Up Alone', as the guitar triumvirate takes off like a jumbo jet creating a big toned wall of sound. The effect is like the impact of a bulldozer full of riffs. There's a welcome real synergy at play with a thick layered intensity and relentless drive as they lean into the outro before a perfunctory ending.

'3 Skulls' certainly has its moments, but it's ultimately a frustrating album, because while the Nanji/Dickinson axis pushes the project into the realms of a layered guitar sounds, full of SRV and psychedelic influences, there's not enough of Hidalgo's craft and feel. And while jam band fans will delight in the moments of sparkling interplay, the album lacks an essential vitality and bite to take it to the next level. ***
Review by Pete Feenstra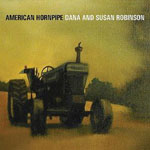 DANA & SUSAN ROBINSON American Hornpipe
Not a sniff of rock in sight, but the fourth album since the pair's 2005 debut Native Soul is a smorgasbord of rootsy Appalachian, British, Celtic and African vibes.
And a rather pleasant one at that. Championed by the likes of Mike Harding, and favourites on the folk circuit, Dana And Susan Robinson's American Hornpipe has a sparse laid back charm and appeal that anyone who has a taste for banjo, fiddle, some lovely harmony vocals should check out.
It may be a simple formula, but the quality of the playing and delivery is mesmerising throughout. Proof, if ever it was needed, that less can often be more. ***½
Review by Pete Whalley
M.C HANSEN 3
A triple debut album may be considered somewhat audacious, but Danish singer and guitar picker M C Hansen doesn't believe in doing things by halves.
3 is his Hansen's homage to Americana, with different versions of the same songs performed on each disc. On the first - a sparse and quite beautiful acoustic set recorded in Dallas, Texas he performs in the style of Cash, Dylan, Don McLean and the troubadour pioneers. With the vocals mixed well up and with some stunning accompaniment from Milo Deering on pedal steel, guitar , mandolin, dobro and fiddle, it's a marvellous tribute to a golden era.
Doing something of a 'Neil Young', disc 2 sees Hansen move into 'rockier' territory with a set recorded live with his band at an empty club called Det Bruunske Pakhu in Denmark. But his band are no Crazy Horse, no they're a bunch of laid back jazz musos and it's a tasteful, and respectful 'dancehall' workout. Hansen sees it as an exploration how the songs might mature. For me, it doesn't add a great deal to the intimacy of the disc 1 versions.
Finally, disc 3 sees reinterpretations, recorded on the Danish Island of Møn, accompanied by Nickolaj Busk on piano, accordion and glockenspiel, and Aske Jackoby on electric and acoustic guitars. It's an altogether more 'ambient' affair.
There's a lot to take in, and for anyone with a love of Americana or the classic singer songwriter generation, there's plenty to admire. Personally, I prefer discs 1 and 3, but there's something for all tastes here. Well worth exploring. ***
Review by Pete Whalley

THE VAGABOND Town & Country
I struggled with this release from the Norfolk eight piece. They describe their music as a rootsy brew of Americana, blues, jazz and rock, and there's nothing here not to like. They can turn their hand to just about any genre but without nailing their colours to any.
An Ocean, for example is incredibly infectious, and none of the material would be out of place on Radio 2 playlist. A Beatles-lite / sixties feel pervades what in days of yore would have been described as a supreme display of 'easy listening'.
It's all beautifully played and presented, but pleasant as it is it's hard to see a major break beyond the folk and festival small stage circuits. **½
Review by Pete Whalley



---