We've listed albums in order of star rating. Best first.
Reviews by Pete Feenstra, Pete Whalley, David Wilson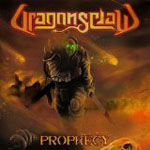 DRAGONSCLAW Prophecy (Arkeyn Steel Records)

The concept of Dragonsclaw came into being back in 2007 as a vehicle for founder, guitarist Ben Thomson, to air his wares as a guitarist and songwriter. It took him another couple of years though to find the right players in Australia and New Zealand to bring his vision to flesh and this is the first fruits of their labours.

Classic heavy metal spliced with power metal are the order of the day here and the album sets off at a cracking pace with ' Darkness Within' which shows off Thomson's impressive six string dexterity.
Vocalist Giles Lavery reminds me of Geoff Tate on the early Queensryche albums, he does tend to sound a bit strained and forced though, you get the feeling he would struggle to replicate the performances live especially on 'Fight For Your Life' . Another notable performance is that of drummer SEED who knows how to beat a double bass drum pedal into submission and does so at every given opportunity.

One criticism is that the album tends to be a bit one paced and it does lack variety. Overall though, this album contains 10 examples of well played classic metal that would put a smile on any self- respecting metalhead's face. ***½
Review by David Wilson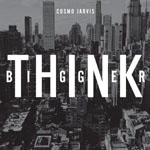 COSMO JARVIS Think Bigger

Still only 22, it's remarkable how mature the third album by the music and film online phenomenon Cosmo Jarvis is. And while his first two albums Humasyouhitch/Sonofabitch (2009) and Is The World Strange Or Am I Strange? (2011) covered many musical styles, Think Bigger hones in on the singer songwriter / alt county zone.

Opening with the opening upbeat single Love Is - an ode to TV gangster Tony Soprano - he comes across as an up to date Paul Simon/Jack Johnson. But elsewhere, there's classy lo-fi pop, rock, Americana, and folk. It's an amazingly diverse collection of songs that's nearest comparator is perhaps Ryan Adams.

With his talents applauded by the likes of Stephen Fry and Brian Eno, it's easy to see Cosmo becoming an Elvis Costello for his generation. But just when the Jimmy Carr 'scandal' has made it uncool to not to pay your taxes, Good Citzen's sentiments - 'I ain't never paid a penny to the tax machine, won't never get a penny as long as I can breathe' may prove to be topical, if not the most appropriate. ***½
Review by Pete Whalley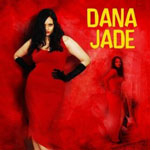 DANA JADE Dana Jade (Priestess Records)

Dana Jade counts Patti Smith as one of her influences and if you throw in the occasional vocal styling of PJ Harvey you get a rough approximate of an album full of passion, energy and punk rock overkill.

The opening track 'Eyes Like Cinder' sets the standard with a relentless, monotonous, tension building guitar line (much like The Edge) over which Jade emotes with angry sensuality.
She barely pauses for breath before moving into a white noise, buzz guitar feel that reminds me of Jesus & the Mary Chain, but with a unique vocal squall.
And it's her varied vocal attack that maintains our interest as she slips into a chopped guitar intro with a punky, rock & roll punch complete with inevitable pounding drums from co producer Ian McKenzie. The layered sound and repeated hook works well in a tension building way.

So far so good, as there's plenty of drive, energy and repeated catchy lines, but you can't help but wonder about the amount of substance that lies beneath the lush production.
'Murky Tears' partly answers the question as its an angular exercise in minimalism, with a chiming, knife through butter guitar line and King Crimson style repeated guitar growls. Dana adds partly processed whispered vocals, not unlike the sort Annette Peacock used to explore.

But it's a temporary resting place as Dana soon picks up the pace on an up tempo, busy track with heavily accented phrasing - think Lene Lovich meets early Patti Smith as the rhythm section powers on.
It's another example of the way the album creates a sonic landscape in which the voice shifts imperceptibly from unravelling a narrative to becoming an additional instrument. There's plenty of bluster, punk energy and close to the mic breathy vocals, but what it's all about I'm not so sure.
That said, you do get caught up in Dana's unstinting commitment and once she's drawn you in, her style is either infectious or annoying. You pays your money and takes your choice.

And just in case you are sitting on the fence the hard driving 'Little Sister' delivers impressively, but again its one step forward and one step back, as with the following track she's in danger of repeating what's gone before, with the same guttural vocal delivery and plenty of buzz guitar. We are after all in 2012 and you could be forgiven for thinking it was 1977.

Track 8 (sorry I don't have any track info) is altogether more manic and has the feel of climactic finish to a live gig, but for a momentary mid-number reverb laden quasi pause, before she rises goes again with machine gun vocals and powerhouse drums. 'She or I Go' is more Patti Smith style home made punk and Jade finishes with a curiously mixed back track that sounds as if the backing track was recorded next door.

Dana Jade is as much a sonic and physically arresting emotional experience as it is 10 tracks of impenetrable lyrics that make you feel that Dana has so much to say, but she fails to make clear just what it is that's bugging her. ***
Review by Pete Feenstra
THE HALTON QUARTET Based On True Events
Now I like a jig and a reel as much as the next man, and a bit of fiddle is guaranteed to set my foot tapping. But there's a time and a place for such things and it's usually on the folk circuit, and preferably with a few pints of local brew under your belt.

And that's where The Halton Quartet - the collective talents of two of Scotland's most creative folk duos - Adam Bulley (mandolin and guitar) and Chas Mackenzie (acoustic and electric guitar), and accordion and fiddle players Angus Lyon and Ruaridh Campbell - are best enjoyed.

Based On True Events may be nine original compositions, but be warned, they're all instrumental and they're all fairly traditional in style and delivery, all be it with some are subtle jazz elements thrown in for good measure and an unusual 'twist'.

For a sober rock lover that's a pretty hard pill to swallow, and while The Halton Quartet are undoubtedly a very accomplished bunch of musicians this is really for diehard traditional folk heads only. ***
Review by Pete Whalley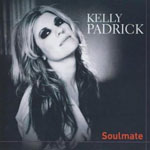 KELLY PADRICK Soulmate (Samlea Music)
Kelly Padrick's 'Soulmate' is an unchallenging journey through a synth heavy production, where keyboard led songs are layered to the point of couching her songs in electro and ambient clothing. In fairness it works well as her mid-range voice drifts in and out of several dreamy arrangements.
On the opening track 'Piercing', Kelly's whispered vocals sit neatly between synths and drum machines, as she intones 'your piercing eyes stare right through me'.
The following 'Tangled Forest' has more of a trippy, hippy meets electro vibe with a vocal swoop that evokes Stevie Nicks, while 'Here I Am' cleverly juxtaposes some call and response vocals with some slowly unfolding synth lines. In contracts, 'While I Disappear' places the emphasis on a vocal quaver not too dissimilar to Bjork.
But the synth noodles, stabs and processed voice of 'This Time' fail to engage the listener. And as with many synth based albums the music seems to start and finish with the possibility the technology offers you rather than the potential of salient melodies or great songs.
That said, 'Believing Makes It So' offers light relief, being a short quasi link piece that benefits from a simpler piano and voice led intro with her vulnerable voice filling out the space.
And so on it goes, into the mid-paced synth pop oblivion of 'Beautiful Man' and the delicate acoustic outing of 'So Long' with its chiffon brushed vocals and distant synth swirls.
Finally an electric piano line levers us into a the title track full of chiming notes in shimmering reverb, in a triumph of space and time over dense production, in which the delicate tones come close to evoking the lyrical meaning. It's easily the best track but it's a pity we have to sit through so many semi realised ideas to get to this point. ***
Review by Pete Feenstra
FARMER JASON AND BUDDIES Nature Jams (Hip-O Records/MyKaZoo Music)

Farmer Jason is in fact Jason Ringerberg the former leader of alt.country leader of Nashville rockers Jason & The Scorchers, who has put his time, money and creative energy into a children's project that is a musical celebration of the outdoors.

More than that, it's a cleverly segued 16 tracks that pairs him with an array of special guests including REM's Mike Mills on harmony guitars with Dan Baird's 'sage guitar advice' on 'Take A Hike', the Saw Doctors who contribute the up tempo big twang guitar of the harmony laden 'Well Oh Whale' and Louisiana's Terrence Simian on Bayou Boogie' complete with Creole French.

The various guests cleverly reference their respective geographic areas, such as the prairie home of Iris de Dement on 'Prairie Riddles' and Webb Wilder (formerly of the hard rocking The Beanecks) who adds an explanatory poem on 'Buffalo or Bison' and teams up with Steve Gorman from The Black Crowes on 'Dison the Bison. Ruthie Foster as always adds some telling vocals on 'spelunker', better known as pot holing.

Yep, there's plenty of great ideas and unfettered creativity and a DVD thrown in, and on the evidence of the DVD this audio visual double pack it's aimed at some very young recipients for whom the guests would mean little. But, no matter, it's a cleverly thought out, well intentioned project that deserves a home in junior class or library near you. ***
Review by Pete Feenstra
PETER AND KERRY La Trimouille

Twelve months on from their debut EP 'Clothes, Friends, Photos' singer songwriters Kerry Leatham and Peter Lyons seem to have developed a real understanding. While both were solo artists in their own right and both were treading very different paths, their collaboration now has now has a really cohesive feel.

The intimate lo-fi indie charm of their earlier work is still there but now there's a confidence that finds them coming across like an updated version of Everything But The Girl, but with vocals influenced heavily by Kate Nash.

The result is an album backed with gentle melodies and some lovely boy/girl vocal interplay and packed with gentle guitar sand electro pop instrumentation that reflects the mood of the eighties without being overly retro.

Peter and Kerry may not be set for global domination, but there's a definite gap in the market for their rather charming and unique sound. ***
Review by Pete Whalley

CITY OF LIGHTS Seasons Change

The 'hotly tipped' debut album from Leeds based indie quartet City Of Lights is a release that should go down well on the summer festival circuit.

It may be my ears, but the production sounds very flat and uninspired and while their PR blurb suggests they mesh the song writing of Biffy Clyro and melodic mastery of Snow Patrol, and while those influences are both clear and present, the overall effect simply doesn't carry the weight of the aforementioned.

And the problem is, it all sounds a bit derivative. Whatever happened to originality? Innocuous, but ultimately a bit of a bore. **½
Review by Pete Whalley

A.J MOORE Harmonics

A.J Moore is the guitarist of choice for top selling classical artists like Hayley Westerna, Laura Wright and the like, and Harmonics is his own pop / rock album that combines elements of classical, modern jazz, soul and blues.

While the subject matter covers the 'normal' bases of love, failed relationships, work, bullying, and self doubt, and while A.J delivers most of the instrumental and vocal parts, there's contributions from Brand New Heavies acid jazz drummer Jan Kincaid, strings by The Pavao Quartet, bass and piano by session player Al Gurr, and several solos by jazz guitarist Jamie McCreadie.

Undeniably easy listening, it's what our parents' generation would have labeled 'music for pleasure'. Enough said. **½
Review by Pete Whalley
LAURENCE AND THE SLAB BOYS Lo-Fi Disgrace (Grumpy Records)

This is the brainchild of Larry Reid, who moved from his native Glasgow to Berlin with his previous band Cinematics only for the band to collapse and leave Reid stuck in the German capital with little to do.

Lo-Fi Disgrace then is an album born out Reid's feeling of isolation in a foreign land during a long cold winter, don't expect a barrel of laughs here ! The album though was a surprisingly decent listen as I had feared the worst. With elements of The Doves, Echo And The Bunnymen and The Cure throughout the disc there are some sparkling moments amongst the drab greyness of the Berlin winter.

Things do get a bit maudlin on a number of tracks though and it is not a disc you would want to stick on at a party unless it was to clear the stragglers. If you find yourself in a laid back mood however and want something to chill out to then you could do a lot worse than pop this in the slot. **½
Review by David Wilson

DAMN VANDALS Done For Desire (Sexy Beast)

I have come across the Damn Vandals before in the shape of The Beautiful Mind EP I reviewed earlier in the year which was the taster before the full album release. This is the band's debut long player and it's not a bad introduction.

The guys play an indie based rock with nods in the direction of Echo And The Bunnymen and The Stranglers. Opener ' Revolution/Rehearsal' instantly brought The Stranglers to my mind with a bit of a punky edge and social comment laden lyrics. Vocalist Jack Kansas has a narrative vocal style which fits well with the overall band sound, not a classic vocalist by any stretch of the imagination, but he fits the bill here.

Amongst the ten tracks on offer are titles such as 'Sex It Narcissus', Kids Want Guns' and the wonderfully titled ' The Revenge Of Spider Toothy' which are all fine tracks but possibly not ones that would drag me back for repeated listens.

A decent debut then from Damn Vandals, but not one that fully grabbed me. Worth a listen though. **½

Review by David Wilson

MAX NAVARRO Hard Times

This 32 minute, 9 track, third album from Italian based Canadian rocker Max Navarro is somewhat clichéd. From the shades, stubble, shirt open to the waist and medallion, it's clear who the mirror thinks is the fairest of them all.

Sadly, the content doesn't match the picture that's painted of 'an album of pure rock, made brick by brick by the anger for all the crap we see all day'.
Best known on the Japan, China, Taiwan and Indonesia circuits where his western rock looks have obviously impressed in a Russell Brand sort of way, Max has grown up on the melodic / AOR music of Bon Jovi, Toto, Tom Petty. It's little surprise to find he played in a Bryan Adams covers band before striking out on his own.

And those roots show with Hard Times sounding very much like a busker's album. The production is thin, the material is not particularly strong or original and although Max clearly has the 'moves' and a reasonable rock vocal style, it's all exceedingly 'predictable'.

Hard Times might strike a chord in the Far East but it won't cut mustard on western shores. **
Review by Pete Whalley
LITTLE DEVILS Diamond And Poison

Formed in 2009 and with a growing reputation on the blues circuit, Little Devils are a 'good time' band who play 21st century 'blues' and whose 'lively' sound features Dutch Diva vocalist Yoka and some pretty tasty sax licks.

I'd hesitate to call their latest album a 'novelty' record, in the same way that the musical abilities of Supercharge, a much underrated band in the seventies, was never in doubt, but whose showmanship, and in particular that of band leader Albie Donnelly, always seemed to stand between the band and major critical acceptance.

But Diamond And Poison is a relatively low budget production, and it sounds it. It does however suggest Little Devils would be a terrific live draw, especially on the club scene. But in essence, there's nothing here to suggest they're likely to progress to a bigger stage. But do go and see them if you get a chance. **
Review by Pete Whalley
DAMN DAMN PATRIOTS Duke It Out With...Damn Damn Patriots (Woodenhouse Records)

Reading four piece Damn Damn Patriots write decent tunes, musically I can't fault them, so why did I dislike this album so much ? The answer is down to the distorted vocal on all tracks which grates after approximately two minutes, in fact the band obviously have an endorsement deal with a distortion pedal company as the guitars also suffer the same fate.

The fact is though, take away the annoyingly dirty sound and there are some decent sleazy rock tracks trying to be heard, a shame then that the production has robbed them of the chance to shine.

Next time guys, give the music a bit of room to breathe rather than smothering them in a 20 tog duvet of noise. *½

Review by David Wilson

---