We've listed albums in order of star rating. Best first.
Reviews by David Randall, Jason Ritchie, David Wilson, Pete Whalley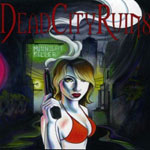 DEAD CITY RUINS Midnight Killer

This Australian crew were actually formed back in 2008 in London. From there they returned home to hone their playing and these are the first results of their collective labours. The band are a four piece, hard rockin' outfit with a bit of sleaze thrown in for good measure.

Musically the band sound like a mix of early Metallica (think 'Seek and Destroy') and a bit of stoner rock a la Queens Of The Stone Age and the results are pretty damn good. Opener 'Where You Gonna Run' jogs along at a fine pace with excellent riffing from the two guitarists Tommy and Jake. 'Damn My Eyes' follows which again has some heavy riffs and good melody lines throughout.

Two stand out tracks for me were 'Blues' which starts off sounding like the Doors and builds to a rocking climax and ' My Lai Massacre' which reflects on the events in My Lai village during the Vietnam war, not one of the Americans' finest moments, and the effect it had on those involved, powerful stuff.

Dead City Ruins have delivered the goods with this disc. If you like straight forward, well played rock then this will float your boat and with the guys about to embark on a UK now is the time to hop onboard. ****
Review by David Wilson

BOY Mutual Friends

Mutual Friends is the debut release from the female singer songwriter / alt pop duo Boy. Having conquered their native Germany and Switzerland, Zurich-born Valeska Steiner and Sonja Glass from Hamburg look set to replicate that success in Britain in 2012.

Not that you'd guess the girls' origins from their singing, although their material does have a distinctly European feel, falling in equal measures between the likes of Danish singer songwriter Tina Dico at one end of the spectrum and the indie pop of Swedish Oh Laura at the other.

That's an enchanting mix, and the girls' fragile and innocent vocals are the perfect compliment for the delicate and breezy brand of acoustic indie pop that underpins them. It's an intoxicating combination that sucks you in with a real 'feel good' factor and one that looks set to captivate audiences wherever they go.

The 12 songs on Mutual Friends tell the story of two girls from different countries who met and became friends. With the right exposure Boy could easily go on to become a global phenomenon. ****
Review by Pete Whalley
THE VIBES 45 Minutes To Go

Swiss rock, not a phrase you hear too often, but The Vibes are trying to change all that. This three piece have been around for 10 years and '45 Minutes To Go' is their latest album. The band master in a heavy, sleazy rock n roll, think Motorhead with a Hammond organ accompaniment and you are getting close.

The band consists of Mojo, Matlock and Stuntman Jack (?) and they sound like a band that have been playing together for 10 years. Opener 'Scumbags And Presidents' bounces along nicely on a wave of the afore mentioned Hammond and is a good introduction to the band.
Other highlights include ' Rapunzel' which contains some tasty mouth organ flourishes for added effect, 'Hellride' which you half expect to have Lemmy on vocals and 'Don't Shoot The Pianist, Shoot The Piano' which is a slower, bluesier number which contains that Hammond organ again to good effect and some excellent guitar work from Mojo.

It would appear then that Switzerland has more to offer musically than zithers and Celine Dion's 1988 Eurovision contest winning song, thank goodness. The Vibes are a no nonsense rock n roll band who are well worth investigating, the hills are alive with the sound of loud guitars! ***½

Review by David Wilson

LIVIN GARDEN Where I Can Breath

This album was originally released in the band's homeland of Brazil back in 2009. Since then the band have been touring Southern Brazil and have supported Black Label Society amongst others. The album has been recently released in other territories and they have recently toured in the US and hope to move further afield.

Musically they play hard rock very much in a similar vein to their gig buddies, Black Label Society, with a bit of thrash thrown in on a few tracks, most noticeably on 'Don't Blame'. The songs, to be honest, are nothing new but they are well executed, the twin guitar work of Pablo Kravicz and Daniel Doria in particular is excellent throughout .

Livin Garden are obviously a band with ambition and are currently working on their follow-up album to 'Where I Can Breath'. If they can produce more of the same, then their wishes may just come true. ***½

Review by David Wilson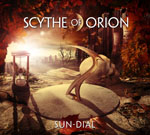 SCYTHE OF ORION Sun-Dial www.scytheoforion.com

Fellow GRTR! reviewer Pete Whalley reviewed the debut EP by this band back in 2009 and said they were a 'work in progress' as the sound wasn't great. Well they must have taken his advice as their first full album has a decent sound throughout.

The band's sound adds violin and cello to the traditional power/melodic metal mix. It works well for the majority of the time but occasionally the strings dominate the vocals.
Vocalist Anu Lamminsaari has a distinct pop sound to her voice so much so a song like 'Perfect Silence' could easily appeal to fans of melodic rock.
Best song by a country mile is 'Ice Soldiers' with a massively catchy hook and chorus plus vocal effects on the ice soldiers parts. 'Listen My Friend' delves into a folky song but don't be fooled as midway through the guitars and keys kick in - glorious stuff!

Hopefully they have a few more musical ideas up their sleeves as this album is a solid start and coming from Finland they have melodic metal in their DNA! Don't leave it so long next time please. ***½
Review by Jason Ritchie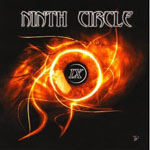 NINTH CIRCLE The Power Of One

'The Power Of One' is the second album from Californian rockers Ninth Circle. The band are a power trio who produce what they claim is 'power metal for the new millennium'. Although they are based in the states the main influences are most definitely European, Hammerfall, Stratovarius and most obviously Iron Maiden are quoted, with Maiden's 'The Trooper' appearing on the album.

Melodic power metal is what the band are all about and they certainly know how to write a good song. The title track of the album is a good starting point blending fast paced driving rock with plenty of harmonies and melodies. This theme continues throughout all tracks, others of note are 'Frontman' and 'Fire Falling' both of which are excellent and the cover of 'The Trooper' is well worth a listen.

Two criticisms did come to mind though over the course of the 12 tracks on offer. The first being it is all a bit monotone, same key with no real highs or lows to add variety to the individual tracks and the other is, with one guitar the sound seems incomplete and lacking in depth at times.

I did, however, enjoy the album despite this and with the guys back in the studio currently recording the follow up it will be interesting to see what they come up with next. ***½
Review by David Wilson
LA BLANCE ALCHIMIE Galactic Boredom

The second album from Milan duo Jessica Einaudi (vocals) and Federico Albanese (piano, bass, clarinet, guitar and vocals) is a delicate and fragile record that shimmers with an almost ambient in style.

A musical 'team' since 2007, their music is an alchemy of classical, indie, psychedelic, rock and folk that has an ethereal quality that underpins Einaudi's tantalising vocals.

Beautifully played, recorded and produced, it's a difficult one to pigeon hole. Throughout Einaudi's evocative vocals are subtly accompanied by Albanese's sympathetic 'less is more' delivery that makes the songs a sparse, haunting and enchanting listen.

Rather nice, and one for life's quieter moments. ***½
Review by Pete Whalley
BEAR DRIVER Bear Driver

The debut album from Leeds based indies is timed to coincide with the summer season and it should provide the perfect backdrop for some sun soaked festival fun.

Packed with ten frantic, up tempo 'fuzzy' tunes the band fit perfectly into the genre dominated by band's like The Wombats. Perhaps not 'classic rock', but if you're a Radio 1 or 6Music listener you'll already be aware of the band's talents. And Bear Driver do have another string to their bow with Cure influenced numbers like the haunting Cats.

Self produced, but inspired by the production values of John Parrish and the classic albums of PJ Harvey and Sparklehorse, the album was recorded pretty much 'live' and will undoubtedly be embraced by lovers of indie pop. ***
Review by Pete Whalley

MORGAN O'KANE Pendulum

If Dan Tyminski were to challenge Ravi Shankar to duelling banjos on the neutral ground of a Scottish Kayleigh, and both players had enjoyed a good few pints of the 'heavy' beforehand, Pendulum could well be the outcome.

The album is a collection of 14 songs from banjo player extraordinaire Morgan O'Kane, who must surely be to the banjo, what Joe Satriani is to the electric guitar. Yes, if there was a prize for banjo shredding it would, without question, be on O'Kane's mantelpiece.

Some have likened his approach to his art to that of Jimi Hendrix, so bluegrass purists gird your loins, this is a new form of the art - 'extreme' banjo playing. It won't be to everyone's taste, but if you're looking for something a little 'unique', Morgan O'Kane could be your man. ***
Review by Pete Whalley

PIG EARTH 14' x 12'

I found it impossible to find any rock reference points on this short 6 track album from 5 piece county / folk act Pig Earth who've received glowing reviews for their live performances and won Horizon Act of the Year at the British Country Music Awards.

What that tells you, and 14' x 12' reaffirms, is that this is very traditional affair with little or no 'cross over' potential. As a result, pleasant as the album may be, it's unlikely to be of interest to those of a rock persuasion.

On the other hand those partial to easy on the ear folk with delivered panache... ***
Review by Pete Whalley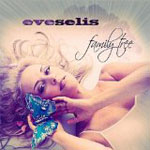 EVE SELIS Family Tree

Following the increasingly common Marillion business model, 7 times winner of San Diego Music Awards in American and Adult alternative categories, Eve Selis's latest album release was funded entirely by fans.

That allowed her not only to record at Big Fish Studio in Encinitas with Grammy winning producer Steve Churchyard, but also to hire in Albert Lee and acclaimed sidemen Dennis Caplinger on fiddle, mandolin, dobro and banjo, and Rich Schmidt on steel guitar.

If the name sounds familiar, Selis has had previous exposure in the UK on the likes of the Bob Harris show and Family Tree is (I think) her 6th album. The generous 14 tracks cover the rich gamut of American music from swamp-rock, to country, to (yet another) cover of Leonard Cohen's Hallelujah.

Recorded to 2-inch tape to capture her natural live sound, it's an album that I'd describe as 'mainstream'. In other words, you get radio friendly tunes, some fantastic playing and great vocals. It will no doubt please existing fans and bring a few new ones on board, but ultimately it doesn't break any new ground. ***
Review by Pete Whalley

JESSE GALANTE Spitfire

Jesse Galante is what I'd described as a 'Tina Turner' rock singer - a 'black'; soulful voice that sounds like it could shatter plate glass at 20 yards.

Born in Buffalo, New Jersey to Sicilian parents, as a teenager she gravitated to rock and soon cracked the local circuit. Next stop, LA where she was signed by manager Ray Brown (who was working with the likes of Bon Jovi, Def Leppard and Cher) who built the band Fire around her.

A four track demo produced by the legendary Michael Wagener found unexpected success in Europe but the band folded and Jesse returned to Buffalo to record a gritty debut album 'Gesua'.

Since that time she's returned to Europe where she's found success with this 2010 album in Germany, The Netherlands and Belgium. And it's easy to see why her straight ahead rock style has found favour there, but for me it's little clichéd and the band sound very much like session musicians going through their paces.

As a result the album sounds a little too karaoke for my liking and it's hard to see it promoting success far beyond the live circuit. **½
Review by Pete Whalley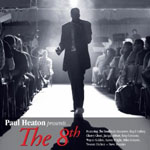 PAUL HEATON PRESENTS...The Eighth

I'll happily admit to enjoying the Beautiful South - particularly their mid to late nineties period when they produced two brilliant albums in the form of Blue Is The Colour (1996) and Quench (1998). It all went a bit down hill after that leading eventually to the break up of the band. But at their peak they were one of the finest exponents of pop - great songs, great observational lyrics, and great singers.

Since the split the two main protagonists Dave Rotheray and Paul Heaton have quietly gone their separate ways both producing excellent solo output although neither has sought, or found, widespread commercial success.

Heaton's latest work is a 'soul opera' commissioned for The Manchester International Festival and based around the concept of the 7 Deadly Sins. Featuring guest artists including Cherry Ghost and ex Beautiful South singer Jacqui Abbott each sin is sung by a different singer with the sins linked together by narrative.

Heaton's work always has a clever twist and here it's the introduction of an eighth deadly sin - gossip. But although the work is performed live with the supplement of a 'greatest hits' set, The Eighth couldn't be further removed from his previous works.

It's a dark brooding piece that, for the most part, sounds like Heaton has been hanging with the 'brothers' in the ghetto with the bulk of the piece made up by the linking narratives. It might work better live, and the full release does come with a DVD, but as a pure listening piece it's unlikely to start any forest fires.

That said, strip it down to the nine 'songs' and it becomes a far stronger piece. In particular the beautiful Envy featuring Jacqui Abbot which harks back to the Beautiful South glory days.

Full marks to Heaton for venturing outside of his comfort zone, but as a recorded work I suspect The Eighth is likely to prove as popular and David Beckham's 'General Custer' facial hair. **½
Review by Pete Whalley
EUGENE TWIST The Boy Who Had Everything

The fact that you can stream this album from the artist's website www.eugenetwist.com is somehow at odds with the acclaim heaped upon it by the likes of Ricky Ross, Mark Plati (production Bowie, The Cure) and BBC Radio Scotland.

But listen to the opener - If There's Love Where I'm Going, a Zutons style number with some wonderfully scuzzy saxophone / clarinet courtesy of Mike Brogan that simply bristles with energy and punch, and you're going to be impressed.

Unfortunately, thereafter, the set - which is relatively short, running out at only 8 tracks over 30 minutes - descends into a melancholic Cherry Ghost singer songwriter style. Nothing wrong with that and the self production is excellent, but for me it's a little downbeat after that blistering start. But for those in bed sitters up and down the land. **½
Review by Pete Whalley
LOADASMOON Heroes In The Sand
Northumberland-bred Kevin Stanbury relocated to Northern Ireland and together with Shawn Allen and Mike O'Dowd has fashioned a debut album in power trio style. But this is no Taste or early Lizzy for that matter, although the influences are there. It's evidently a project with passion but in truth the songs, and the production, is leaden.
As with many modern bands home-spun production has it's drawbacks and it is doubtful that listeners will venture past the first few tracks. Stanbury's guitar soloing is also somewhat tiresome but it's the riffs - suitably beefed up - that could have saved this. Loadasmoon are not going to make Loadsamoney any time soon. **½
Review by David Randall
DEAD BELGIAN Love & Death: The Songs Of Jacques Brel

Paris street cafes, hooped T shirts, an old bike, an onion necklace, Gaulios and accordions. Dead Belgian evoke them all, except of course they're paying tribute to Belgian Jacques Brel. It was, however, France where he originally found fame in the 1950's going on to become a world star.

Dead Belgian, an aptly named Liverpool band, play a pretty straight tribute to the man in a black & white 1950s sort of way. Each of the four members - Andy Delamere (percussion, vocals), Fionnuala Dorrity (vocals, guitar, ukulele), Simon James (sax, flute, clarinet, mandolin, vocals) and Mathew Wood (accordion with vocals) all bring something to the party with vocals that have drawn comparison with Edif Piaff, Anthony Hegarty and Nico.

Alternating between French and English vocals it's a step, or more a leap, back in time and one that would perhaps work best in a live environment. In the meantime Love & Death is likely to have limited appeal, but Dead Belgian are the sort of quirky act that could well find exposure on the Jools Holland show. **
Review by Pete Whalley

---