We've listed albums in order of star rating. Best first.
Reviews by Pete Feenstra, Joe Geesin, Pete Whalley
DARK NEW DAY New Tradition (Goomba Music)

New album from US rock band Dark New Day features many tracks originally demoed for earlier releases, or released as b-sides or on the digital only album Hail Mary, as well as new material.
Featuring members of Evenescence, Sevendust, Stereomund / Eye Empire and Virgos Merlot), there is a doomy / stoner / indie feel - a bit like brutal Alternative Metal Black Sabbath.
I Don't Need You mixes crunchy riffs with jangly guitar and screaming vocals. The title track is lighter, more melodic, while Tremendous is grungier, and a little sludgy with it.
For post grunge / alternative it is pretty brutal and shouty at times, muddy at others.

To be honest, not something I could get with, something for the teenagers. ***½
Review by Joe Geesin
WYKED WYTCH The Ultimate Deception

Black metal from Philadelphia, this is their fourth album, which starts off in polished gothic fashion, building to frontwoman Ipek Warnock's screams and growls that are brutal throughout. 'Birthing The Beast' features much technical riffery and hi speed shred, the vocals mixing death growls and operatic passages.
The title track is even faster, machine gun drums and power alike. Unless you're prepared for this, or a black metal die hard, it will give you a fright I promise.
As far as extreme metal goes, it features the odd melody and catchy moment, and many will find interesting the cover of Metallica's Fade To Black - brutal indeed.
For Black Metal it's not bad at all, interesting in places, but a bit too much for me. ***½
Review by Joe Geesin
BLACK CHERRY BAND Defying Gravity

Hailing from Ottawa, Canadian roots rockers Black Cherry Band are a female led vocal outfit with the kind of lofty intentions that their album 'Defying Gravity' doesn't always manage to achieve. And that's a pity as several horn led melodic outings featuring the dual vocal talents of Mandy Freeman and Patt Devine are hampered by inconsistent vocals, a lack of a clear production and too many songs that are effectively rescued by horn solos.

'Defying Gravity' is a curious album full of plenty of bold instrumental breaks but is too often swamped by a cluttered lack of focus. Too much of the material is dogged by moderate performances and a lack of confidence that brings a claustrophobic feel to the best of their work. Look no further than the ballad 'Is This the Future which has strong double harmony vocals on a good chorus but labours to get to the point and like several other songs here sounds like a work in progress.

The best moments come early with the opening title track and the lilting 'I Should be Running' which is a fine meeting of voice and instrument. Contrary to the band's PR sheet they are not a natural blues-rock outfit - indeed very little here could be termed blues rock - with tracks like 'I Should be Running' coming close to having day time radio appeal.

It's ironic then that when they do approach the blues on the sax led 'There's the Door' they collectively stumble on a plodding arrangement and poor vocals. This is an album that lurches from moments of triumph such as the flute led Anglo - French 'Dans mon Coeur'- with its beautifully nuanced horn that weaves its way round a delicately nuanced vocal duet - to the best forgotten baseball chant 'Let's Go Fat Cats'.

'One Way Ticket is the closest they get to a relaxed groove with a catchy hook and good bv's but then its two steps back with the would be funky dance track 'Toms for Patt' with its 1234 count-in. Neither the vocals nor the funky back beat are strong enough and the song is ultimately rescued by a grainy sax solo. 'Just the Other Day' at least benefits from a nice double harmony vocals and 'Is This the Future' sounds like a promising melodic ballad in need of a better production and certainly a stronger vocal.

The catchy melodic instrumental 'Minuet in the Basement' is let down by a thin keyboard sound in sharp contrast to the muscular horn playing and it is these deeply contrasting moments within a song that almost defines the light and shade of an album that enjoys some exhilarating moments, but then manages to offset them with songs like 'More Blue Skies' which again needs more work on both the arrangement and vocal phrasing while the horn is simply too busy.

'Defying Gravity' undoubtedly has its moments but it's a frustrating piece of work that suggests a band capable of much better than they ultimately deliver here. ***
Review by Pete Feenstra

BEN KWELLER Go Fly A Kite

Ben Kweller's a new one on me, but the American singer songwriter and multi instrumentalist has been around for quite some time on the American scene having four studio LPs under his belt and having recorded with the likes of Ethan Jones and Gil Norton. He even had a UK top 40 hit in 1996 with his teenage grunge group Radish.

But Go Fly A Kite - his first release on his newly formed The Noise Company record label - is a very different proposition. It's a hugely radio friendly offering that echoes the commercial pop rock sensibilities of the likes of Bolan, Steve Miller, The Beatles, The Monkeys and even Simon & Garfunkel.

It's energetic, fresh and captures neatly a nostalgic summer sound but without sounding overly retro. Full of rich harmonies, lush arrangements and bittersweet lyrics it could just be the record to make Ben Kweller a household name in his own right. ***
Review by Pete Whalley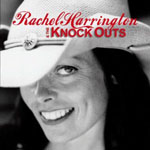 RACHEL HARRINGTON & THE KNOCKOUTS

I was quite impressed by Rachel's previous release Celilo Falls - an album steeped in Americana, bluegrass and country. Adopting a 'less is more' philosophy it was like turning the clock back a century with a superb cast of musicians including Lindisfarne's Rod Clements on slide guitar.

For her latest outing Rachel's turned her attention to honkytonk, along with a bunch of like minded players - Alisa Milner on fiddle, Rebecca Young on bass, Moe Provencher on guitar and Aimee Tubbs on drum, aka The Knock Outs.

Born out of a backstage meeting and mutual love of honkytonk, classic country, early rock and the Bakersfield sound, this latest venture may be a bunch of new songs but it revisits the sounds of yesteryear, albeit with the advantages of modern recording technologies.

Your view on the relatively short 10 track set is going to be influenced by whether you're a fan of the genre rather than Rachel's previous work. There is one track - the excellent 'Get You Some' that would work within her previous delicate and plaintive outing, but elsewhere it's full on honkytonk. That's an acquired taste and, I'm sorry to say, not one I share. But lovers of the genre will no doubt be hugely impressed. **½
Review by Pete Whalley

PROJECT TRIO Random Roads Collection

Having self released three albums grounded in classical training and virtuoso musicianship since forming in 2005, but sharing a desire to include elements of jazz, funk and rock, it all went viral for Project Trio - beat-boxing flutist Greg Pattillo, cellist Eric Stephenson and bassist Peter Seymour - with YouTube covers of work as diverse and Guns 'n' Roses, Tull (naturally), Dave Brubeck, Charles Mingus and Bach.

And having scored over 66 million views and gathered 75,000 followers on YouTube, and signed a record deal, they've taken the opportunity to provide fans with this retrospective collection, including two previously unreleased tracks.

But being entirely instrumental and, so far as I can tell, all self compositions Random Roads is something of a niche product that's likely to be of limited interest an 'end to end' listen. That said the musician ship is impeccable, and it's more likely to appeal to those with a jazz leaning.

To my ears, it's going to need the introduction of a vocalist and perhaps some cover versions to make Project Trio viable commercial artists. But whether that's even on their radar, who knows? **½
Review by Pete Whalley
STACEY EARLE & MARK STUART Dedication

Husband and wife duo Stacey Earle & Mark Stuart are touring the UK and Ireland April through June 2012 and are likely to be performing at a venue somewhere near you.

Based out of Tennessee, drawing from blues, pop, country and rock, and armed with clever acoustic guitar interplay, autobiographical song writing, lovely harmonies and a good sense of humour, they're the ideal act for the working men's club / Americana / folk circuit.

There's lots of influences on display from The Big O, through to McCartney and many more and it's nicely played and recorded in an intimate sort of way. Trouble is, it's not exactly invigorating. That said, there's enough talent on display to suggest they'd be damn good live entertainment, and after a few pints of the local brew you'd probably go home happy with a copy of Dedication in your sweaty palm.

Whether it would subsequently get repeated plays is debatable. **
Review by Pete Whalley
DOMAIN OF DREAMS Domain Of Dreams

Hailing from Bulgaria of all places, Domain Of Dreams is a hard act to quantify. Describing themselves as progressive metal is a start - but I would describe this as thrash metal shredding with a soupcon of prog thrown in as an afterthought.

This is apparently the band's third studio effort (their previous two having been under the name of Solaris) and can only be described as an acquired taste.

Nine tracks here, all prefixed by the words 'The Dream' - hence you have 'The Dream Of Revenge', 'The Dream Of Power', 'The Dream Of You', and so forth.

It's prog insofar as no track clocks in at less than six and a half minutes, but any prog fan expecting melodic passages, slick time-signature changes and soaring keys is going to be sorely disappointed. The overbearing, staccato thrash guitars and double kick drum cacophony practically drown out the growling vocals - although, given the risible quality of those lyrics you can decipher, this might not be a bad thing.

It's pretty much a formulaic approach on all tracks really, an almost melodic intro or middle eight immediately pulverised by a headlong rush to get those guitars thrashed to within an inch of their lives - a method that worked well for the likes of Nirvana, but they had some tunes, a commodity sadly conspicuous by its absence here.

For lovers of thrash metal, you might find a few nuggets hidden away, but for those of us looking for good song structures, instrumental skill or lyrical depth, it's closest to Hieronymus Bosch's Vision Of Hell. **
Review by Alan Jones
INDREK PATTE Celebration

More God-bothering from Estonia anyone?

Christopher Hitchens, in his superb book 'God Is Not Great', makes the point that religion poisons everything - and it's now starting to happen increasingly with music - and with prog rock in particular, especially from Eastern Europe.

I'll state again (as I did with my recent review of The Skys album (qv)), that religion has no part in modern rock music - in fact, rock music has developed almost as the antithesis of religion, with the risible exceptions of the likes of Stryper and their ilk. If this is your calling, just show up at your local church with an acoustic guitar and sing 'Kumbaya' with like minded souls, and leave rock music to those who want to listen without being hectored about their life choices.

For the record, Indrek Patte is an Estonian multi-instrumentalist who likes to describe himself as having a love of classic progressive rock - well this load of tripe is neither classic nor progressive. The musicianship is reasonable at times, with some tasty guitar licks and occasional prog keyboard flourishes, but the lyrics, f**k me, the lyrics are just banal to the point of laughable.

Song titles such as 'Resurrection', 'The Journey', 'One Way' and 'You Stay With Me' say all that needs to be said - and unless you're heading off to Priest's Training College and are looking for something to put on your iPod for those hours of misery, self-flagellation and contemplation, this is best avoided like the plague.

As for its chances of commercial success, I can give you that figure - nil.

No stars whatsoever.
Review by Alan Jones
---