We've listed albums in order of star rating. Best first.
Reviews by Joe Geesin, David Randall, Pete Whalley
CANDY Whatever Happened To Fun (Rock Candy)

This four piece LA band released just one album in the mid 80s that sadly dropped straight off the radar. Strange, given that the band's sound mixed two of the scene's two largest exports: melodic sleaze/glam and power pop. Influences range from Kiss, Sweet and Slade to The Ramones to The Monkees.
Plenty of crunchy guitar, hooks and melodies and vocal harmonies

There's a post pop Hanoi Rocks feel to some tracks, augmented by singer Kyle Vincent adding touches of both piano and saxophone.

The title track has a nod of 60s bubblegum, a genre that named the band, but it's still a catchy rocker.

This a remarkably good and enjoyable album. Originally it was one for those in the know, now it can be enjoyed by all. All the usual Rock Candy packaging applies – superb and informative. ****
Review by Joe Geesin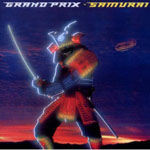 GRAND PRIX Samurai (Rock Candy)

In the early 80s Grand Prix were one of Britain's premier pomp rock outfits, mixing the Britishness of Magnum with US influences from the likes of Kansas, Styx and Journey. 1983 and Samurai was the band's third album, with new vocalist Robin McCauley (later of MSG) replacing Bernie Shaw.
From the outset it's classic pomp, and second track 'Shout' features one of the most memorable crunchy rock riffs you'll ever hear. There's a full sound, some great guitar (solos, riffs, harmonies, they're all here). And there's some pretty fantastic keyboards from Phil Lanzon who, like Shaw, would later turn up in Uriah Heep. Yes this band had lots of pedigree.

'50/50' is more melodic, almost balladic, the vocal range is good and solid on the high notes. 'Countdown' is more of an all out rocker, and 'Never Before' is a real foot stomper. And the title track is a superb track with plenty of vocal harmonies, some great guitar and keyboard lines and a driving rhythm.

Another fantastic package with band interviews in the sleevenotes and two bonus live tracks. ****
Review by Joe Geesin
SHERRIFFSherriff (Rock Candy)

Canadian AOR / hard rock from 1982, that somehow didn't take off at the time. The music is incredible in that the songs are strong, the guitar work outstanding, and Freddy Curci's vocals with a range to match Steve Perry and Freddy Mercury. At the higher end there's definitely a Rush feel, mixing strong vocals with strong riffs.
The rhythms are solid, the keyboard lines work well, and the power ballad 'When I'm With You' strangely became a #1 hit in the US 6 years later. Contrast that with 'Kept Me Coming' which is all out thunder, mixing Girlschool with AC/DC. Good stuff!
Not only is this album well packaged, it restores the original ending to the final track that was edited on the original CD (issued in 1989 on the back of the success of the single), and it features 7 live tracks originally issued in 1983 as a promotional only set.
A great album and package all round. ***½
Review by Joe Geesin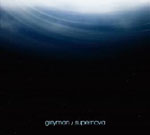 GIRLYMAN Supernova (GM004)

Supernova is Girlyman's 5th studio release. And if, like me, it's a name that means nothing to you, then that must say something. What that is, is that the Atlanta, Georgia based band occupy a niche part of the marketplace.

And that is on the folk / country circuit with artists like The Indigo Girls, The Be Good Tanyas, Nickel Creek, Larkin Po and Po' Girl that ply their trade close to the pop / rock borderline. So what you get is acoustic based songs overlaid with some quality three part male / female vocal harmonies.

On this release the previously three piece band - Doris Muramatsu, Nake Borofsky and Tylan Greenstein - are joined by ex Po' Girl drummer JJ Jones as a full band member on an album that majors on themes of uncertainty and transformation reflecting Muramatsu's, now thankfully in remission, cancer scare.

It's a pleasant, well played and produced album, with subtle Beatles undertones, but one that ultimately breaks no new ground. It will probably sell on the back of their forthcoming UK dates in May but, in truth, is unlikely to find appeal beyond those already familiar with the band's work. ***
Review by Pete Whalley

DAN RAZA Dan Raza (Auralee)

'What goes around, comes around' or so the saying goes. And certainly that seems true in the case of the current resurgence in British folk. It can only be hoped that, as in the late sixties it leads ultimately to a rebirth of folk based prog. Aahh, salad days.

On the opening track on singer songwriter Dan Raza's album, 40 Miles, there's hints that could happen in the cymbal, keyboard and flute interludes that echo some of King Crimson's early and more reflective moments. But principally, his debut is a folk album with a range of material that would find favour in equal measure with Wogan and Bob Harris Radio 2 listeners.

With a gentle vocal style reminiscent of a young Chris de Burgh, and having established a considerable reputation on the folk scene supporting acts like Joan Armatrading, Badly Drawn Boy, and Cara Dillon, his debut proves to be highly accessible and his use of guest musicians to add subtle elements of light and shade (Frank Mead flute, sax and whistle, Barbara Bartz fiddle, BJ Cole pedal steel to name but a few) sets his work apart from that of his contemporaries.

The stand out is, perhaps, the gorgeous Rivertown with Mead on low D whistle and Maria Rivington's evocative backing vocals. One to watch. ***½
Review by Pete Whalley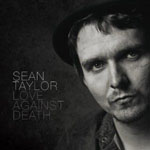 SEAN TAYLOR Love Against Death (SGO Records)

Sean Taylor's last album - Walk With Me (2010) was worthy of all the plaudits that were bestowed upon it - including the 5 star review it got here at GRTR! In fact, it only narrowly missed out on being my album of the year.

Sadly the follow up, Love Against Death comes nowhere close. Yes the hoarse, whispery vocals and distinctive acoustic blues guitar style are present and correct. But almost everything else has changed. And not for the better.

For the recording Taylor decamped to Austin, Texas to work with producer Mark Hallman (who's produced Carole King and Ani di Franco, and worked with Stevie Ray Vaughan, and Lyle Lovett) ironically, because Hallman was identified as the man capable of capturing Taylor's live guitar sound.

But whereas the self production on Walk With Me (with Trevor Hutchinson) was wonderfully sparse and allowed every single note to shine through, Love Against Death has a much busier pace and fuller sound in which the subtlety of his guitar lines are, for much of the time, comparatively lost.

Then there's the subject matter. Walk With Me was an album of matters of the heart. Love Against Death finds Taylor 'going off on one' with a socio / political rant against Thatcher, neo Liberalism and capitalism in general.
And while in my book it's fine to privately share Billy Bragg's militant tendencies, I've no great wish to hear yet another leftie whinge about the miner's strike. It's history - get over it.

To my ears there's nothing here that would get even close to making the cut on Walk With Me, so in trying to take a step forward, Love Against Death sees Taylor take a massive step backwards. Disappointing. **½
Review by Pete Whalley
DENNIS DEVELIN Tip Of The Tongue (Perris Records)
I know, you thought the best thing to come out of Denmark was bacon, and maybe 'The Killing'. Well Dennis Develin certainly isn't so don't waste your time with him.
The singing is typically cod-English with that always irritating non-native tongue inflection and the lyrics could have been written by a 13 year-old. Lots of reference to "motherfucker" an album does not make.
Musically it is heavily cliched hard (glam) rock and the programmed drums don't help matters. If this is some sort of Nordic joke we just don't get it. I could only imagine this remotely bearable after six litres of Carlsberg and even then pulling teeth may be a better option. Truly awful. *
Review by David Randall
---