We've listed albums in order of star rating. Best first.
Reviews by Pete Feenstra, Joe Geesin, Nikk Gunns, David Randall, Pete Whalley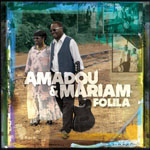 AMADOU & MARIAM Folila

'Rock' has been known to court some pretty unusual bedfellows down the years. Perhaps none more so than the 'blind couple from Mali' - Amadou Bagayoko (guitar and vocals) and Mariam Doumbia (vocals) with their 'afro blues' - a unique mix of traditional Mali, Syrian, Cuban, Egyptian, and Indian music. And, of course, rock.

It's a unique sound that's found them favour on the World Music and Festival scenes with spin offs such as topping the German charts with the 2006 World Cup anthem and being part of the opening 2010 tournament celebrations. They've also supported Blur, Scissor Sisters, Coldplay and U2. And had David Gilmour guest for a whole 85 minute charity set!

So they've been seen by hundreds of millions. Probably even you. They've even been nominated for a Grammy for Best Contemporary World Music Album. But unless you're a fan of World Music you're unlikely to find Folila striking a chord. It's relentless in its driving rhythms and a bit like the Lion King - a great live draw, but not something you'd routinely want on your car cd player. Peter Gabriel may, of course, disagree. ****
Review by Pete Whalley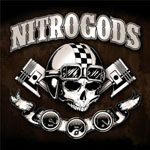 NITROGODS Nitrogods (SPV)

A very apt name for this German 3 piece, who are definitely nitro powered. Rock'n'roll that's supercharged, turbo charged. There's definitely a huge chunk of blues in there, as is there gravel and punk and everything else.
Think the bluesy end of Motorhead, the rock'n'roll sleaze of early Motley Crue, shovel it into a cement mixer and play it at 78rpm. In fact "Demotion Inc" is reminiscent of a speeded up "Stand".
It's much like that much of the way through, the influences are obvious, but it's good and enjoyable. In fact it's quite impressive. Enough so to feature guest appearances of Dan McCafferty (Nazareth) and Fast Eddie Clarke (ex Motorhead)
Gravelly, heavy, enjoyable. ****
Review by Joe Geesin
JACK McNEIL & CHARLIE HEYS Two Fine Days

There's no 'rock' read across to this 3rd album from Birmingham based folk duo Jack McNeil & Charlie Heys. But what you get is traditional British folk par excellence.

Like their two previous releases, 'Fellside, Light Up The Beacons', and 'The Northern Road' the centre piece is Charlie's mournful fiddle playing and Jack's warm vocals and acoustic guitar underpinnings. But on Two Fine Days, these much lauded young musicians are subtly supported by Tom Chapman (percussion), Sean Law (double bass) and Hannah Phillips (harp).

The current vogue for all things Americana is thankfully given a wide berth providing the listener with a rare opportunity to hear fresh and compelling British folk that successfully links our heritage with the present.

It may be a little 'purist' for some, but the playing is exemplary as is the clarity of the recording. Previous releases have seen the duo as finalists in the BBC 2 Young Folk Awards. The classy Two Fine Days can only raise their profile even higher. ****
Review by Pete Whalley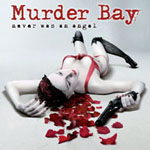 MURDER BAY Never Was An Angel (Eonian)

Hair metal isn't dead. It lives on Eonian Records. The label has gathered a reputation for unearthing some hidden rarities from the golden age of Hair Metal and Sunset Strip. If you can set aside the somewhat "period" and sometimes demo nature of the music (and typically resonant drums) it is an insight to what might have been. But more often than not a revealing hint of why the hand of good fortune never beckoned some of the featured bands. (See also Rattleshake, below).
Billed as one of the top "unsigned" bands of the late-80s Murder Bay sounds more like a finished product and the sessions were produced by Eric Valentines (Good Charlotte, QOSA, Slash) and Rob Beaton (Guns n' Roses, Sammy Hagar). It does beg the question why things never happened for this band because the material and musicianship is strong, but they may have been too late: Grunge scuppered a potential deal. Again there is a Warrant and Ratt vibe, and at times a heavier Motley Crue, but for fans of this genre this is definitely a lost gem. ****
Review by David Randall
VENGEANCE Crystal Eye (SPV)

Solid Dutch metal with a stellar cast and a decent follow up to their 2009 album Soul Collector.
Hard to believe this band have been going 30 years now, and they still sound good.
With vocalist Leon Goewie is bassist Chris Glen (MSG, SAHB), guitarist Keri Kelli (Alice Cooper) and drummer Chris Slade (AC/DC), with additional guitar work from the late guitarist Jan Somors and his son Timo.
Mixing hard rock and an occasional touch of sleaze, think heavy Skid Row, touches of AC/DC, there's some great work all round. The vocals are solid, and there are some fine guitar solos too.

Well worth checking out very enjoyable. ***½
Review by Joe Geesin
MARVIN ETZIONI Marvin Country!

Marvin Country, the ambitious fourth solo album from the man who co-founded Lone Justice with Maria McKee is an expansive and eclectic collection of 22 songs spread across 2 cds spanning country, folk, blues and gospel bases.

A record producer (Toad The Wet Sprocket, Counting Crows), a collaborator (Maria McKee, Victoria Williams, Susanna Hoffs), a side-man (T-Bone Burnett, The Dixie Chicks), a song writer (Cheap Trick, Rachel Sweet) and a soundtrack composer (The Mediocre Samaritan) Marvin is something of a 'man for all seasons'.

On some tracks he goes it alone playing mandolin, mandocello, guitar, bass, piano, mellotron, porchboard and keyboards, while elsewhere there's a distinguished cast of supporting talent including Maria McKee, Lucinda Williams, Steve Earle, Richard Thompson, John Doe and The Dixie Hummingbirds. To name but a few.

But at its core, Marvin Country is a rolling piece of classic Americana. And while Bob Dylan may be dead according to one of the tracks, his shadow, and that of Johnny Cash, loom large across a set that bears many of the soul searching hallmarks of Cash's Rick Ruben produced American Recordings. ***½
BAP KENNEDY The Sailor's Revenge

Bap Kennedy has come a long way since his emergence on the music scene as the rhythm guitarist, lead singer and primary song writer for late 80's / early 90's Belfast based rockers Energy Orchard. As has his main collaborator on his 5th solo album, ex Dire Straights front man Mark Knopfler.

Since Energy Orchard, Bap's pretty much turned his back on rock, sharing Knopfler's indulgence in alt country and the Americana roots field. It's a journey that's seen him record in Nashville with Steve Earle, dedicate works to Hank Williams and Elvis Presley, and work extensively with Van Morrison.

The Sailor's Revenge sees a three prong guitar / vocal strike force of Bab, Knopfler and James Walbourne. Sadly though, any rock roots are well submerged below the waterline. The vocals throughout are delivered in a nasally Dylan style and there's a stellar supporting cast including Jerry Douglas (Alison Krauss / Union Station) on lap steel and dobro, and Michael McGoldrick (flute, pipes and whistle) and John McCusker (fiddle).

That amalgam creates a distinctive sound that successfully combines equal elements of folk, Americana country and Irish roots. Even on a song about the trapped Chilean miners! Perhaps not one for casual rock inquisitors, but destined for plaudits from the folk / roots fraternity on both sides of the Atlantic. ***
Review by Pete Whalley
THE LAYABOUTS Strange Behaviour (Homeless Records)

Madrid based four piece The Layabouts new album 'Strange Behaviour' delivers 10 tracks in just 29 minutes- energetic burst of sleaze, punk and garage rock infused music that sounds more American or English than Spanish.

Whether it be the sleaze drenched 'River of The Moon', the hypnotic intro of 'Numbers/Figures' or the straight ahead rock of 'It's All Dead', The Layabouts mean business from the off- and they do deliver. Opening track 'Rock's Dead' is enough to draw in even the casual listener and with tracks averaging just 3 minutes, the album tends to hold your attention throughout. Other tracks that stand out include 'Chevy' and 'To The End'.

One of the noticeable things about 'Strange Behaviour' is that, although the songs are instantly accessible, they also appear to grow with each listen- and that is the sign of a well written and well produced album. ***½
Review by Nikk Gunns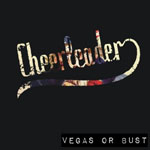 CHEERLEADER Vegas or Bust (Angry Shark Records)

Cheerleader are not to be typecast as just Scandinavian rock as these boys don't quite fit into that mould, and that is a good thing. Hailing from Sweden the band has a bigger sound than most bands currently emanating from that region, and within the 9 tracks on their self produced debut album 'Vegas or Bust' you can hear influences such as Aerosmith, Black Sabbath, The Foo Fighters and even maybe U2.

Comprising of brothers Joel and Niklas Ek (vocals/bass and guitar respectively), guitarist Joan Vieru and drummer Andreas Westerlund, the band was formed in 2009 and have spent the time since crafting their sound and writing material for this debut effort.
Full of energetic, catchy songs, the highlights on 'Vegas or Bust' include 'What's So Hard', 'Arrange', 'Generation Shit' – which you can almost imagine Michael Monroe singing , 'Wasted Hours' and the punk edged 'Wherever You May Be'.

Acoustic sing along number 'The Pirate Song' is oddly placed in the middle of the album and almost disturbs the flow of the record- it would have worked better maybe as the last track- apart from that the only downside to 'Vegas or Bust' is the fact that at 9 tracks it leaves you wanting to hear more.

The band has recently supported Warrior Soul on their UK tour and will no doubt be back on these shores in the near future. ***½
Review by Nikk Gunns
M.I.C On All 4's Mia Mia

I don't pretend to know much about the Chinese rock scene apart from the fact that is a significant growing musical market. Canadian guitarist/songwriter and front man Yvon Serre has been tapping into this market since 2004 with various line-ups of his band M.I.C. (Made in China geddit?). And on the evidence of their four album 'On All 4's', there must be a raft of melodic rock fans who are happy being fed a diet of recycled riffs with big hooks.

The riffs come from a succession of obvious influences such as Thin Lizzy, Keith Richard and AC/DC while the material is a straight down the line pop-rock crossover to soft Metal with a curious but successful match between riff driven songs and their poppy refrain.

Much of the material barely deviates from a mid tempo/verse/ hook/ solo format and its testament to the power of Yvon's radio friendly hooks that for the most part you can overlook a relentlessly boring rhythm track that all too often sounds like a never ending drum machine and focus on the singa-along choruses.

Aside from several exuberant exclamatory yells that inevitably draws your attention to more expansive hooks, Yvon busies himself in crafting melodic rock that will surely find a home in some long forgotten mid-west FM radio station, or more pertinently, probably on mainstream media in China!

Songs like the hard rocking chorus of 'Milley' have an obvious appeal while the recycled riffs on 'Anything' are submerged by a catchy repeated hook and some deftly layered guitar lines.

Yvon Serre's greatest attribute is his appreciation of melody, the power of a repeated riff and an uplifting chorus as on 'Dancing With The Light'. Such is the importance of the chorus in these songs that most of the album sounds as if he's locked himself in room until he's come with 11 good hooks and then written the rest of the songs around them.
But whatever basis of his song writing, there's no escaping a radio friendly style that reminds you of so many other artists but consistently comes from the pen of Yvon Serre. So let's raise our glasses to a Canadian rock artist who has successfully transplanted melodic rock with mainstream potential in China and who probably doesn't have to worry about either domestic or critical appeal, as he's already a rock star on his own terms. ***
Review by Pete Feenstra
CHUCK PROPHET Temple Beautiful

For those unfamiliar with the name, singer / songwriter / guitarist / producer Chuck Prophet was the guitarist with mid 1980's American punk rockers Green On Red. But since the band split in the early '90's Prophet's own catalogue, both as a solo artist and producer / hired gun has grown substantially.

A San Franciscan for over 3 decades Temple Beautiful is an ode to his adopted hometown. It's an honest workmanlike affair that should translate wonderfully live, with a blue collar storytelling style that harks back to the more grounded work of the likes of Springsteen and Mellencamp.

Named after the long since defunct punk rock club where he started out, and inspired by the rock and roll renaissance in the city, the album is a personal homage to a city that is Prophet's personal drug of choice. Part love letter and part a tour of the seedier side of the tracks, his candour and distinctive Fender Telecaster style make Temple Beautiful an album that should resonate with those who like their rock gritty and authentic.

Chuck Prophet is touring the UK in April. ***
Review by Pete Whalley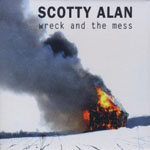 SCOTTY ALAN Wreck And The Mess

Many of us are beginning to seriously wonder where the next generation of classic rock is going to emerge from. It's a conundrum that's looking increasingly puzzling especially when there's such a leakage of talent to the country, roots and Americana genres.

Scotty Alan used to be a punk rocker but has lived a somewhat reclusive lifestyle over recent years and Wreck And The Mess is a rootsy, countrified set with a distinct Pogues undertones, both in Alan's MacGowan style vocals and the campfire reels and jigs that pervade the set.
Supported by some major players including David Lindley (Dylan, Ry Cooder), Randy Mitchell (Warren Zevon, Billy Bob Thornton), Butch Norton (The Eels, Lucinda Williams), Ian McLagan (Faces) and David Sutton (Lucinda Williams), and produced by Bernie Larsen (Lucinda Williams, Rickie Lee Jones, Jackson Browne) the 15 punchy songs over 45 minutes exploe a relationship going bad.

If the Pogues has been conceived in the frontier towns of Wild West they would have undoubtedly sounded like this. ***
Review by Pete Whalley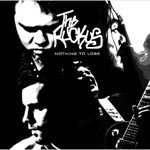 THE RUCKUS Nothing To Lose Fat Hippy Records FH58 RCKS

'Nothing To Lose' is an aptly titled cd by The Ruckus, a young well drilled Scottish rock band who go for it from the off, safe in the knowledge that you can always find a market for recycled harmony driven rock with big hooks. Working in tandem with the enterprising Fat Hippy record label, they have the perfect partner to help develop their current derivate style into something all of their own.

Over the course of 9 tracks The Ruckus glance over their shoulder to reference bands like Tesla, April Wine and Guns and Roses as well as a gamut of Classic rockers from Zeppelin and Sabbath to the twin guitar style of Thin Lizzy. They selectively take their influences from the past and by degrees work towards something all of their own via an exuberant kitchen sink and all approach to contemporary rock on their own terms.

Look no further than the opening retro sounding buzz guitar and intense rocking of 'Bad Man', which overcomes a laboured tempo change to make it to the end. 'Runnin' With The Wolves' is also packed with pedal to the metal hard rock intensity but with an American style chanted hook.
And they really crank things up on the title track which fuses AC/DC riffs with an unlikely southern rock feel. The track could be a significant step in the direction of their own style, were it not for the overbearing chanted hook. Nevertheless vocalist Chris Walker is at the top of his game as the rhythm section of Dave Leslie and Ian Pirie drive the band on relentlessly and guitarists Phil Shearer and Bob Christie bring a burning intensity to the piece.
The band adds a bluesy stomp on the lumbering 'Once Bitten, Twice Shy' which doesn't quite throw off the shackles and smoulders rather than explodes. It's the kind of song that will probably take shape once they've gigged it a few times with plenty of room for extended guitar work.

'Nothing To Lose' is a debut album by a band still in process of self discovery and along the way they hit several moments when it all comes to together rather nicely. When they stretch out on 'Damage Done To Beautiful Eyes', with a cool bass line leading them into a twin guitar break and a brief climactic solo, you are hearing a band stepping out and developing their own style.
But in finding their own way they offer a nod in the direction of Zeppelin on the intro to 'Young Heart Attack' on an otherwise blistering, American sounding stop-time rocker with ripping guitar work. The track is only slightly blighted by another annoyingly punched out chanted hook. It's on this track that the band fully reveals its hand by aiming squarely for the American heartland.

No matter, The Ruckus have a cut a decent debut album full of youthful exuberance, gritty playing and fledging song writing that in the hands of an experienced producer could help them break out of the North East if Scotland. ***
Review by Pete Feenstra
ESPERANZA SPALDING Radio Music Society

It was a bit of a stunner when relative unknown bassist and singer Esperanza Spalding swept aside heavyweight competition from Justin Bieber, Drake, Florence & The Machine, and Mumford and Sons to lift the 2011 Grammy for Best New Artist.

But whether her fourth album Radio Music Society will translate this side of the Atlantic remains to be seen. It's a highly classy affair, with some gorgeous vocals and playing but it's essentially a jazz album, as evidenced by the presence of jazz legends Joe Lovano, Jack DeJohnette and Billy Hart.

Were Parky still a Saturday night fixture, a guest spot would be inevitable, but jazz based artists have struggled to cement a permanent place in the hearts of the British record buying public. Even Norah Jones' star has faded.

Esperanza puts a new(?) spin on the genre by adding a twist of soul to the mix, in much the same way that Stevie Wonder did in his heyday. He however, was already a long established artist and in many ways his jazzy excursions signalled an end to his mainstream popularity.

So talented as Esperanza Spalding may be, I can't help but suspect Radio Music Society will only have appeal. ***
Review by Pete Whalley
RATTLESHAKE Rattleshake (Eonian)
Rattleshake sound like Warrant, Skid Row or any number of pretenders and whilst good fun the songs are both predictable and probably done better elsewhere. ***
Review by David Randall


---