NEAL SCHON The Calling Frontiers (2012)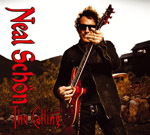 Neal Schon has always been one of the most tasteful guitarists and the most melodic, and his solo work demands further investigation from his 'Late Nite' debut in 1989 via the world flavours of 'Electric World' to the most recent ''I On U" in 2005. Of course since then his career has blossomed again with Journey who in 2007 played their first UK dates for 25 years.
Whilst a glorious guitar edge is more apparent in Journey's current album, for lovers of Schon's music there can never be too much guitar. Here he makes amends, starting off with the jam-based title track and progressing through a variety of different styles all anchored by his good guitar taste.
Overall, the theme of the album is fusion, exemplified by the keys of Igor Len (on 'Carnival Jazz') and previous collaborator Jan Hammer's moog ('Fifty Six', 'Tumbleweeds').
In addition to that sparky title track there is the heavy riffage of 'Back Smash' which has a wonderful breakdown section with chiming guitar figures and acoustic against Len's string synths whilst 'Transonic Funk' is another loose but infectious jam.
Schon made this album in less than a week (playing guitars and bass) with one-time Journey drummer Steve Smith and there is a definite informality and looseness about the proceedings with a less song-based structure and again it's a tribute to his better judgment that it doesn't all get out of hand.
The big ballad appears as 'True Emotion' with Schon's characteristic sustained and bluesy figures but the tour-de-force is probably 'Tumbleweeds', a seven-minute fusion epic of shifting moods with a particularly convincing play-out at the end. 'Blue Rainbow Sky'is inspired by, and a tribute to, Ronnie James Dio but it's tender rather than metallic.
There is a certain delight hearing this album and essentially hearing Schon having a blast, unfettered by expectation not least those Journey fans who might baulk when that band ups the guitar quotient.
And with thirty minutes to go of the sessions, he found time to revisit 'Song Of The Wind' pointing back to his formative years with Santana and the album Caravanserai.
Forty years on from that musical gestation you won't hear a better guitar-based instrumental album this year save perhaps for his former master's unexpected 'Shape Shifter'.
****
Review by David Randall
David Randall presents 'Assume The Position' on Get Ready to ROCK! Radio every Sunday at 22:00 GMT
---