Just witnessed your best live gig?.. send us a review!
MARTIN TURNER'S WISHBONE ASH AND GUESTS
Liscombe House, Nr. Leighton Buzzard, Bucks 31 August 2012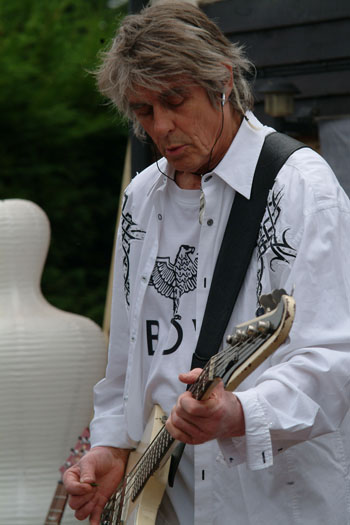 How many times do we hear bands paying lip service to how great their fans are while in practice seeing them as a cash cow to be milked?
Well, in a wonderful gesture which was the complete opposite, Martin Turner's Wishbone Ash invited 100 or so of their most committed fans and old friends to the grounds of a country house and recording studios for a garden party on a Friday afternoon, featuring a free private show.
This was a memorable and unique occasion for three reasons. One was the unusual setting, as a makeshift stage was constructed backing onto the house and we watched the gig in a farmyard complete with stables, surrounded by acres of open land around us.
Secondly, this was a special set for Wishbone anoraks with no pressure to play the tried and tested, 'Argus' dominated set that MTWA usually play, especially when on touring as a package with other classic rock acts.
Instead we were treated to rarely played numbers, even 'Firesign' which never made it onto an album and 'Broken Down House' from Martin's solo project, and best of all a premiere of a new song, 'Mystify Me', which on first listen was in a classic Wishbone mould and hopefully will encourage the band to write new material to ensure they don't become a mere nostalgia act. Sadly, that was also one of the many moments when the sound inconveniently came and went from the left hand speaker stack nearest to me.
Opener 'Standing in the Rain', 'Rest in Peace' with its funky jousting guitars and 'Haunting Me' all got a rare airing, while the first set ended with guitarist Danny Willson on lead vocals on a rattling 'No Easy Road' - also the title of Martin's autobiography, copies of which were disappearing like hot cakes from the merchandising stall.
Thirdly, as I arrived the air was crackling with talk that various other alumni of Wishbone's classic years were in the house, both literally and metaphorically, and expectation levels were rising by the start of the second set, as the band started with a cracking 'Doctor', combining Who-style dynamics with a frantic guitar duel overlaid by Martin's distinctive bass lines, and 'Lady Jay', a reminder of the band's aptitude in their earlier days for folkier, more pastoral material.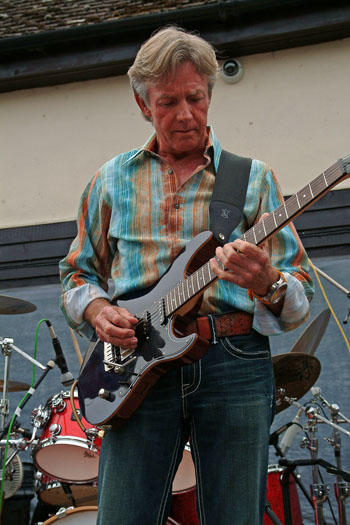 Talking of which, during 'Valediction', where both Danny and Ray Hatfield were sharing harmony vocals and playing some delicate leads, on stage crept Ted Turner, one half of the 'harmony twins' from the original line up to play the final solo.
Looking relaxed and a picture of health, the adopted statesider was then crouched over his guitar playing his trademark wah-wah solo on 'The King Will Come', then after the instrumental 'Prelude', a lap steel was set up for his instrumental tour de force 'In The Skin', before he sang the green-themed 'Why Don't We'.
After the regular MTWA played the epic 'Way of the World' came another special moment with the appearance of a seemingly ageless Laurie Wisefield, the man who replaced Ted and spent over a decade on Wishbone's stage right.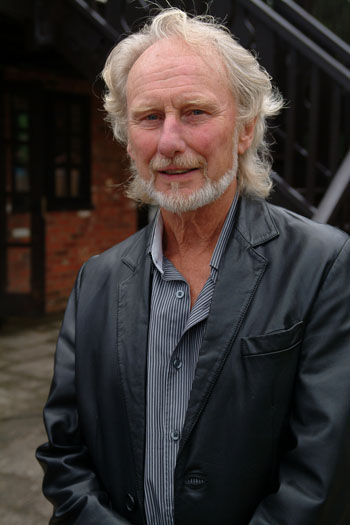 Even better he brought on the long lost Steve Upton, Wishbone's original drummer for over 20 years. No longer regularly playing and running a French chateau, he resisted the temptation to take to the kit but the warmth of reception for a man out of sight for so long spoke volumes as to the affection in which he is held.
It was hard to top that, but Laurie did his best with some superb melodic soloing on 'Living Proof', the song he had made his own back in the day, and some audience participation, before Ted was brought back on for a climax of 'Jailbait', with no less than four lead guitarists jamming together, yet still managing to create space for each other's lines. Even the great southern boogie bands only managed three at a time.

As a long time fan of the music of Wishbone Ash (if not quite as long as many present whose experience dates back to the early seventies!) this was a memorable and unique event I will never forget. It was a privilege to be small part of it.



Review by Andy Nathan
Photos by Noel Buckley
You can use the direction keys on your keyboard to navigate easily through the photo gallery or - in Windows - flick from one photo to the other using the mouse wheel.
---