Just witnessed your best live gig?.. send us a review!
MARILLION
Manchester Academy 10 September 2012
Photos by Steve Goudie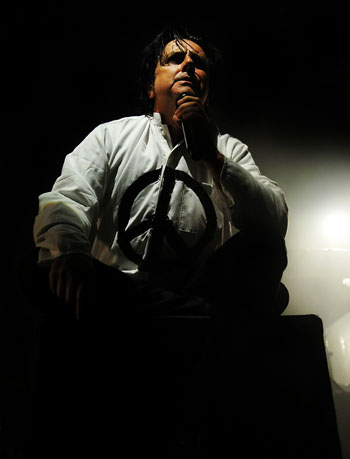 Steve Hogarth has been steering the good ship Marillion for 23 years and 13 albums. It was somewhat ironic, therefore, on a night when they were airing songs from their new album 'Sounds That Can't Be Made', that the biggest cheer of the night was for 'Sugar Mice' a hangover from Fish's 4 year tenure at the helm.
Surely it must be time to put to bed that part of the Marillion legacy?
Of course, the Hogarth era, while not without its challenges, has been remarkably consistent musically. Perhaps tellingly though, there has been no 'classic' album and in many ways that may have been the band's salvation. Not only do classic albums often signal the beginning of the end for internal relations, but they also hamper a band's ability to make the best of their back catalogue.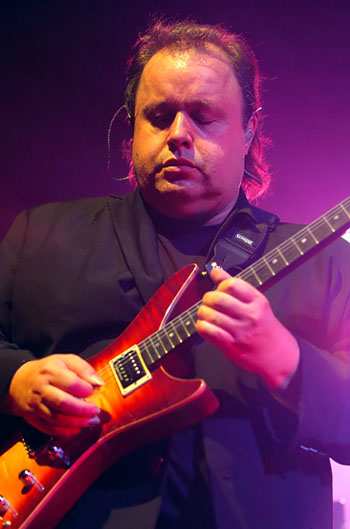 Not so Marillion, who in recent years have gone from strength to strength: solvent, a viable business model the envy of many, a fanatical fan base, and in Hogarth a frontman who deserves far wider recognition. While the line-up of Steve Rothery, Mark Kelly, Pete Trewavas, and Ian Mosley remain a static presence (and pretty much literally on stage) Hogarth is a bundle of nervous energy.
Feeding off the audience his vocal deliveries are impassioned in a way most performers can only aspire to and unlike many of his contemporaries he's lost none of his range. There's no question of going through the motions he lives each and every moment of every song.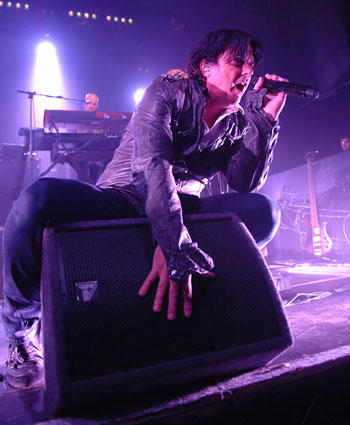 The absence of an albatross (Fish aside) means the band are free to dig deep and rummage around their back catalogue safe in the knowledge that even their most remote and infrequently aired numbers will be greeted like old favourites from the assembled faithful.
And so it proved to be on a damp autumnal night in Manchester when alongside four songs from 'Sounds That Can't be Made' they explored 'Marbles', 'Holidays In Eden', 'Somewhere Else', 'Happiness Is The Road', 'Brave' and 'Radiation'.

---
Hogarth's vocals were as raw and visceral as Rothery's uncharacteristically incendiary riffs.

---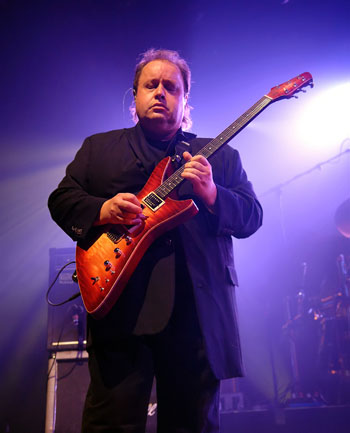 The good news is that the new material, perhaps not unexpectedly, sits comfortably with the old the perfect example being the set opener. To a darkened stage the opening strains of 'Splintering Heart' gave way to rumbling keys, searchlights strafing dry ice and a flash bomb providing a dramatic backdrop to 'Gaza' from 'Sounds That Can't be Made' - a song about the futility of the Middle East conflict. Hogarth's vocals were as raw and visceral as Rothery's uncharacteristically incendiary riffs.
As a signal of intent for a gig that saw more crowd participation than is sometimes seen down the road at Old Trafford it was a powerful statement and if there was a complaint as a casual observer - about the set that followed - it was the absence of some of the band's more 'obvious' material.
But that's part of the game plan and one that keeps Marillion fans always ready to come back for more. No, Marillion, don't believe in going through the motions and their fan base has an almost encyclopaedic knowledge of the band's material. It's a love / love relationship and one that looks set to last for many years to come.

Set list: Splintering Heart (excerpt) / Gaza / You're Gone /This Town / The Rakes Progress / 100 Nights / Sounds That Can't Be Made / The Other Half / Neverland / A Voice from the Past / Power / Fantastic Place / Real Tears for Sale / The Sky Above The Rain / The Great Escape. Encore: A Few Words For The Dead / Sugar Mice.


Review by Pete Whalley
Photos by Steve Goudie
You can use the direction keys on your keyboard to navigate easily through the photo gallery or - in Windows - flick from one photo to the other using the mouse wheel.
---