MAGNUM On The 13th Day SPV (2012)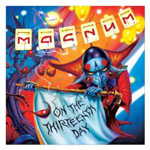 Magnum celebrate their 40th anniversary this year and return with a new album, their sixth since reforming back in 2002. Quick mention to the limited edition digi pack as this adds bonus live songs and alternate versions of songs on the album. I have not heard this but looking at the track listing and the album artwork this is the one diehard fans will be after I am sure.
The album starts quietly with 'All The Dreamers', Bob Catley's vocals usher in one of the album's big pomp rock numbers. Like the 'The Visitation' album Mark Stanway's keyboards make a significant contribution and on this song he plays some dance styled keys, backed by Tony Clarkin's guitar riffing – an AOR Pendulum if you will. This is an album highlight for me along with the single 'So Let It Rain'. This is one of the most radio friendly and instant sings the band have done since the days of the 'Goodnight L.A.' album.
If Radio 2 can give this a few plays they could have a hit on their hands as the strings and chorus make this an instant hit on the listener.
'Shadow Town' is a classic Magnum tune, strong lyrically (about the decline of town centres) and both Bob Catley and Tony Clarkin in fine form musically. 'Didn't Like You Anyway' is another possible single and one for the live arena, whilst 'See How They Fall' again highlights that Tony Clarkin has brought back the pomp and splendour to the band, much to the delight of this fan and I am sure many others. The only song that hasn't really struck a chord yet is the title track which seems to lack something.
It's been a good year for classic band's rediscovering their mojo as Saga and Asia have both released fine albums this year and now Magnum join the list. They have upped the pomp of old and this album is their strongest since they reformed.
****½
Review by Jason Ritchie
---