Just witnessed your best live gig?.. send us a review!
KARNATAKA/Winter In Eden
Assembly, Leamington 17 November 2012
A double header as good as I have seen at this venue, with first up one of my stand out bands from this year's Cambridge Rock Festival, Winter In Eden. For me very much a band in the tradition of European Gothic Symphonic Rock bands such as Nightwish and Within Temptation, they are for me a band with a big future.
Dramatic, atmospheric and full of visual flare the band rocked through a set concentrating on material form their recent 'Echoes of Betrayal' album (their second release), including set opener 'For The Few' which started the evening in fine headbanging style, full of solid riff action.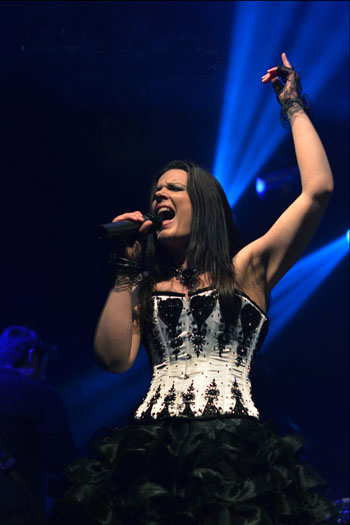 This was followed in a similar vein but at a higher tempo with added touches of Eastern magic and knock out lead guitar courtesy of Samuel Cull by 'Torment' a section of 'The Awakening,' an epic suite of numbers which sweeps over both the bands debut album (Awakening) and the new release.
The only number in the set from the band's debut album and a real tour de force was the heavy brooding metal of 'Oblivion', full of crunching guitar work, going back to their latest work one of the standouts of this short but fabulous set was the beautifully structured, flowing, catchy rocker 'Possession'.
Lead vocalist Vicky Johnson is a real star up front, powerful vocals and she prowls the stage in true Gothic Rock fashion while the band have all the power and musicianship needed for this challenging style, they truly rocked the Assembly and in my opinion we really need a band playing this genre of music to rival our European cousins and in this band we have one.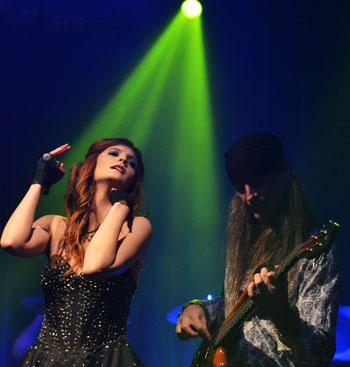 I was blown away by Karnataka's gig at The Robin 2 earlier this year and so was really looking forward to seeing the band in action again, a polished, melodic, prog rock band with Celtic touches and a feel good vibe running through all of their music, they really produce a rich tapestry of sound.
Performing two sets they mixed back catalogue favourites with material from the last studio album 'The Gathering Light' and a couple of tasters from the next album.
Classic Karnataka numbers included a magnificent triple from their highly regarded 'Delicate Flame of Desire' album, the simply exquisite 'Time Stands Still', 'Heart of Stone' with it's beautiful vocal performance by Hayley Griffiths (excellent all night but an especially moving performance here) and the sensational 'Delicate Flame of Desire' itself, full of delightful harmony vocals, a stunning piece of work, full of textures, surely one of the top prog rock tracks of the last 10 years.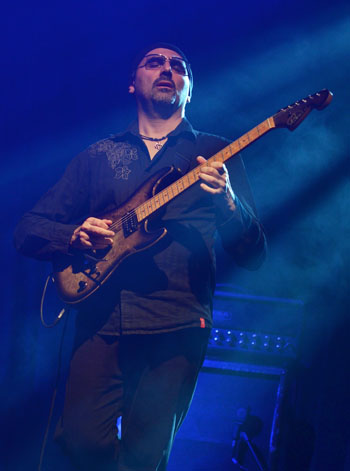 From their latest release we had the magical title track 'The Gathering Light', stirring, uplifting a completely joyous number which just builds and builds, a passionate 'Forsaken', a funky 'Your World' and the epic encore 'Tide To Fall'.
From the previewed next album material really impressed with 'Poison Ivy' a symphonic rocker with a top quality guitar riff.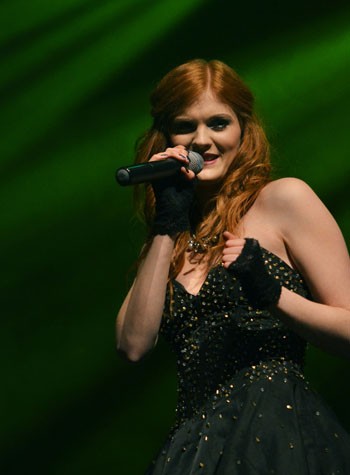 A special mention for vocalist Hayley, vocally strong, charming with the audience and her three dress changes added a visual flare to the musical flare, for Enrico Pinna for a jaw dropping display on guitar and a player of real emotion and also for founder member Ian Jones a tremendous bassist and all round good guy always flying the Karnataka flag.
Top top night with two bands hopefully going places and who really deserve to, different styles but both top players in their chosen genre.


Review and photos by Andrew Lock
---
Gig review 23.02.12 (The Met, Bury)
Gig Review 19.02.12 (Robin 2, Bilston)
---