EUROPE Bag Of Bones earMUSIC (2012)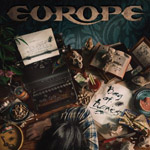 As regular readers will know GRTR! has been a strong supporter of Europe since their revival in 2004 and we haven't been afraid to cast aspersions when necessary. That's passion rather than anything more sinister.
We approached the band's latest album with a certain degree of trepidation. Would Kevin Shirley - arguably the thinking (and rich) rock band's man of the moment - change the band's sound or approach in any way?
You could argue that Europe have been moving to a more straight-ahead rock sound since 2009's 'Last Look At Eden' which appeared to be the latest journey to this end and a self-announced return to their late-seventies roots, so it could be argued that Kevin Shirley was the obvious next choice of producer. Add in the title track featuring Joe Bonamassa on slide guitar and this journey is a little more complete.
How this album will sit then with those fans who welcomed back the band with the very fine 'Start From The Dark' and the equally admirable 'Secret Society' remains to be seen. Europe, either by design or under Keith Shirley's tutelage, are a superior heavy melodic rock band but I think they have lost something in translation. In truth the omens were present in the track they unveiled on their last tour and included here: 'Doghouse'.
'Firebox', 'My Woman And Friend' and 'Demon Head', for example, could be outtakes from a Black Country Communion album (surprise, surprise) whilst the title track and the early single 'Not Supposed To Sing The Blues' is pretty perfunctory hard rock. Only 'Mercy You Mercy Me' revives the driving 'Secret Society' sound, but coming as it does as the penultimate track it could be construed as mere tokenism. And at less than 40 minutes this album is far too short for a band as good as Europe.
If anything, as with the previous offering, 'Bag Of Bones' is more of an ensemble piece and listeners may regret the still neutered John Norum. I find this surprising as Shirley has coaxed great performances from his charges - not least Joe Bonamassa - and I thought that one of the problems with 'LLAE' was that it didn't bring out the best in the guitarist, putting this down to then producer Tobias Lindell.
Norum's solos are, as you would expect, frequently wah-inflected and always perfectly measured but keyboards man Mik Michaeli is still far too low in the mix for the most part which is another change from the previous album which heralded the return of more synth-orientated orchestration .
There's no mid-tempo standout such as 'New Love In Town' and 'Bring It All Home' you can anticipate being played in concert as the penultimate track before 'that' song.
As you would expect the songs are all strong and the musicianship faultless, especially Joey Tempest's vocals. You're unlikely to get a bad Europe album now but I think the vibe that made the band so appealing in their comeback is missing here.
The band would argue that the first two millennium albums modernised their sound and were an essential route to wider acceptance with their seemingly preferred musical modus operandi : classic hard rock that might now only be distinguished by Tempest's vocal and songwriting skills and - in tantalising glimpses - Norum's glorious guitar.
A turning point in Europe's comeback in the UK may have been their headlining performance at Bloodstock in 2009 when they convinced even the most hardened Euro(pe)-sceptic and in truth this album will find a ready audience amongst the recently converted, but perhaps splitting those who expected a bit more Europe and a little less Shirley, and notwithstanding the band's own declaration that with this album they have 'arrived'. Let's hope it's not the final destination.
****
Review by David Randall
Interview by Pete Feenstra
David Randall presents 'Assume The Position' on Get Ready to ROCK! Radio every Sunday at 22:00 GMT
---