DEVIL'S TRAIN Devil's Train earMUSIC (2012)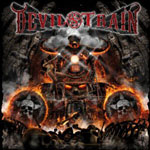 If a band was made up of ex-members of Stratovarius, Mystic Prophecy and Evergrey you could be forgiven thinking 'Devil's Train' would be somewhat power metal in conception. Wrong. In a conscious decision to reinvent their early influences, this is an album of wonderful straight-ahead hard rock.
As with the best of this genre, there is an urgency and a propulsion that is irresistible. From the opener 'Fire And Water' punctuated by Lakis Ragazas' wah, via the title track, there are echoes of prime Velvet Revolver, Audioslave, down-tuned Europe - even Whitesnake - and just as compelling.
With a great vocal throughout from project mastermind R.D.Lipiakis and support from Jari Kainulainen (bass) and Jorg Michael (drums) this is an exercise in disciplined three minute rock n roll with absolutely no filler and great musicianship throughout.
'To The Ground' has a relentless grinding funk rhythm and when the band slow things down with 'The Answers' - and particularly on 'Forever' - the results are simply fantastic. 'Coming Home' and 'Yellow Blaze' sum up the best of this album with Lipiakis' consistently good vocals and Ragazas' visceral guitar figures.
Anyone who cites Bad Company, Blue Murder and Badlands as influences has my vote and in truth fans of those bands will lap this up. And it is truly a headbanger's delight from start to finish.
Is it me or are albums getting shorter? One gripe is that we get barely 40 minutes of this wonderful gut-churning, ball-grabbing, riff-fest. We need more. The hard rock bar for 2012 has been set to truly Olympian levels.
*****
Review and interview by David Randall
David Randall presents 'Assume The Position' on Get Ready to ROCK! Radio every Sunday at 22:00 GMT
---
| | |
| --- | --- |
| | Print this page in printer-friendly format |
| | |