BLACK ROOTS On The Ground Sugar Shack Records (2012)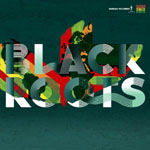 Black Roots were arguably the best British reggae bands in the 80's, a position cemented by their sound track on the BBC 'Frontline' TV series. And 'On The Ground' once again shows that they were always one of the best song driven reggae bands on the circuit.
This album is a step up with thoughtful message driven songs underpinned by an insistent beat and some cool horn parts, featuring Ray Carless on magisterial sax and Patrick Tenyue on trumpet
The music joyfully matches the optimism of the lyrics and in between the funky opening groove of 'I Believe' and the call and response vocals of 'Long Long Ago', the band unveils a handful of chestnuts of which both 'I Am Flying' and 'Hide Out' are radio friendly. The title track is an impressive falsetto meets horn led melody and 'Come And Sing' belatedly adds a sophisticated feel that nicely rounds off an excellent album.
The refreshing thing about the band is the way they tackle universal themes such as 'Slavery' and 'Oh Mama Africa' without any semblance of cliché, while 'Militancy' carries historically rooted message via a clever rhythmic vocal delivery and a contrasting word play; 'Militancy is necessary, maliciousness unnecessary'. Better still is 'No Fee', with its cleverly stuttered horn opening evoking a traffic jam, on a hugely catchy song that could be a summer hit someplace. But there's still more to digest, with the hypnotic groove, great vocal phrasing and harmony singing on 'Without Direction' which provides another outstanding highlight.
The band still features the nucleus of the original line-up with the three original vocalists plus Charles Bryan. The Ngozi brothers also return with Jabulani joining Cordell Francis on sweet toned guitar parts, while newcomer Anthony Ward adds the crisp percussive beats. And it is this sense of coherence, unity and collective aspiration that makes 'On The Ground' a great, accessible crossover record.
*****
Review by Pete Feenstra
---
| | |
| --- | --- |
| | Print this page in printer-friendly format |