Just witnessed your best live gig?.. send us a review!
ARENA/Paul Menel/The John Young Band
Assembly, Leamington 16 November 2012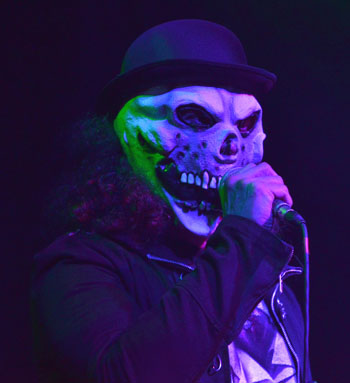 After their gig at The Assembly in 2011 right at the end of their last tour, Arena have returned to the venue this time at the start of this trek, as with their previous show this was a value for money night with two support bands supplying a night of Prog Heaven in front of a good sized enthusiastic crowd.
First up The John Young Band, John on keyboards and vocals is well known to Prog and Rock fans having worked with amongst others Asia, Fish and The Scorpions and his set of well played melodic
Prog material went down very well, the likeable Liverpudlian interacted well with the audience including announcing with tongue in cheek that this would be a greatest hits set.
Stand out number for me a beautifully poignant rendition of 'When I Was Young', and also impressed with the rocking 'Open Skies' introduced as a song about aliens and Man Utd, among John's band guitarist extraordinaire Robin Boult (Fish, Howard Jones and so many more) played a blinder and this was a fabulous set to get the evening started.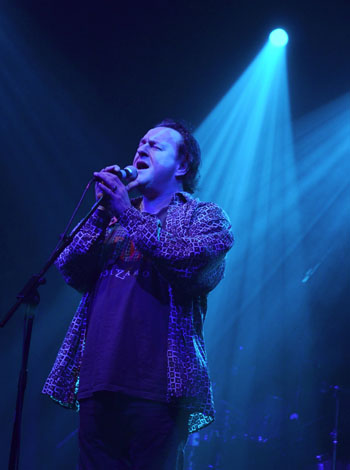 Next up and also making a return to the venue superb rock vocalist Paul Menel (last here supporting Pendragon) well known for his years with IQ, his band included another top guitarist on stage this evening Steve Harris and keyboardist Martin Orford.
Plenty to enjoy in this powerful set of intelligent thought provoking Progressive rock including a dramatic 'Common Ground' and a stunning, stirring, full of emotion rendition of 'She's Up On The Chair Again' a real show stopper with Paul taking to the acoustic guitar, talking of guitars Steve Harris had plenty of moments to shine including during the upbeat 'Nothing at All' from Paul's days with IQ.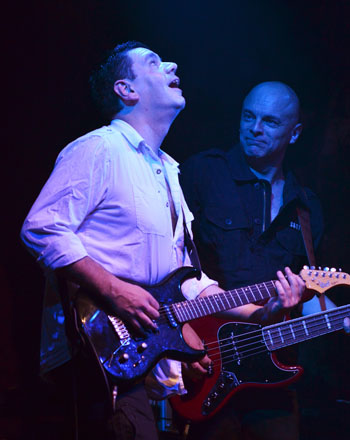 Arena are still promoting their superb latest album 'The Seventh Degree of Separation' an epic piece of heavy Prog at it's very best and most of that (sure to be destined classic) album was performed at this gig, after house lights down and sets of search lights roamed the stage it was straight into that album's killer opening rocker 'The Great Escape' a riff filled leviathan.
The catchy 'One Last Au Revoir' is a pure delight, clever, dynamic, witty, with a top quality chorus and just about perfect for singing along or just bouncing along to, adding extra spectacle to the performance was a superb stage lighting display, on stage props from the latest albums art work and a succession of clothing and head gear changes by vocalist Paul Manzi.
Of these onstage garb changes the most dramatic being for the darkly atmospheric 'The Ghost Walks' with the numbers spoken part performed by Paul wearing a magnificent skull mask the Phantom of the Opera would kill for !
Arena are a real Prog Rock super group and joining Paul their powerful, charismatic and real showman of a vocalist on stage, on the keyboards (loved his rotating set up) Pendragon's Clive Nolan, on drums from Script-era Marillion Mick Pointer, on guitar from It Bites John Micthell (stunning on guitar all set) and last but not least one of the best bass players to grace a stage John Jowitt.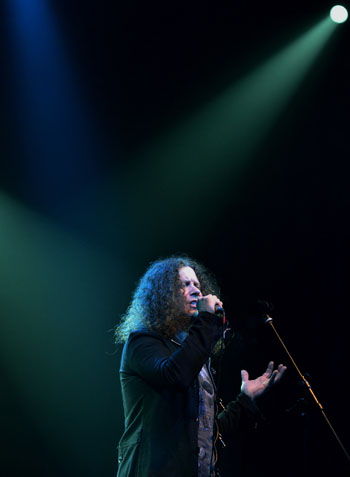 Plenty of oldies in the headline set as well and highlights including an intense 'Ghost In the Firewall', the epic 'The Butterfly Man', a magnificent 'Ascencion' and best of all a stirring, passionate 'Enemy Without' with exceptional axe work by Mr Mitchell.
A full on set by a band that seemed to have added a heavier touch to their sound recently while still retaining that epic, melodic, progressive edge, with two strong supports this was a fantastic evening of music and entertainment.


Review and photos by Andrew Lock
---