Just witnessed your best live gig?.. send us a review!
ALBERT LEE & HOGAN'S HEROES
Assembly, Leamington 8 June 2012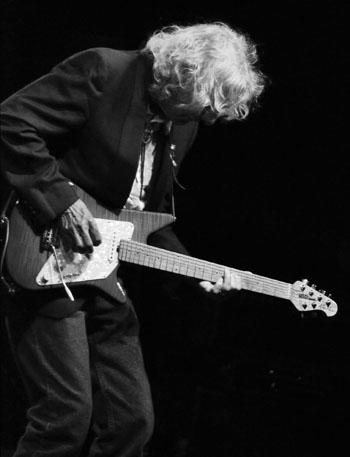 One of the most relaxed and composed performers I have ever seen on stage, Albert Lee made it all look so easy, his vocals, piano/keyboards and of course mainly his magnificent guitar work simply flowed from this top artist. The band have been on the road for quite a while on this tour and it really showed with this highly polished slick performance.
I mistakenly imagined Albert was mainly a blues man partly due to my knowledge that he had performed with amongst others Eric Clapton and Bill Wyman, but they performed a mixture of county rock and rock and roll but with plenty of splashes of other styles and genres.
The band made a low key entrance onto the stage for the first of two sets which combined covers with a selection of numbers composed by the band, highlights of the first set original rocker 'Big Town Girl' written by the bands fabulous pianist Gavin Povey who also sang the lead vocals (took over lead vocals several times during the evening), their version of one of my favourite Everly Brothers numbers 'No One Can Make My Sunshine Smile' (simply beautiful) and the country vibe of 'Wheels' the Gram Parsons track.
Also in the first part of the evening they launched into a superb 'Real Wild Child' one of my all time favourite rockers, introduced with my favourite of Albert's many anecdotes of the evening, a history lesson on the song's origins, originally composed and performed by Australian rock and roller Johnny O' Keefe and covered by numerous artists including Cricket, Jerry Allison, Jerry Lee Lewis, Iggy Pop and of course Albert himself.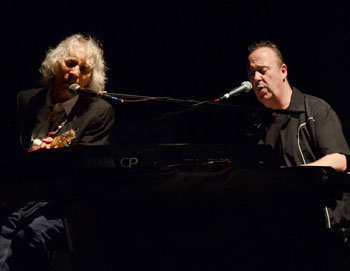 Being a huge fan of The King the band's version of 'A Big Hunk O' Love' one of Elvis Presley's greatest rockers with pumped up piano by Gavin and firecracker guitar work by Mr Lee was a real treat.
Second half highlights included, the uplifting, foot tapping, gospel rock and roll of 'Glory Bound', a belting run through the Ray Charles penned 'Leave My Woman Alone' and an extended version of possibly Albert's most famous number 'County Boy' with astonishing guitar picking.
Final encore of the evening was a full bloodied rocker, the Johnny Burnette (who Albert credited as "the first punk rocker") number 'Tear It Up' and they sure did in top rockabilly/rock and roll fashion.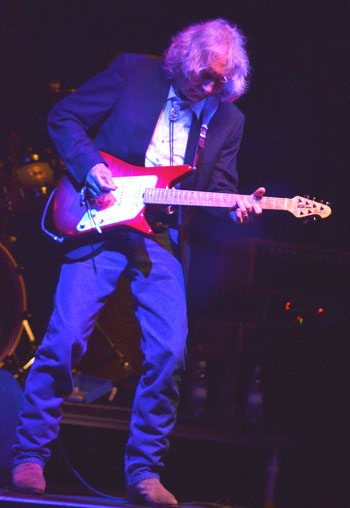 Watching and hearing the legendary Albert Lee perform was a true pleasure and easy to see why he has performed with so many fellow world class musicians, his playing is smooth and faultless, he can change styles at the drop of a hat and is also very happy to rest his guitar and take to the keyboards now and again.
Hogans Heroes are also a quality band in their own right and especially enjoyed the excellent pedal steel guitar work of Gerry Hogan particularly on the county tinged numbers, but the whole band contributed to an evening of musical excellence.


Review and photos by Andrew Lock
---