Just witnessed your best live gig?.. send us a review!
MOONDANCE JAM
Walker, Minnesota, 19-21 July 2012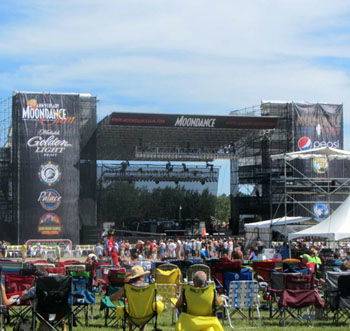 Now 21 years old, Moondance Jam had been going from strength to strength as one of the top festivals in the USA, and certainly the best run and friendliest. However, still reeling from the untimely death of its creator Bill Bieloh in 2010, the social networks were full of pessimism in the run up to this year's festival.
After the organisers splashed out for Kiss' spectacular headline show in 2011, many felt disappointed in a scaled down line up this time, with anticipated headline bands not materialising and others moved to a higher slot than they had occupied on previous visits.
Covers bands are a staple of the pre-Jam party and the saloon stage that hosts acts during the main stage changeovers, but on this occasion there were too many of them filling main stage slots.
To add to the gloom, two of the three headliners refused permission for their names to be included on festival merchandise. However, any such negative feelings were soon left at the gate as blessed by perfect weather, the crowds were as big as Moondance has yet seen and the atmosphere eclipsed even my three previous visits here.
The event bills itself as the Camping and Jamming event of the summer' and the dynamic is slightly different from an English festival. Especially given that most Americans only have two weeks holiday, it becomes a big occasion for large groups of families and friends who load up their RVs for a vacation and as much action goes on in the campsites as in the arena.
While some to whom the music is secondary may rarely leave the campsite, those present are invariably beered up and in full on party mood. This makes for a very special vibe and I have tended to enjoy my favourite bands shows at Moondance more than any other.
Day 1- KID ROCK, HINDER, SKID ROW, APRIL WINE
Until recently Moondance was exclusively a classic rock festival but they have gradually gone for a more mixed bag of veteran and contemporary acts, resulting in Kid Rock being recruited to headline and attracting a record 23,000 crowd on the first full day of the jam. However it was a band harvested from an older vintage, April Wine, who got the party started in earnest to a larger than expected gathering down the front.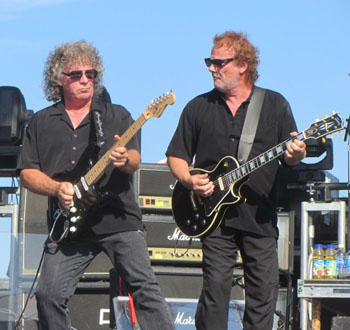 All four band members boldly wore all black despite the 90 degree plus heat, while singer Myles Goodwyn and Brian Greenway, who shares Brian May's greying shaggy perm, proved an excellent guitar duo.
Indeed the latter shared some of the vocal duties, his rather raspier, rock n roll voice providing a contrast on the likes of 'Right Down To It'. Laid back in a typically Canadian fashion, they gently won the crowd over with songs like 'Say Hello', 'Enough Is Enough' (apparently a staple of MTV's early days) and the ballad 'Just Between You and Me', while a trip back to the seventies for a song written by Elton John, 'Bad Side of the Moon', turned in to a beautiful twin guitar led jam.
'All Over Town' and 'I Like to Rock' reminded the faithful that they penned some catchy songs in the late seventies and early eighties. Some momentum was lost with a drum solo and pointless medley of 'Day Tripper' and 'Satisfaction' but picked up again with 'Sign of the Gypsy Queen', twin guitars again to the fore and the boogie of 'Roller'. Somehow I'd never managed to see them live before, but they were a perfect tonic for a warm summer's afternoon.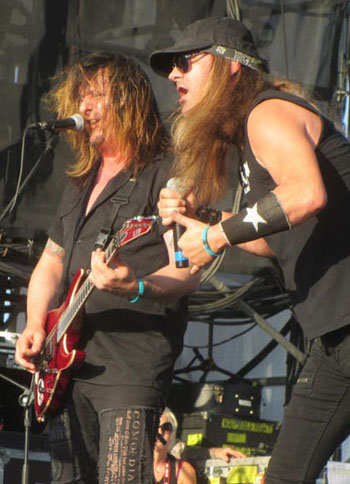 Moving forward approximately a decade, Skid Row were up next with the main interest how they perform now that motormouthed frontman Sebastian Bach is long departed. However it is actually 12 long years since Johnny Solinger replaced him, and despite being a Texan good ol boy with cowboy hat to match, he has the glam metal looks and moves and a decent voice compatible with the old songs, yet comes over as a more humble and likeable character than his predecessor.
With three original members including never changing guitarists Dave 'Snake' Szabo and Scotti Hill, they opened with old favourites 'Big Guns' and 'Piece of Me'.
A few numbers came and went from their more recent albums, with only 'Stop Reading Me the Riot Act' making a mark but after Rachel Bolan was allowed to indulge his love of punk during 'Psycho Therapy', from there on it was hits all the way, starting with 'I Remember You' with Johnny and Snake playing the first half acoustically,
'Slave to the Grind' which has grown on me since I initially dismissed it as too heavy on release, '18 and Life' and 'Youth Gone Wild'. It was ironic to see a crowd at least half of whom were fortysomethings or older punching the air to the chorus, but after hearing mixed reviews about modern day Skid Row, they were the second successive pleasant surprise.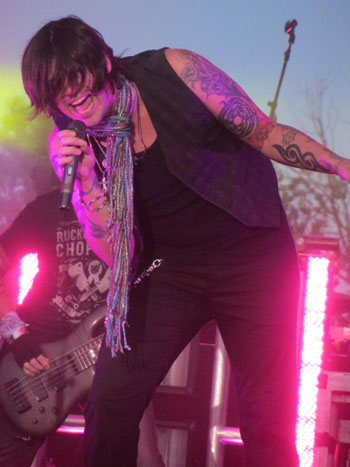 Again moving forward in time, Hinder were second on the bill and in my view a perfect choice, appealing to a younger element but still having the flair and flamboyance that many po-faced current bands lack.
With an excellent light show, their high energy set covered all three albums- mixing sleazy singalongs - 'Up all Night', 'Use Me', 'How Long' - with 'What Ya Gonna Do', sounding like Poison doing a ballad surrounded by empty whisky bottles, and the ballads like' Better than Me' and 'Lips of an Angel' with girls around me singing along every word.
Austin Winkler is a lithe, charismatic front man with elements of a young Steven Tyler or Buckcherry's Josh Todd, even if his voice can be unnecessarily grating at times in the live environment.
After 'All American Nightmare' veered too close to nu metal territory for my taste, he got the crowd to jump up and down during '21'. Encores 'Put that Record On' and 'Get Stoned' are as good a pair of dumb singalong anthems as you could hope to hear, and as we need some present day bands to become tomorrow's classics, this set proved Hinder are future festival headline material.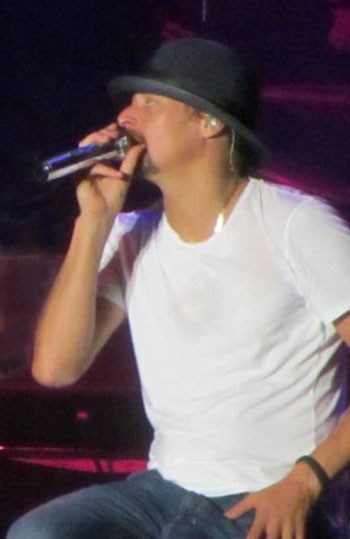 The presence of Kid Rock, who enjoys superstar status across the pond, was what drew Moondance's record crowd. I had never been a fan but 'All Summer Long' brings back many happy personal memories and having heard he had largely forsaken his hip hop roots for southern rock and country influences I approached him with an open mind.
I was surprised how eclectic his set was and that his large band at times went off into jazzy diversions more suited to Santana or Steely Dan, A black mark however for having a DJ mixing and scratching on a turntable, which if I ruled the world would be an instrument banned from rock festivals. He is something of a renaissance man playing a variety of instruments including piano and drums on a cover of fellow Michiganite Ted Nugent's 'Cat Scratch Fever', after teasing us with snatches of Tom Sawyer and La Grange.
Not for nothing though was one of his albums called Cocky. He is full of self confidence which on one level makes for a compelling show but the constant songs about himself proved somewhat tiresome. However 'F***ing Forty' had hilarious lyrics, striking a chord with those of us who rock on despite having long passed that milestone. The highlight of the show was a beautiful version of his country crossover hit 'Picture' with backing singer Shannon Curfman playing the Sheryl Crow role.
After a short main set of an hour or so, he encored with 'All Summer Long' but I felt disappointed as the song seemed rather stripped bare with the 'Sweethome Alabama' and 'Werewolves of London' samples missing. However 'Rock n Roll Jesus' was more satisfying before 'Born Free' was a great classic rocker even reminding me of Credeence Clearwater Revival and performed in front of a giant American flag to the biggest cheers of the night.
As I left the site an hour later having watched a Tom Petty covers band in the saloon, there were still massive queues to take the shuttle bus to the parking lot, and such were the record crowds that my car was among many blocked in. Thankfully some stewards with expertise in manoeuvring cars out of impossible spaces came to our rescue, one of the personal touches that make Moondance such a spirit warming festival.
DAY 2- JOHN FOGERTY, THREE DAYS GRACE, DON FELDER, CAVO
The second day epitomised Moondance's new approach of mixing old and new, with the first national band on rising new band Cavo. Heavier live than on the CD I hastily bought earlier on the trip, they marry the post grunge of a Shinedown or 3 Doors Down with an almost U2 like seriousness and sincerity, singer Casey Walker in particular. 'Let it Go' is an excellent song, and their best known song 'Champagne' closed the set in uncompromising yet catchy style, although they lacked a special edge to set them apart from similar acts who are dime a dollar in the States at present.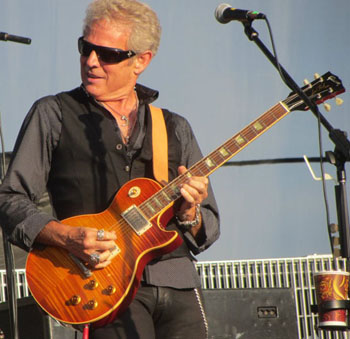 Moondance tries to avoid too many repeat acts but just two years after his last appearance, Don Felder returned, opening with a hole in one in Hotel California, playing his 12 string guitar and exchanging harmony leads with guitar partner Frank Simes. Once again he drew heavily on his Eagles past - even telling the same anecdotes to accompany the songs – with an emphasis on rockier numbers like 'Already Gone' and 'Victim of Love', showing off his fluent, economical playing.
He has a decent voice and the absence of his former band mates was not felt too much, particularly as he had great vocal support from his band, notably bassist Wade Berry reaching the high notes.
Those vocal harmonies were shown to particular effect on mellower songs like 'One of These Nights', 'Peaceful Easy Feeling' and a take on 'Seven Bridges Road' that left people open mouthed in admiration. However there was a surprise with two new songs - 'Girls in Black', a hard driving rocker with a ZZ Top feel and the more restrained 'Wash Away the Pain'.
One Eagles classic followed another - 'These Shoes' with both guitarists playing talk boxes, 'The Long Run' as his slide segued effortlessly into a great solo from Frank , 'Witchy Woman', 'Heartache Tonight' and 'Life in the Fast Lane'.
I had one eye on the clock as this seemed like a full length set but no curfew was raised as he encored with the song he said was where it all started, 'Take it Easy'. Equally impressive was the way this southern gentleman modestly thanked Moondance for allowing him to appear at their party. I have a feeling he will always be a welcome return guest.
In a total contrast of style, Canadians Three Days Grace who are massive in America brought a crowd of a different demographic to the front, with a sound somewhere between Cavo's post-grunge and the angrier sounds of Godsmack, the latter influence felt on songs like 'Riot'.
Yet there were mellower moments too including a cover of 'Free Fallin' and the ballad 'Last to Know'. They were not really my scene yet are obviously skilled and assured live performers with a big, and loud, show and the reaction justified their inclusion on the bill.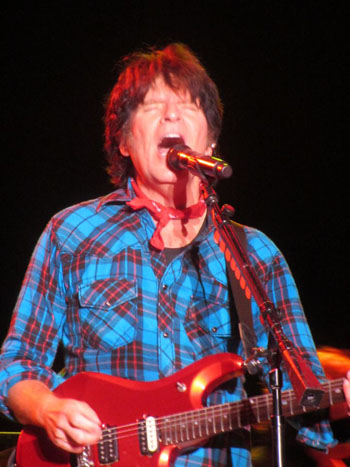 From the present day to one of the men who made American rock, headliner John Fogerty. As singer, songwriter and guitarist with Creedence Clearwater Revival, his swamp rock set a template of incorporating traditional country, folk and blues elements into rock n roll to create a distinctively American sound, without which a whole host of artists from John Mellencamp to the Black Crowes might never have come into being.
Now 67 but looking remarkably unchanged from his heyday in check shirt and a bouffant head of hair, he showed plenty of vigour in a set largely composed of Creedence classics, beginning with 'Hey Tonight' and 'Green River', even if every song seemed to follow the same pattern as after the first verse, he would charge from one side of the stage to the other as he played a guitar solo.
Introducing 'Who'll Stop the Rai'n he told a well rehearsed anecdote about Woodstock, reminding us that he is one of a diminishing band of still active artists from the festival that defined an era, while the whole crowd were singing along to 'Midnight Special'.
Renowned for the number of songs he crams into a set, this time it seemed some of the workouts were longer with 'Born on the Bayou' and 'Somebody Help Me' unexpectedly heavy, I Heard It Through the Grapevine featuring some extended duels between John and his Hammond organist and 'Long As I Can See The Light' a showcase for his timeless throaty voice.
His band, with no less than three other guitarists including one who impressed on lap steel and dobro, were positioned out of the spotlight behind him but belatedly stepped forward during Keep on 'Chooglin' and one was introduced as his son Shane. Meantime, from behind a Perspex screen the legendary drummer Kenny Aronoff drove the beat forward.
During 'Who'll Stop the Rain' I felt quite emotional, hearing one of the all time greats perform his classics possibly for the last time. Belatedly he played a couple of solo songs in 'Rock and Roll Girls' and 'The Old Man Down the Road', though its similarity to 'Run through the Jungle' reminded me of that absurd story when his record company sued him for plagiarising his own work. However many were shocked he omitted his baseball-themed anthem 'Centerfield', with its classic put me in coach, I'm ready to play' lyric.
As we entered the home run of hits like 'Down On the Corner', 'Bad Moon Rising' did seem a bit rushed (or did it just pass me by as I tried to work out if he was singing there's a bathroom on the right'? ) but 'Fortunate Son' rocked brilliantly as he spat out the lyrics with the intensity of a man the third his age. By this stage his voice seemed to be feeling the pace, and on first encore 'Up Around the Bend' it fell apart somewhat, but a lively 'Proud Mary' sent us all away with the Rollin down the river' chorus ringing in our ears after having the privilege to witness a true legend.
DAY 3 - HEART, GRAND FUNK RAILROAD, NIGHT RANGER
What it lacked in quantity (two excellent tribute bands, Motley Inc. and the Atomic Punks with their set of Van Halen Mark 1, filled the first two of the five main stage spots), the final day of Moondance more than made up for in quantity.
Having seen a memorable show in London six weeks before, I eagerly anticipated Night Ranger and was telling anyone who would listen what a treat they were in for. It was therefore a disappointment that, unusually for Moondance they were plagued by sound problems with Kelly Keagy's bass drum ridiculously loud.
Nevertheless the sheer ebullience the band feel in playing transmitted itself to the crowd - and made them the most enjoyable band to photograph of my whole US trip - as singer Jack Blades was wisecracking and guitarists Brad Gillis and Joel Hoekstra pulling classic guitar hero poses as they duelled on songs like 'Sing Me Away', 'Touch of Madness' and 'Eddie's Coming Out Tonight'.
Two songs were played from new album Growing Up in California but the best reception seemed to be for songs they had played in other bands - Brad playing 'Crazy Train' in recognition of his spell with Ozzy Osbourne 30 years ago, and the Damn Yankees favourites 'Coming of Age' which NR have made their own, and 'High Enough' where some great vocal harmonies compensated for the absence of Tommy Shaw's helium tones on the original.
However, with time at a premium, they skipped the usual acoustic interlude on which Kelly normally songs some of their hit ballads. Instead two of the great numbers from the early eighties, 'When You Close Your Eyes' and 'Don't Tell Me You Love Me' ended the set, the latter with a snatch of Highway Star and some rapid fire swapping of guitar solos.
Kelly moved front of stage to sing the intro to 'Sister Christian' before taking to his drumkit stage right, and as you would expect from this massive smash across the Atlantic (though sadly never a hit in the UK), the what's your price for flight' chorus was marked by a sea of waving arms and beer tankards held aloft, before they ended the set with 'You Can Still Rock in America', which the Minnesota crowd were intent on proving.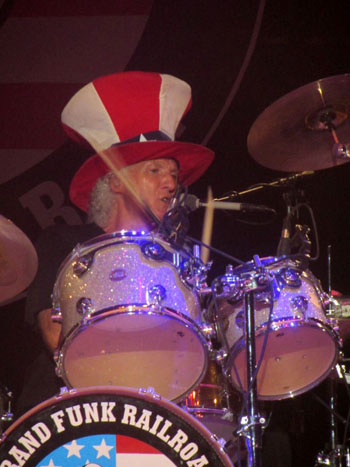 There were grumblings when Grand Funk Railroad were, in some people's eyes, over promoted to the second top slot. But their impact on American music history is secure as one of the few US acts who threatened the dominance of our own Zeppelin, Purple and Sabbath in the formative years of heavy rock.
These days they are somewhat mellower and the emphasis is on the more commercial numbers that brought them hit singles, such as 'Rock n Roll Soul' and 'Footstompin Music', both given a soulful feel by prominent Hammond organ, their cover of - gulp! - 'The Locomotion' which had people singing along, and 'Walk Like a Man', with an excellent solo from ex Kiss guitarist Bruce Kulick who was exemplary throughout.
There was a nice balance in the way vocals were shared between the soulful Max Carl, notably on his old 38 Special ballad 'Second Chance', and the more rough and ready tones of drummer Don Brewer, founder member along with bassist Mel Shacher and sporting a spectacular silver mullet.
Unfortunately the momentum of the set was totally killed by a long drum solo followed by the band all playing percussion, but things picked up with another crowd pleasing cover 'Some Kind of Wonderful' and after a nod to their earlier days in the lengthy epic 'Closer to Home', as at every GFR set Don came out front in an outsized Uncle Sam hat to whip up the crowd before 'We're An American Band'.
The irony was that this limey' was singing along lustily, waving a souvenir tankard just presented to me by the bar staff after a three day running gag of them trying and failing to understand my English accent!
72 hours earlier a Heart tribute band, Bad Animals, had got this whole party started in fine fashion. Now it was the turn of the real McCoy in Ann and Nancy Wilson, the doyennes of women in rock, and their band to close out Moondance.
After ELO's Don't Bring Me Down was played immediately before and had the whole place singing, Heart pooped the party by opening with the title track of their forthcoming album Fanatic. But after this rather false start the set settled with 'Magic Man', including a fine guitar solo from Craig Bartok who nevertheless takes a low profile in a rather anonymous band and synths from Debbie Shaer, and Heartless, both faithful to the originals, and the classic power ballad 'What About Love'. I was pleased to see this in the set given the ambivalent relationship the sisters have with their big selling but externally penned eighties AOR hits.
More old favourites in 'Even it Up' and 'Straight On' were followed by Nancy singing a beautiful version of 'These Dreams', then their other big 80's ballad hit 'Alone' was given a sparse haunting treatment that only served to accentuate the phenomenal way Ann, now in her sixties, can still belt out a tune, full of emotion.
However those highlights were bookended by some new songs - one of which with Nancy singing and Ann playing flute, harked back to their folky tendencies in the seventies, the other 'Dear Old America', a heavier, almost discordant number that summed up my feeling that they have lost the knack of writing good tunes.
In seemingly no time we were into the home stretch as Nancy, who seems to have the elixir of eternal beauty, played the 'Silver Wheels' instrumental then power chorded and high kicked her way through 'Crazy On You', followed by 'Barracuda' as Heart saved their pair of signature songs till last.
A new song, '59 Crunch', for an encore suggested I will not be first in the queue for the album, while Heart sets always end with a cover, usually a Led Zep number but on this occasion The Who's 'Love Reign O'er Me', perfectly suited to Ann's dramatic vocal treatment, which was rapturously received.
At 75 minutes for a headline set (with no Dreamboat Annie, Love Alive and Dog and Butterfly among others), and little interaction with the crowd including leaving without saying goodbye, I did feel a little short changed by Heart compared to other bands that had gone the extra mile to put on a great show. But as I heard few other complaints, perhaps I had been spoiled by a vintage year for gigs, and another excellent Moondance in particular.
There was more good news with the Bieloh family confirming that after Moondance 2012 was such a huge success, the festival was definitely continuing into 2013 and tickets were on sale already.
And nearly everyone who enjoyed three days of bands, sun and partying in this beautiful part of the American heartland is surely planning a further foray to this friendliest of festivals where the fun never fades.


Review and photos by Andy Nathan
You can use the direction keys on your keyboard to navigate easily through the photo gallery. If using Windows, you can flick between photos using your mouse wheel
Summerfest, 3-8 July
Loopfest, 13 July
Rockfest, 21 July
---