WHITESNAKE Forevermore Frontiers (2011)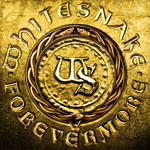 Studio album number 11 and it is a classic sounding one at that. David Coverdale has managed to cobble together the sounds of some of the highlights from the band's lengthy, and highly successful, career to create this superb album.
Rumours of voice trouble are totally off the mark - although, undeniably, Mr Coverdale's voice does have a more mature edge to it these days. In guitarists Doug Aldrich and Reb Beach, Coverdale has not only found two guitar players worthy of the Whitesnake name - but who can also recreate the great guitar sounds that have been associated with the band throughout their near on 35 year career.
Opening track 'Steal Your Heart Away' has the groove and swagger of a band half their age and this momentum keeps going on 'All Out Of Luck' and the album's first single 'Love Will Set You Free'- the perfect choice for the lead single as it bears all the traits of a great Whitesnake hit, as does the slower 'Easier Said Than Done'. 'Fare Thee Well' finds Coverdale almost in Rod Stewart mode (in a good way!!) on this acoustic number - the title is a little dubious though and you can imagine DC kissing the Mrs goodnight and using the line!!
'Love and Treat Me Right' features a classic Whitesnake guitar solo, whilst 'Dogs in the Street' has that late '80's big sound. Other highlights include 'Whipping Boy Blues' where you get the feel of the early '90's Coverdale-Page project, 'My Evil Ways' complete with an opening barrage of drums, and the album's title track 'Forevermore' which opens up from an acoustic track into a Led Zeppelin style bombastic epic.
'Forevermore' is a great album and the outstanding tracks are enough to make you forgive the couple of middle of the road songs that have sneaked onto the album- luckily the three of them are all grouped together and are still worth a listen. The band tour the UK in June and the shows promise to be the full on Whitesnake experience that we have all come to know and love. Not bad from a frontman knocking on 60!
****½
Review by Nikk Gunns
---
| | |
| --- | --- |
| | Print this page in printer-friendly format |
| | |